A Week's Worth Of Healthy Breakfasts To Kick The Year Off Right
mbg Contributor
By Leah Vanderveldt
mbg Contributor
Leah Vanderveldt is an author living in Brooklyn, New York. She received her bachelor's in communications and media from Fordham University, and is certified in culinary nutrition from the Natural Gourmet Institute. She is the author of two cookbooks: The New Nourishing and The New Porridge.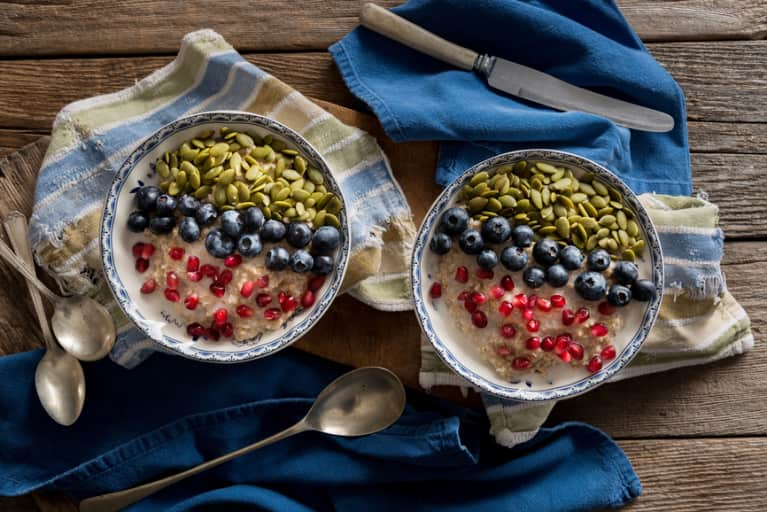 Besides fueling yourself for an energized day ahead, breakfast is also an opportunity to treat yourself right with nutrients that will help you long after your midmorning coffee break. Here are some breakfast ideas to help you pack in the superfoods, feel your best, or just break out of a breakfast rut.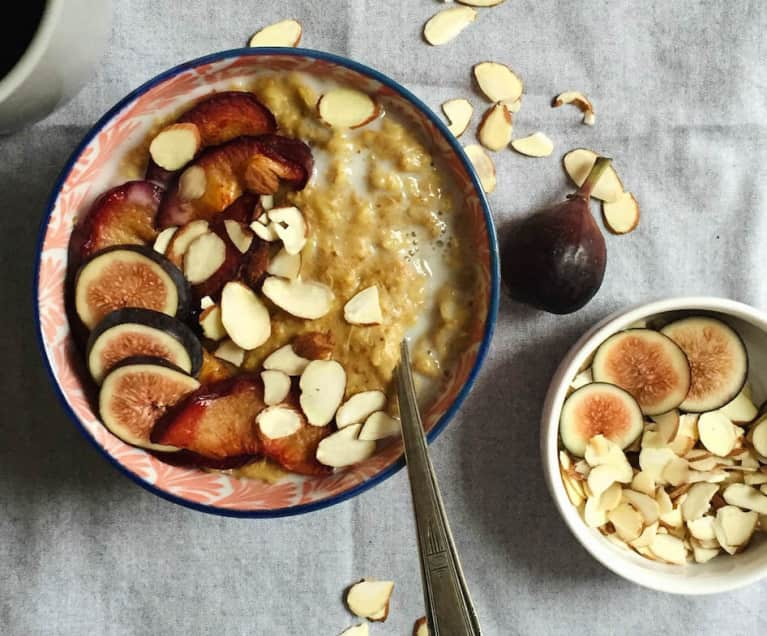 Turmeric-infused oats will bring some much-needed sunshine to a wintery morning in addition to some serious anti-inflammatory benefits.
Serves 3 to 4
Ingredients
1 tablespoon coconut oil
½ teaspoon turmeric
½ teaspoon cinnamon
¼ teaspoon nutmeg
⅛ teaspoon cardamom
2 cups old-fashioned rolled oats
2 cups water
2 cups milk (we like almond and coconut, but any kind will do)
1 tablespoon pure maple syrup
Toppings (optional—feel free to mix and match)
Almond butter
Pear, apple, figs, or banana, thinly sliced
Hemp seeds
Almonds, toasted
Pepitas, toasted
More maple
Preparation
1. In a medium saucepan, heat coconut oil over medium heat until melted and warmed. Add turmeric, cinnamon, nutmeg, and cardamom and stir. Cook for 30 seconds. Stir in oats and toast for another 30 seconds.
2. Add water and milk and bring to a boil. Reduce to a simmer, add maple, and cook for another 10 to 15 minutes stirring occasionally. The liquid should be absorbed and the texture creamy. Feel free to add more water or liquid if the oats are a bit on the drier side (this will depend on your oats).
3. Serve with desired toppings.
Breakfast Baked Sweet Potato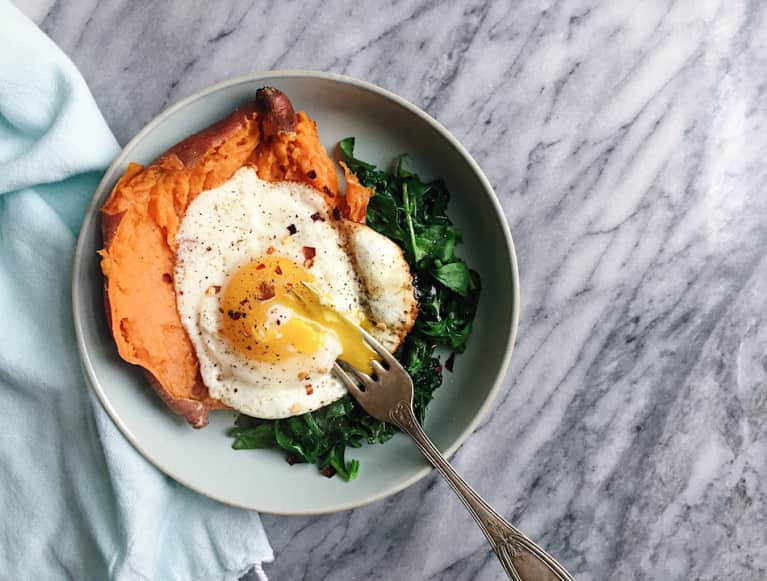 Bake a batch of whole roasted sweet potatoes at the beginning of the week for quick and hearty meals throughout the week.
Serves 1
Ingredients
1 small to medium sweet potato, baked
olive oil, avocado oil, or grass-fed butter
1 egg
2 large handfuls of cleaned and roughly chopped greens (spinach, kale, or arugula all work great)
¼ to ½ an avocado, cut into small pieces
Salt and pepper
Preparation
1. To bake sweet potato, heat the oven to 415°F. Poke sweet potato with a fork a few times and place on the oven rack. Bake for 45 minutes to 1 hour (this will depend on the size of your sweet potato) until softened.
2. When you're ready to serve, heat enough oil or butter to cover the base of a small pan over medium heat. Crack egg into the pan and cook for about 5 minutes, until the whites are cooked through and firm. (Alternatively, feel free to scramble your eggs or poach them.)
3. Meanwhile, warm your sweet potato if it's not already. Slice in half lengthwise, season with salt and pepper, and drizzle with olive oil or some grass-fed butter. When egg is finished cooking, place on top of the sweet potato.
4. In the same pan as the egg, add a little more oil or butter over a medium heat and toss in the greens. Stir and cook until just wilted (this should take only a minute or two). Add to sweet potato and serve with avocado and more salt and pepper as needed.
Hormone-Balancing Chia Pudding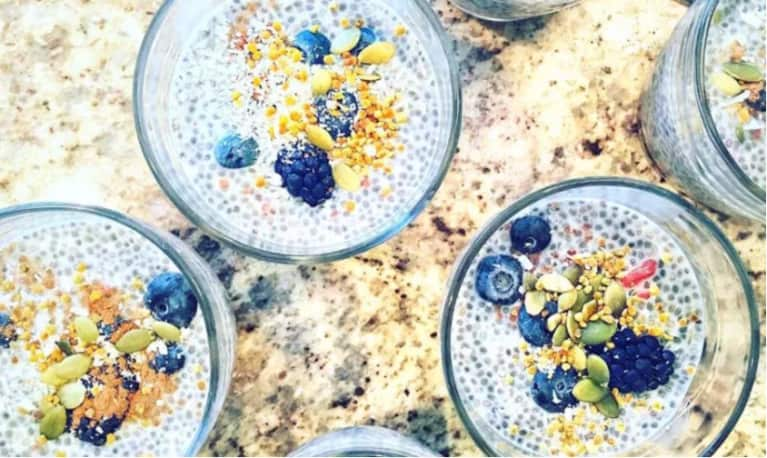 In addition to being packed with omega-3s, fiber, and protein, chia seeds can help balance your hormones and keep your thyroid in check—all great reasons to kick your day off with them. Give this spiced chia pudding a try.
Smoothies aren't the most wintery of breakfasts, but adding warming spices (like ginger and cinnamon), seasonal fruit (like pears), and healthy fats (like avocado) can make them more winter-friendly.
Ingredients
½ cup almond milk or more for a thinner smoothie
1 to 2 cups frozen chopped spinach
½ avocado
1 pear, cut into pieces (frozen works really well)
1 teaspoon fresh grated ginger
½ teaspoon cinnamon
½ teaspoon vanilla extract
1 tablespoon almond butter
Preparation
Place ingredients (starting with milk, spinach, and so on) in a blender and process until smooth, scraping down the sides once or twice to make sure everything is incorporated.
Quinoa Porridge With Apple Compote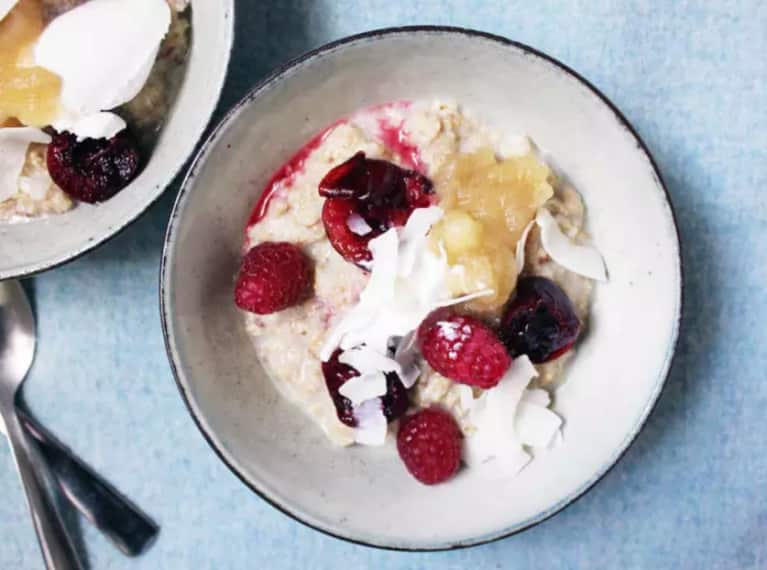 One of London's favorite healthy eating destinations, Detox Kitchen, shares their favorite cozy breakfast with us—a quinoa porridge made extra special with spiced apple compote to top it off.
Creamy Polenta Breakfast Bowl
Topping creamy polenta with garlic mushrooms and greens will boost your immunity and makes a savory and satisfying alternative to oats.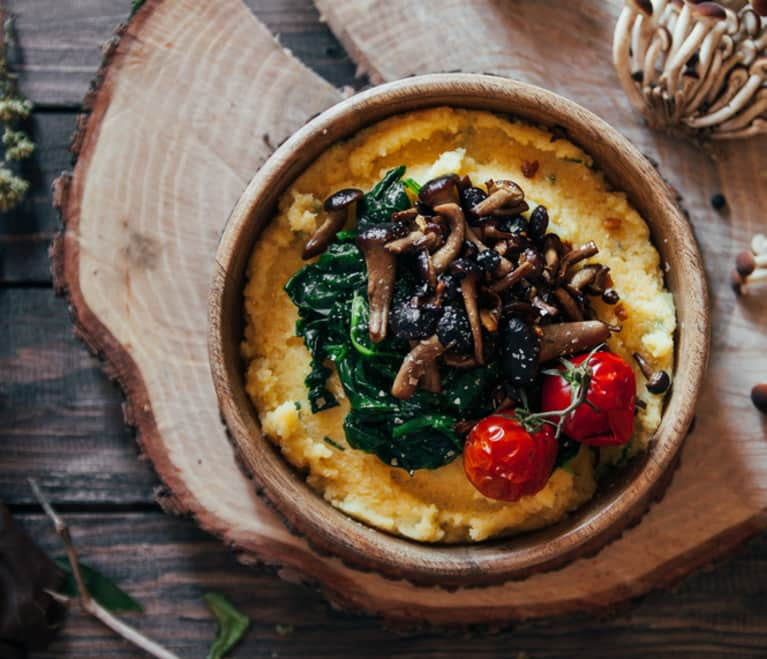 ½ cup quick-cooking dried polenta
1 cup water
1 cup unflavored milk of choice
1 tablespoon olive oil
1 pint cremini mushrooms, roughly chopped
1 garlic clove, finely chopped
2 handfuls of cleaned and roughly chopped greens
Salt and pepper
Parmesan to serve (optional)
Preparation
1. Place polenta, water, and milk in a medium saucepan and bring to a boil. Add a good pinch of salt and cook, stirring constantly, for about 10 minutes until thickened. Taste for seasoning and add more salt and pepper as needed. You can also add a grating of Parmesan to the polenta at this point.
2. Meanwhile, in a large pan, heat olive oil over medium-high heat and add mushrooms, stirring to coat them in the olive oil. Season with a little pinch of salt and cook for about 2 minutes without stirring. Add garlic, stir, and cook for another 2 to 3 minutes until mushrooms are golden and tender.
3. Remove mushrooms from pan and in the same pan over medium-high heat add greens and cook for 1 to 2 minutes until wilted.
4. Divide polenta between two bowls and top with mushrooms, greens, and a little Parmesan if desired.
Grain-Free Sweet Potato Protein Pancakes
Because everyone deserves a pancake breakfast. These Sweet Potato + Lentil Pancakes are packed with protein, fiber, and vitamin A, and are naturally gluten-free to give you the best of both worlds—decadent and healthy.