A Chocolate + Nut Brittle That Will Make Your Skin Glow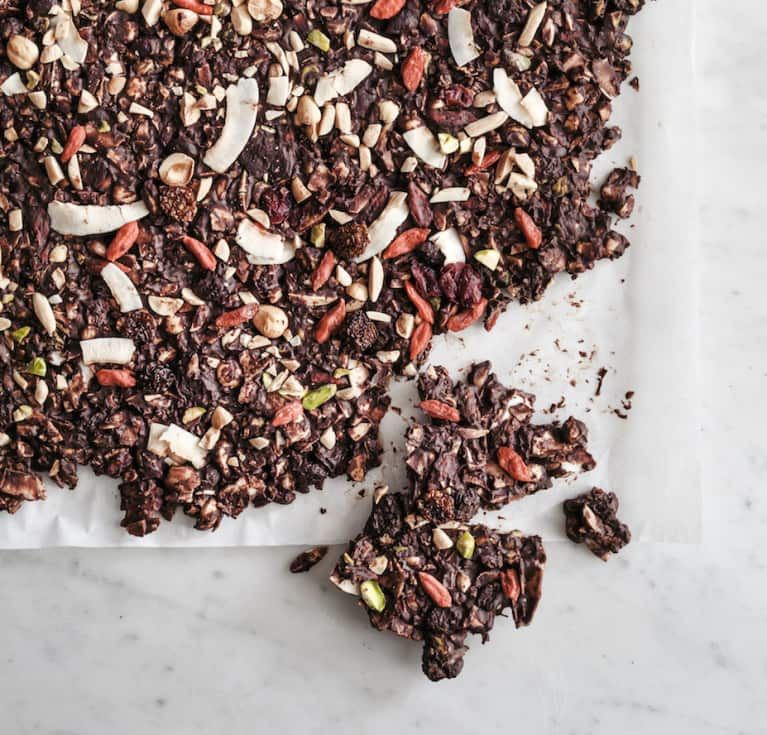 Our editors have independently chosen the products listed on this page. If you purchase something mentioned in this article, we may
earn a small commission
.
Forget what you may have heard about chocolate ruining your skin. Dark/bittersweet chocolate with a high-cocoa-solids content of at least 70 percent contains flavonoids that protect the skin from harmful UV rays. Add coconut to the mix with this brittle and you'll have the added bonus of introducing cytokinins to your body, which are proven to be anti-aging. This crunchy and hard brittle is a delicious and healthy sweet treat.
Chocolate, Nut + Coconut Brittle
1½ cups mixed nuts, chopped (I like Brazil nuts, pistachios, almonds, and hazelnuts)
¾ cup desiccated/shredded or flaked coconut
7 ounces dark/bittersweet chocolate (70 percent cocoa solids)
3 tablespoons agave syrup or honey
⅔ cup mixed dried super berries (I like goji, inca, cranberries, blueberries, tart cherries)
Preparation
1. Preheat the oven to 350°F.
2. Spread the nuts onto an unlined baking sheet along with the coconut. Pop into the preheated oven to toast for 5 minutes, until you can see the coconut turning golden—it will smell amazing! Remove from the oven and set aside to cool.
3. Line a baking sheet with baking parchment. Break the chocolate into small pieces and pop into a heatproof bowl with the agave syrup. Set the bowl over a pan of barely simmering water and stir to melt.
4. Transfer the cooled nuts to a large mixing bowl, add the super berries, and pour in the melted chocolate.
5. Mix together well, then spread the mixture onto the prepared baking sheet. Spread the mixture quite thinly as you want the consistency to be like chocolate brittle rather than a chocolate bar.
6. Put the baking sheet in the fridge to harden the chocolate for 1 hour. After this time, you can take it out and break it up or cut it into bite-size pieces. Store in an airtight container in the fridge for up to 2 weeks.