What's A Vegetable Doing In Dessert? Sweet Potato Shines In This Nutella Recipe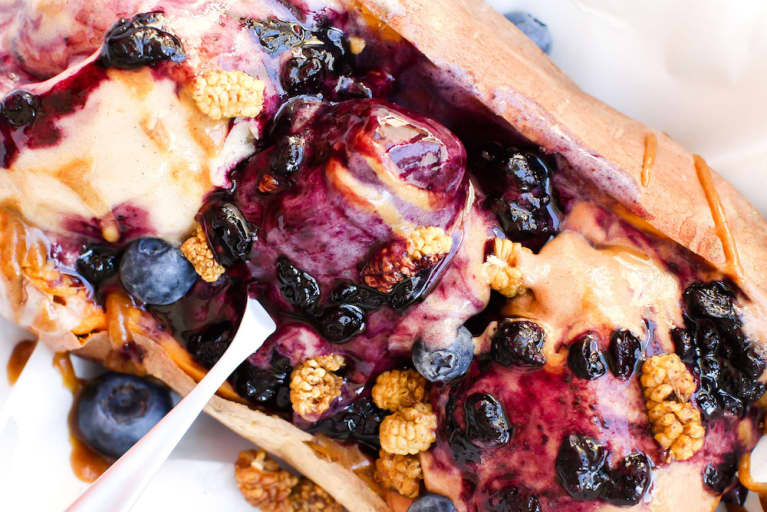 Our editors have independently chosen the products listed on this page. If you purchase something mentioned in this article, we may
earn a small commission
.
Oh, sweet potatoes, how we love thee. This beautifully sunset-orange beta-carotene-filled root veggie has taken on so many roles in the world of savory (yet slightly sweet) foods. Whether it's sliced up and baked into fries or mashed and turned into the perfect side for a Thanksgiving meal or simply roasted because it doesn't take much to make us love them.
But lately this root vegetable is breaking out of the pie pan and showing up on dessert menus all over New York. At El Rey sweet potato bread loaf is a fan favorite. Gramercy Tavern, one of Danny Meyer's many gems, presently has a beignet dressed up with sweet potato and raspberry jam, while Dimes sells a gluten-free Yuzu-poached sweet potato with avocado ice cream and lava salt. And at San Francisco's Tartine Bakery, a sweet potato tea loaf with a meringue topping is dazzling customers. Well-played.
If ice cream is where your heart lies, then you might be curious about vegetable-forward restaurant Semilla and the roasted Japanese sweet potato ice cream, yogurt, miso, and sesame dessert they served, or you might be intrigued by the Momofuku Milkbar version with a marshmallow topping. Lotus scoop, the online artisan creamery, has a featured flavor that combines sweet potato with banana and Himalayan pink salt while the Feasting on Fruit Pinterest board offers a recipe for a sweet potato split. And the queen of cookies, Dorie Greenspan, has a sweet potato pie bar cookie featured in her latest cookbook, titled Dorie's Cookies.
Have we proven our point yet? Try sweet potatoes in a whole new way with these mind-blowing recipes.
1 cup pitted dates
¼ cup brown sugar
3 cups sweet potato puree
¼ cup hazelnut oil
4 eggs
1¼ cups almond meal
1 teaspoon salt
1 teaspoon ground ginger
1 teaspoon ground cinnamon
1½ teaspoons baking powder
¼ cup maple syrup
2 teaspoons vanilla
Preparation
1. Preheat oven to 350°F and grease 9-inch round baking pan.
2. Bring to boil about 1 cup water with dates. Reduce heat and allow to sit for 10 minutes.
3. In a food processor, combine 2 cups sweet potato with ¼ cup brown sugar and hazelnut oil. Mix until light and fluffy. Add 4 eggs, one at a time. Process until mixture looks lighter in color and creamy.
4. In a bowl combine 1¼ cups almond flour with 1 teaspoon salt, ginger, and cinnamon. Slowly add to mixer.
5. Drain dates and add to food processor with 2 tablespoons unsweetened almond milk. Process until finely chopped. Then add 1½ teaspoons baking powder and mix until well-combined.
6. Pour in cake pan and bake for about 35 minutes.
7. In small saucepan, add 1 cup of sweet potato puree, maple syrup, ¼ teaspoon salt, 1 cup almond milk, and 2 teaspoons vanilla extract. Bring to boil, stirring to combine ingredients. After the sauce is well-mixed, lower heat and reduce for 10 minutes.
8. When cake has finished baking, set pan on cooling rack.
9. Flip cake onto a serving platter. Top individual slices with sauce and a scoop of ice cream or dollop of Greek yogurt for a tartier experience and your favorite toasted nut.
2 cups sweet potato puree
1¼ cups hazelnuts, toasted, still warm
1¼ cups 64 percent dark chocolate, melted
Pinch of salt
2 tablespoons maple syrup
½ cup hazelnut oil
Preparation
In a food processor combine sweet potato, hazelnuts, chocolate, and salt. Mix until smooth. Then as the processor is going, gradually add maple syrup and then the hazelnut oil until smooth. About 5 minutes. Eat with a spoon or spread on anything and everything as you would regular Nutella.