Weeknight Ramen That's Actually Good For You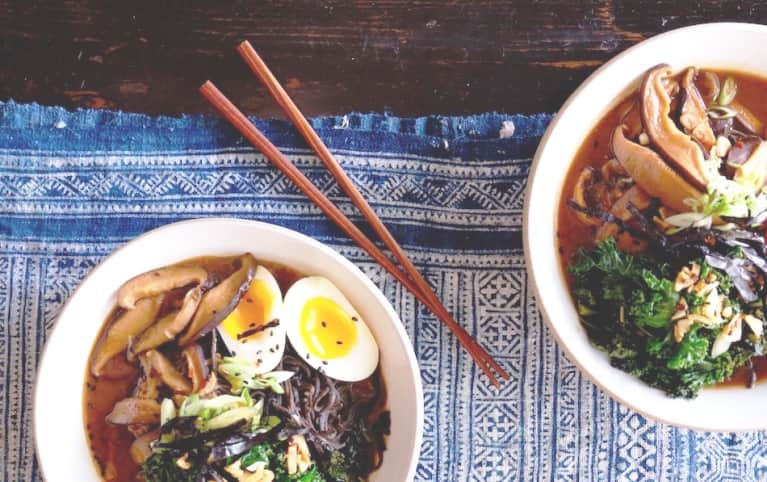 Healthy ramen sounds a bit like an oxymoron. The ramen we know, love, and crave is anything but healthy, with extremely high sodium content being the least of its drawbacks.
From unnatural chemicals like flavor-enhancing MSG (monosodium glutamate), BPA (in the Styrofoam of instant ramen), to denatured rancid oils, soy protein isolate, empty calories, and high levels of poor-quality saturated fat, based on this description, ramen should be a once-in-a-blue-moon treat.
There's a reason we love and crave ramen so. The rich, fatty, spicy, and salty umami flavors combine with different textures to awaken our taste buds and satisfy that want for warm slurp-able bowl of comfort.
But comfort foods should be nourishing, grounding, and rejuvenating. They come from tradition, from the foods we grew up with or that Mom or Grandma used to make. They are tied to our emotions and our pleasure centers, so no matter how bad they may be for us, we will still crave them and give in to these comforts.
That's where the makeover comes in. Because I firmly believe that food should nourish and heal, I've given this classic favorite an extreme makeover while still maintaining the full-body flavor we love.
The once processed soup is now a rich, bone-building, collagen-cultivating bone broth, filled to the brim with nutrient-dense dark leafy greens, fresh garlic, red miso, immune-boosting shiitake mushrooms, and low-carbohydrate, protein-rich black bean noodles.
The end result—a bowl of goodness that you can slurp till the last drop without an ounce of regret.
Bone Broth Miso Ramen with Black Bean Noodles
Makes 1 to 2 servings
Ingredients for Miso Bone Broth
4 cups grass-fed and finished bone broth of choice (can substitute for vegetable broth)
½ cup red miso paste
1 tablespoon toasted sesame oil
5 to 6 garlic cloves, minced
5 shiitake mushrooms, thinly sliced
Preparation
Combine ingredients and simmer on low for 30 minutes to 1 hour.
Ingredients for Sauteed Kale
1 bunch of kale, de-stemmed and chopped into strips
2 tablespoons sesame oil
1 tablespoon tamari
1 tablespoon rice wine vinegar
6 to 7 garlic cloves, thinly sliced
Preparation
1. Add sesame oil to a hot pan and add sliced garlic cloves. Stir and fry until crisp and golden brown. Remove half of the garlic from pan and reserve for garnishing bowl.
2. Add kale to pan and allow kale to wilt. Once tender, add in tamari and rice wine vinegar and mix in well. Remove from heat and reserve until plating.
Ingredients for Noodles
1 package of black bean noodles
Preparation
Prepare as directed; strain and reserve till ready to serve
soft-boiled eggs*
scallions sliced on a bias
black sesame seeds
drizzle of hot chili sesame oil
red pepper flakes
nori strips
*Bring a pot of water to a rolling boil and add desired amount of eggs to water. Make sure they are completely submerged by water. Allow to boil for 6 minutes and remove from water. Peel shell and slice in half when ready to serve.
1. Start by adding a healthy portion of black bean noodles to the center of a bowl.
2. Add the bone broth and mushrooms.
3. Next add your kale, egg if you desire, and garnish with fried garlic, scallions, sesame seeds, red pepper flakes, nori strips, and a drizzle of hot chili oil. Enjoy nice and hot.