This Savory Plant-Based Cake Will Be A Game-Changer At Your Next Birthday Party
Somewhere along the line, cakes became synonymous with parties. Whether celebrating a birthday, a graduation, a birth, or a Friday at the end of a particularly grueling week, there are bound to be anywhere between one and five layers of sweet, baked goodness, slathered with butter whipped into soft peaks with copious amounts of powdered sugar.
Whether they're homemade and rustic, or purchased perfection, cakes satisfy like nothing else and seem to bring forth a childlike glee unmatched by anything savory, or any other pastry, for that matter. But what happens when you don't have a sweet tooth? Or you're avoiding sugar or gluten? Are you doomed to live a joyless life, deprived of the opportunity to seriously indulge in the moments worth celebrating? Are you relegated to the dimly lit outskirts, devoid of unnaturally bright buttercream roses, corner slices, and the ceremonial extinguishing of slowly melting birthday candles?
Thankfully, no. (Cue giant, celebratory sigh of relief!) For those of you blessed with a savory tooth, it's time to light the sparklers, snap on the paper hats, and bust out the Silly String because cakes aren't necessarily a sweet affair any longer. Savory cakes are popping up all over the internet and making appearances at parties and celebrations across the globe. From "sandwich cakes" to deceptively sweet-looking cupcakes to an all-vegetable trend hailing from Japan, the notion that these signifiers of a good time need be comprised of ingredients such as sugar, butter, and flour is certainly being challenged.
Though my taste buds continue to straddle the line between cravers of sugar and seekers of salt, I see no reason not to jump on the bandwagon. As a lover of beets and all things goat cheese, I certainly wouldn't complain if my next birthday cake looked like a salad bar and a dessert table cross-pollinated.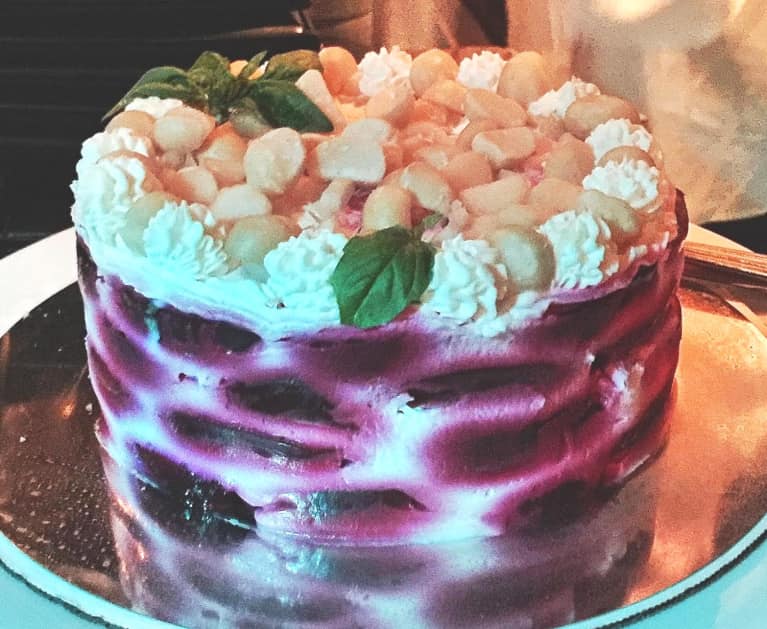 Beet Salad Birthday "Cake"
Ingredients
6 to 7 medium to large beets, rinsed and stemmed
2 tablespoons olive oil
2 10-ounce logs of soft goat cheese
¼ cup goat milk yogurt, plain
Zest of 1 lemon
Large handful of basil
1½ cups toasted, salted macadamia nuts
Preheat the oven to 400°F.
Place your beets on a large baking sheet covered with a sheet of aluminum foil. Drizzle the olive oil over the beets and season them with salt and pepper. Tear off another sheet of aluminum foil and lay it over the beets. Crimp the two sheets together at the edges to form a sealed pocket for your beets to cook in. Roast them for 45 minutes to an hour, until tender all the way through.
Once the beets are roasted and cooled enough to handle, rub the skins off, using two paper towels. Set the beets aside to cool completely.
In the bowl of a stand mixer, combine the goat cheese, lemon zest, goat yogurt, and salt and pepper to taste. Whip the ingredients at medium speed, until completely incorporated and smooth. You want a "pipeable" consistency, so if you need to add a little more yogurt to make that happen, by all means do. Place the "frosting" in a piping bag fitted with a star tip.
Slice your beets to somewhere between a ¼-inch and a ½-inch thickness, using a mandoline or a knife and a steady hand.
Chop your nuts (reserving a few whole ones to decorate with on top) and tear your basil (also reserving a few whole leaves for the top).
Using a 6-inch cake ring placed on top of a cake plate or board, begin to layer your ingredients. Start with a thin layer of frosting so that the cake sticks to the plate and doesn't slide, then add your first layer of sliced beets. You'll have to cut a few of the rounds to fit—don't worry, you won't be able to tell on the finished cake.
Next, pipe a layer of frosting, top that with some of the chopped nuts and a bit of the basil, then repeat with a beet layer. Continue this process until you reach the top of the cake ring. At this point, place the cake in the fridge so that the goat cheese frosting sets.
When you're ready to serve it, gently slide the ring up and off the cake. Decorate the top with the remaining frosting, whole macadamias, and a few whole basil leaves.
Though I'm not ever likely to pass up a soft, spongy génoise, topped with lightly sweetened whipped cream and plump, fresh berries, I'm convinced that a cake so unexpectedly savory yet festive is definitely something worth celebrating.