The Ultimate Vegan Harvest Quinoa Bowl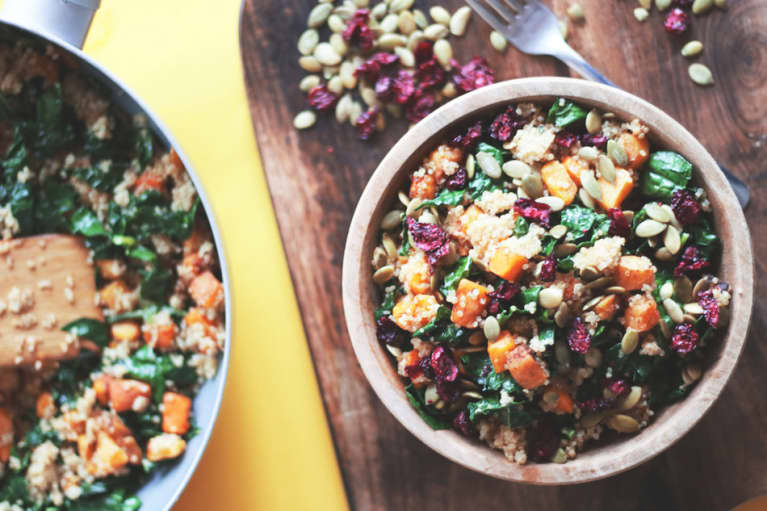 The weather is getting cooler, the nights are getting darker, and the air a bit damper. When all you want to do is crawl under the covers, order pizza and turn on Netflix, and chill … we've got a meal that will make you seriously reconsider.
This Vegan Harvest Bowl will give you all the warm and fuzzy feelings of the autumn season. The roasted squash and sautéed kale are served warm, which turns it into a comforting dish full of complementary flavors like cranberries, balsamic vinegar, and pumpkin seeds.
But wait. There's more! If you make this for dinner tonight, you'll have leftovers for your lunch tomorrow and maybe even the day after that (depending on how hungry you are). What are you waiting for? Let's get cooking!
Roasted Butternut Squash Harvest Bowl
1 medium butternut squash, cut into cubes
2 tablespoons extra-virgin olive oil, divided
¾ cup quinoa, uncooked
1¼ cups water
8 cups kale, stems removed and thinly sliced
1 to 2 tablespoons balsamic vinegar
sea salt and black pepper, to taste
½ cup raw pumpkin seeds
½ cup dried cranberries
Preparation
1. Preheat the oven to 420°F and line a baking sheet with parchment paper.
2. Toss the cubed butternut squash in half of the olive oil and spread across the baking sheet. Bake in the oven for 20 to 25 minutes, or until golden brown.
3. While the squash roasts, combine the quinoa and water in a saucepan. Place over high heat and bring to a boil. Once boiling, reduce the heat to a simmer and cover with a lid. Let simmer for 12 to 15 minutes or until all the water is absorbed. Remove the lid, fluff the quinoa with a fork, and set aside.
4. Heat the remaining olive oil in a large skillet over medium-low heat. Add the chopped kale leaves and sauté for about 3 to 5 minutes or until wilted. Turn the heat down to the lowest setting.
5. Add the quinoa, roasted butternut squash, and balsamic vinegar into the skillet with the kale and toss until all ingredients are evenly distributed. Season with sea salt and black pepper to taste and turn off the heat.
6. Divide into bowls and garnish with pumpkin seeds and dried cranberries. Enjoy!
Store any leftovers in an airtight container in the fridge for 3 to 4 days.
Cheese lovers can top with crumbled feta or goat cheese for some extra flavor.
Save yourself some time by buying frozen butternut squash instead of fresh.
This recipe is super versatile, and almost all ingredients are interchangeable. For example: Swap out the quinoa for brown rice, kale for swiss chard, or squash for sweet potato.