Tossing Your Broccoli Stems? You're Missing Out! These 4 Recipes Will Set You Straight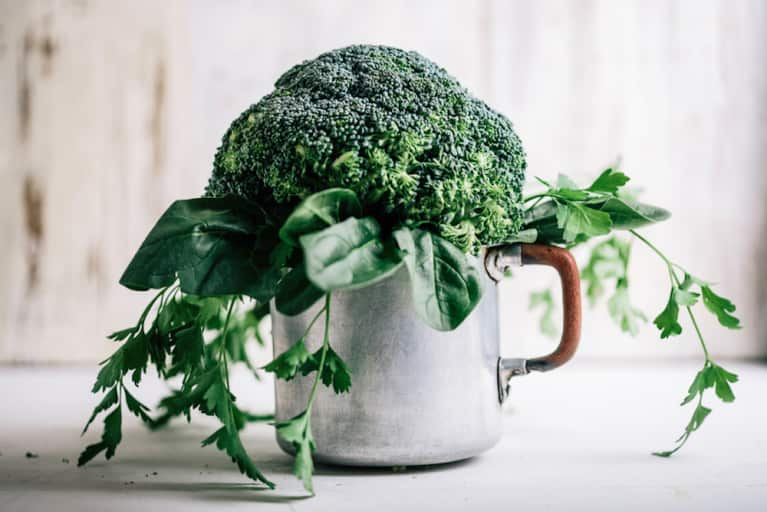 We've all been guilty of it: cutting off the brilliant, bushy crown of our broccoli and tossing the stems. Public service announcement: Broccoli is more than its florets! Those stems are loaded with vitamins and minerals. One hundred grams have 3 grams of protein, plus potassium, magnesium, and calcium. Not to mention they can be delicious, if prepared with care. Here are two ways to love your broccoli stems. One is a garlicky tahini dip inspired by Costa Rica. And the second turns broccoli stem slices into unlikely mini pizzas. Eat them on your own, or share them with your friends and spread the news: Broccoli's stems are a whole new reason to love the veggie.
Broccoli Stem, Avocado, Tahini Dip
Broccoli stems cut from 2 lbs. of broc, peeled
1 avocado
½ head of garlic, roasted
2 tablespoons tahini
Pinch of salt
1 to 2 tablespoons olive oil
2 teaspoons Sumac for sprinkling
In a medium-size pot of salted water, add broccoli stems and boil until soft, about 5 to 8 minutes.
Remove stems from pot, but into smaller pieces, and then add to food processor. Then add garlic, avocado, tahini, and a pinch of salt. Puree until smooth, and then as the machine is on, gradually pour in the olive oil and sumac.
Recipe Tip:
Toast a piece of whole-grain bread and slather it with our Broccoli Stem, Avocado, and Tahini Dip, then top with roasted sweet potato slices, a fried egg, and drizzled honey.
Makes 10 to 12 mini pizzas
Ingredients
Stems cut from 2 lbs. of broccoli, peeled, cut into rounds
½ cup favorite tomato sauce or pesto
½ cup feta or ricotta
½ cup micro greens
Preheat oven to 350°F.
In a medium-size pot of salted water, add broccoli rounds and boil until soft, about 3 to 5 minutes.
With a slotted spoon remove pieces from pot; place them on paper towels to dry them out.
Then grab rounds and place them on top of greased baking sheet.
With a demi spoon, place a dollop of either the sauce or pesto; flatten out. Then top that with a sprinkle of your favorite cheese.
Place in oven for 2 to 3 minutes. Take out, put on serving platter, and top with micro.