These Beet + Buckwheat Crepes Will Balance Your Chakras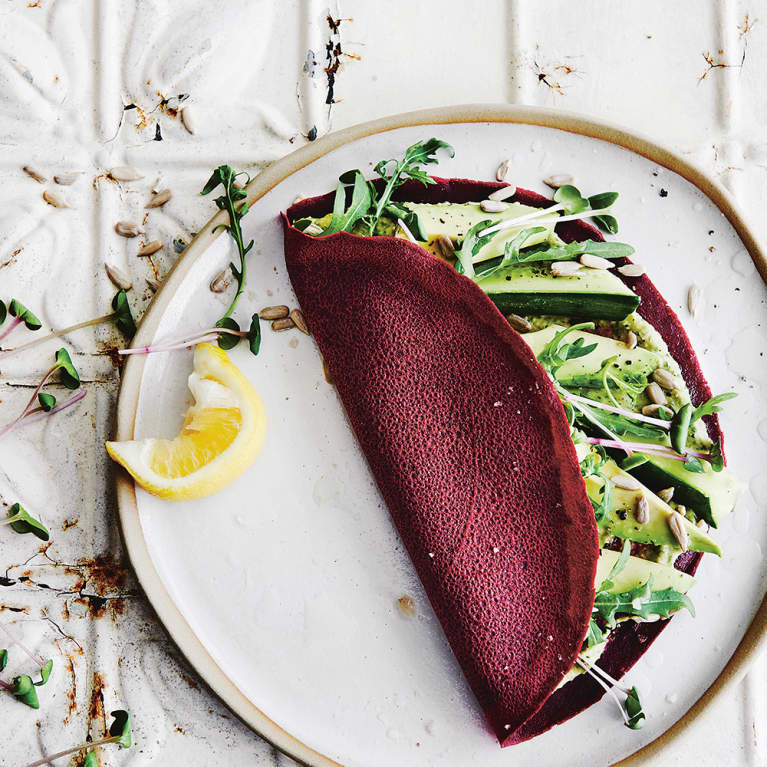 Our editors have independently chosen the products listed on this page. If you purchase something mentioned in this article, we may
earn a small commission
.
In the new book The Yoga Kitchen, Kimberly Parsons walks us through eating for the seven chakras in simple, delicious, and real-life ways. This recipe for Buckwheat Beet Wraps is part of the grounding chapter for "when you want to feel secure, energetic, balanced, vibrant, and passionate."
Disillusioned by the mass-produced gluten-free wraps available, I decided to come up with my own creation for the yoga-eating masses. The vibrant red color of these wraps makes them both nutritionally and visually beneficial; however, carrot or spinach juice would also be a great substitute.
Buckwheat flour is superbly nutritious and is actually completely gluten-free despite what its name implies.
Makes 12 crepe-like wraps
Ingredients
8¼ fl oz/generous 1 cup (240ml) beet juice
2 eggs
6 oz/1⅓ cups (175g) buckwheat flour
1 teaspoon ground cumin
½ teaspoon salt
2 tablespoons olive oil
3 fl oz/⅓ cup (90ml) water, to thin
a little coconut oil, for frying
hummus
avocado
cucumber
roasted sweet potato wedges
arugula
mixed seeds
a squeeze of lemon juice
Method
1. Put the beet juice and eggs in a large mixing bowl and whisk until combined. Now add the buckwheat flour, cumin, and salt and whisk together, slowly adding the water and olive oil until the mixture is smooth. Allow the mixture to stand for about 15 minutes at room temperature to thicken slightly.
2. To cook the wraps, heat a thin crepe pan or frying pan over a medium-high heat and rub a little coconut oil over the pan. Pour about ¼ cup (60ml) of the batter into the pan and swirl the pan around to create a thin crepe. Cook for 1 to 2 minutes until bubbles gradually pop over the surface of the crepe and it loses its glossy look. Flip the crepe using a spatula and cook for a further 30 seconds before removing from the pan.
3. Repeat with the remaining batter using a little coconut oil each time. Place each cooked crepe on top of each other (depending on your pan, the subsequent crepes will require much less time to cook than the first one as the pan heats up).
4. To fill, take a cooked crepe and spread hummus over the inside surface (the side you cooked second), then add the filling ingredients of your choice. Either roll the wrap into a tight roll or simple fold it in half and enjoy.