A Coconut Apple Crisp You Won't Want To Wait Till Thanksgiving To Make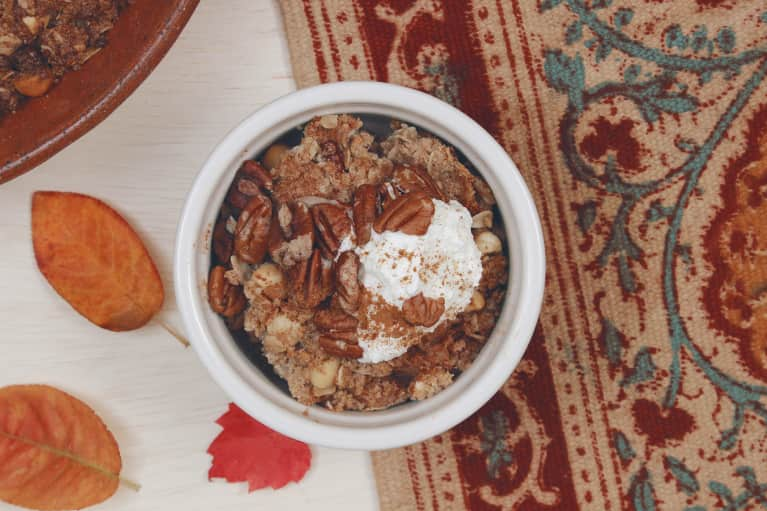 In the lead-up to Thanksgiving, we're sharing a mix of original recipes, entertaining advice, and seasonal dishes from our favorite bloggers to help you approach the holiday with a little more mindfulness and a lot of extra-delicious vegetables and fruits.
We're focusing on whole-food, plant-driven dishes to make your holiday table not only beautiful but more healthful, too—while still keeping the integral flavors of the season front and center.
The beauty of this crisp is that it has just the right balance of crunch and nuttiness and tender pieces of sour-sweet apple. This gluten-free crisp can also easily be made dairy-free—solving all your dietary restriction quandaries in one dessert. Besides, it's the best leftover breakfast. Ever.
1½ cups dry old-fashioned oats
1⅓ cups almond meal
½ cup dark brown sugar
¾ cup raw unsweetened grated coconut
1 teaspoon cinnamon powder
2 teaspoons salt
½ cup raw pecans, chopped
½ cup raw hazelnuts, chopped
¾ cup melted butter (you can also use ghee or coconut oil)
3 tablespoons maple syrup
4 Granny Smith apples, peeled, cored, and cubed
Juice from 1 lemon
2 teaspoons cinnamon
2 teaspoons maple syrup
2 teaspoons almond meal
Preparation
1. Preheat oven to 350°F. In a large mixing bowl, combine the oats, almond meal, brown sugar, coconut, cinnamon, salt, pecans, and hazelnuts. Set aside.
2. In a smaller mixing bowl, combine the butter and maple syrup. Stir the wet ingredients into the dry ingredients and mix until incorporated.
3. In a small mixing bowl, coat apples with lemon juice, cinnamon, maple syrup, and almond meal.
4. Layer the apple mixture in a 9-inch round greased pie dish.
5. Evenly sprinkle the crumble mixture over the apples. Bake for approximately 45 minutes on middle rack, or until topping turns a golden-brown. Allow to cool slightly, and then serve. Ideally, a la mode.