Stunning Side: Roasted Root Vegetables With Sage Butter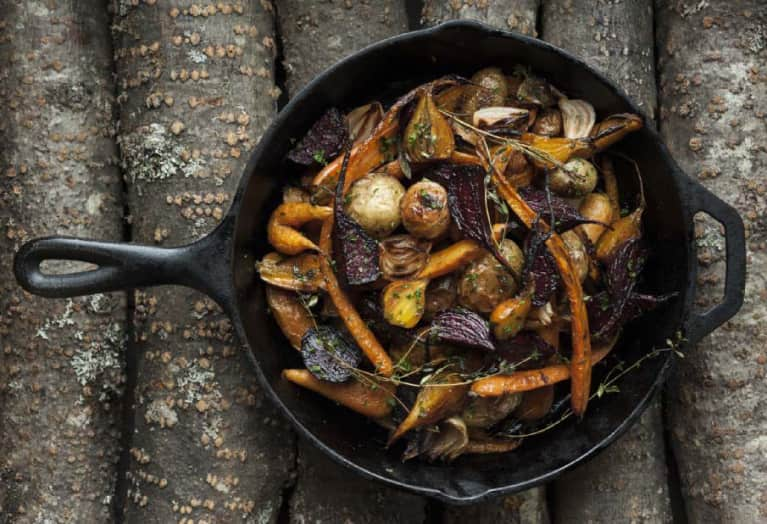 If you're looking for a hearty and seasonal veggie side for your next gathering or, say, Thanksgiving, give this recipe a shot. The sage butter adds a special element that takes this dish from weeknight side dish to a celebratory must-have.
Serves 6
Ingredients
5 medium carrots, halved lengthwise
8 baby potatoes, halved lengthwise if larger
4 baby beets, halved, or 2 medium beets, cut into large cubes
8 small onions, quartered
¼ cup grapeseed oil
1 tablespoon finely chopped fresh rosemary
1 tablespoon finely chopped fresh thyme
1 tablespoon finely chopped fresh parsley
Sea salt and cracked black pepper
½ cup (1 stick) unsalted butter, at room temperature
2 tablespoons finely chopped fresh sage
2 teaspoons honey
Preparation
1. Preheat the oven to 425°F.
2. Put the vegetables in a large bowl and toss with the oil, rosemary, thyme, parsley, and salt and pepper to taste until they are evenly coated. Spread the vegetables on a baking sheet or in a roasting pan, being careful not to crowd them. The keys to getting the proper color and caramelization are temperature and enough space to allow the vegetables to release steam as they roast. Use two baking sheets (or more) if necessary.
3. Roast the vegetables for 35 to 40 minutes, stirring every 10 minutes. They are done when nicely browned and able to be just pierced through with the tip of a knife. While the vegetables roast, place the butter in a medium bowl and add the sage, honey, and salt and pepper to taste. Using a wooden spoon or rubber spatula, work the ingredients into the butter until well-incorporated.
4. Transfer the roasted vegetables to a large bowl while still warm and toss with the herbed butter.
5. Season to taste and serve.
Recipe Note: Compound butters are a great preparation to store in the refrigerator for later use. Transfer the remaining herbed butter to a small piece of parchment paper and form it into a small log. Roll into a tube and twist both ends of the paper to enclose and tighten the butter into a cylinder. Slice off "coins" of butter as needed to use in other cooking endeavors. It will last in your refrigerator for several weeks.