A Turkish-Spiced Wild Rice Salad That's Perfect For Tomorrow's Lunch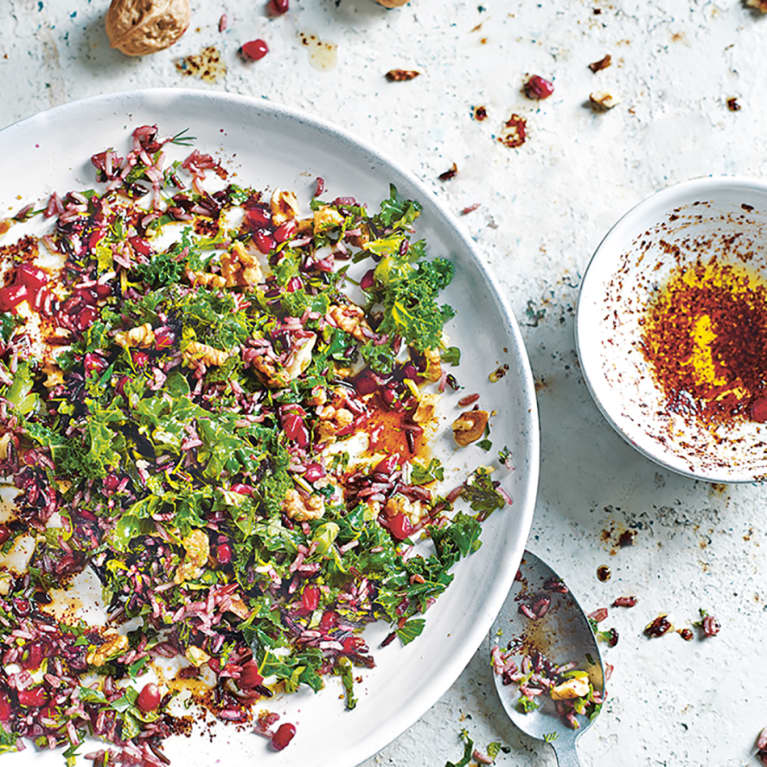 Our editors have independently chosen the products listed on this page. If you purchase something mentioned in this article, we may
earn a small commission
.
In the lead-up to Thanksgiving, we're sharing a mix of original recipes, entertaining advice, and seasonal dishes from our favorite bloggers to help you approach the holiday with a little more mindfulness and a lot of extra-delicious vegetables and fruits.
We're focusing on whole-food, plant-driven dishes to make your holiday table not only beautiful but more healthful, too—while still keeping the integral flavors of the season front and center.
This hearty salad recipe from the book The Goodness of Greens, edited by Claire Rogers, is packed with superfoods and classic Turkish ingredients.
The combination of the mixed rice—using black, red, brown, and white—gives the salad a variety of colors, textures, and flavors.
Turkish staples dill, parsley, mint, pomegranate seeds, and walnuts add flavor, and the addition of kale gives it a light, modern twist.
The dressing uses sumac to give an extra-sour note. A little pinch of this ground red berry is a lovely way to introduce more depth of flavor to any salad dressing.
For more delicious Thanksgiving recipes, click here.
Wild Rice, Kale + Pomegranate Salad
1¾-cup mixture of black, red, brown, and white rice
5½ ounces kale
1 handful finely chopped dill
2 handfuls finely chopped flat-leaf parsley leaves
1 handful finely chopped mint leaves
1 red chili, seeded and finely chopped
1¼ cups pomegranate seeds
½ cup walnuts, lightly crushed
¼ cup olive oil
3 tablespoons pomegranate molasses
Juice of 1 lemon
1 teaspoon superfine sugar
1 teaspoon sumac
Sea salt and freshly ground black pepper
Preparation
1. Cook the rice in a large pan of boiling water according to package instructions, starting with the variety that takes the longest and adding the rest at appropriate times so that they all cook perfectly. Drain and rinse under cold running water. Set aside to drain.
2. Meanwhile, cook the kale for 2 to 3 minutes in a large pan of boiling water. Drain and refresh under cold running water. When cool, drain thoroughly and squeeze out the excess water with your hands.
3. Whisk all the dressing ingredients together in a small bowl.
4. Put the drained rice in a large mixing bowl and add the kale, herbs, chili, and half the pomegranate seeds and walnuts. Pour in ¾ of the dressing and mix everything together thoroughly.
5. Transfer the salad to a serving dish and pour over the remaining dressing. Top with the remaining pomegranate seeds and walnuts and serve immediately.