A Fall Zoodle Upgrade: Curried Sweet Potato Noodles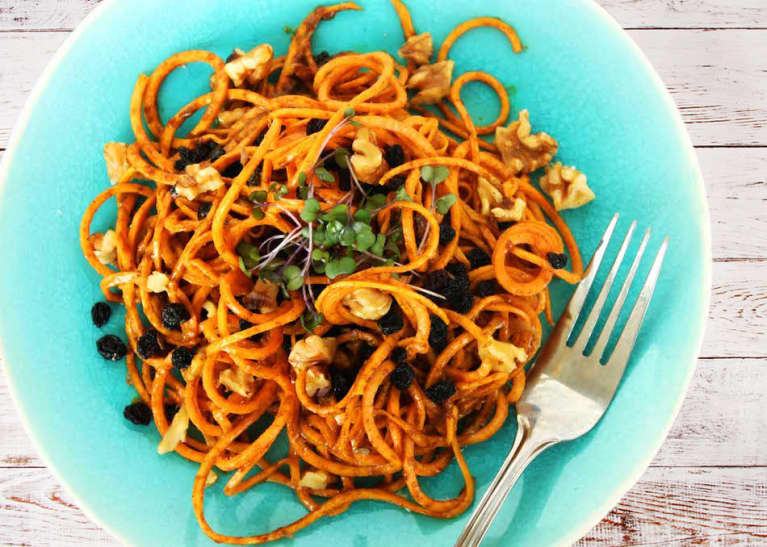 This salad uses spiralized sweet potatoes to make a noodle-like base, dressed with a curry dressing that incorporates almond butter to make it closer to a creamy sauce.
This salad is great for when you're looking for something light and refreshing, and particularly when you need a vegetable boost. There are many people who are skeptical the first time they try a raw sweet potato, and I was, too, but it has an awesome crunch to it and tastes really fresh.
The Curry Almond Dressing also packs this salad with lots of flavor and a bit of spice!
Curried Sweet Potato Noodle Salad
Serves 3 as a main or 6 as a side
Dressing ingredients
½ cup almond butter
½ cup melted coconut oil
6 teaspoons curry powder
2 teaspoons cinnamon
2 tablespoons apple cider vinegar
2 tablespoons tamari
2 sweet potatoes
1 cup dried currants
1 cup chopped walnuts
Preparation
1. Make the Curry Almond Sauce by whisking or blending together almond butter, melted coconut oil, curry powder, cinnamon, apple cider vinegar, and tamari.
2. Next, peel the sweet potatoes and either spiralize them, grate them, or use a peeler to make the raw sweet potato noodles.
3. Place the sweet potato noodles in a bowl with the currants and walnuts and massage the sauce into the raw sweet potato noodles.