Breakfast For Dinner: Sweet Potato Vegetable Hash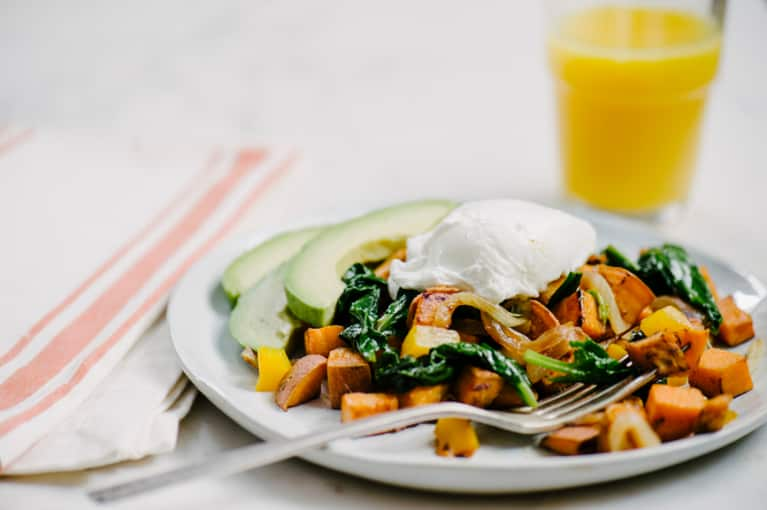 This vegetarian hash gets in all your nutrients and a ton of flavor. Whether you use this to top a bed of quinoa for dinner, make a salad for lunch, or have it as is for breakfast, this meal is a sure win.
The earthiness of the beets and the sweetness of the roasted red pepper and sweet potato come together perfectly for a pleasing dish anytime of the day (and as leftovers the next day).
Topping this hash with food rich in healthy fats like avocado and egg can also fill you up and keep you satisfied Give it a try!
4 small to medium-size red beets
3 red peppers
1 large sweet onion, diced finely
2 tablespoons extra-virgin olive oil
2 tablespoons balsamic vinegar
3 medium organic sweet potatoes, diced small
2 tablespoons Italian seasonings (basil, oregano, rosemary, thyme)
2 teaspoons red chili flakes
2 teaspoons paprika
3 tablespoons tomato paste
1 to 2 teaspoons liquid aminos
1 teaspoon Worcestershire sauce
2 cups spinach
1 cup arugula
Salt and pepper
1 egg
½ ripe avocado
hot sauce of choice
Preparation
1. Preheat oven to 375°F and coat raw beets lightly with olive oil. Wrap beets in aluminum foil fully covered on a baking sheet and bake for about 45 minutes or until a fork smoothly goes into it. Allow the beets to cool for about 5 to 10 minutes (until able to handle) and then peel skin of beets. Dice evenly.
2. Roast red peppers in an oven on high broil or over a gas stove until soft and the skin is burnt. Allow the peppers to cool to the touch. Remove the skin and dice peppers evenly.
3. In a large pan on medium heat, cook onion with olive oil. Sweat the onion and then add balsamic vinegar to caramelize the onion. Add the diced sweet potato and cook until the balsamic vinegar has fully reduced. Add spices.
4. Add about 1 cup of water and cover. Remove the cover after about 5 to 7 minutes and cook until the water evaporates and the sweet potatoes are tender. (Add more water and continue to cover and check if necessary.)
5. Add tomato paste, liquid aminos, Worcestershire, and salt and pepper. Cook until tomato paste is fully integrated.
6. Add spinach and arugula. Cook until wilted to liking.
7. Remove mixture from heat and add diced red pepper and beets.
8. Top mixture with one egg fried over a medium heated pan lightly greased and half of one thinly sliced avocado. Sprinkle with more seasoning, hot sauce, and salt and pepper.