Make Your Own Gluten-Free Protein Bars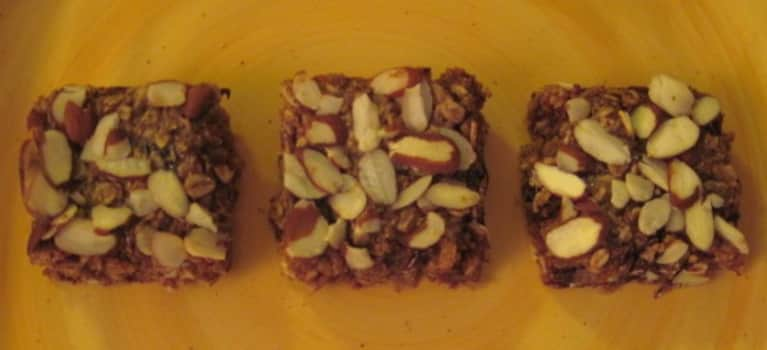 I run in and out of the house quite a bit...whether it is to yoga class or to work and I love to have something in the house that is high in protein that I can grab and go and satisfy me throughout the day. Nothing compares to a homemade nutritious snack!
Ingredients:
½ cup Almond Butter
*½ cup Maple Syrup
¼ cup Coconut Oil
1 ½ cups Gluten Free Rolled Oats
½ cup shredded coconut
½ cup golden flaxseed meal
1 egg, lightly beaten (optional)
**1 teaspoon vanilla
1 tablespoon ground cinnamon
1 orange, squeeze out the juice
¼ cup Slivered almonds for garnish (optional)
Preheat oven to 350° degrees. Whisk wet ingredients together: almond butter, maple syrup, coconut oil, egg, orange juice and vanilla. Mix in rolled oats, shredded coconut and golden flaxseed meal until well blended. Press into an 8x8 pan and top with slivered almonds. Bake for 15 minutes; allow to cool before cutting into desired amount of bars.
Yield 8 bars or 16 squares
* Other nut butters may be used such as peanut or cashew; sunflower butter is a great alternative for school aged kids where nut allergies are a concern. Pumpkin seeds, sunflower or sesame seeds and dried fruits such as cherries and cranberries can also be included as well to provide an added bonus of flavor and texture.
** I find that when incorporating a lightly beaten egg the bars have a chewier texture