This Mediterranean Salad Is The Best Reason To Make Mason Jar Lunches A Thing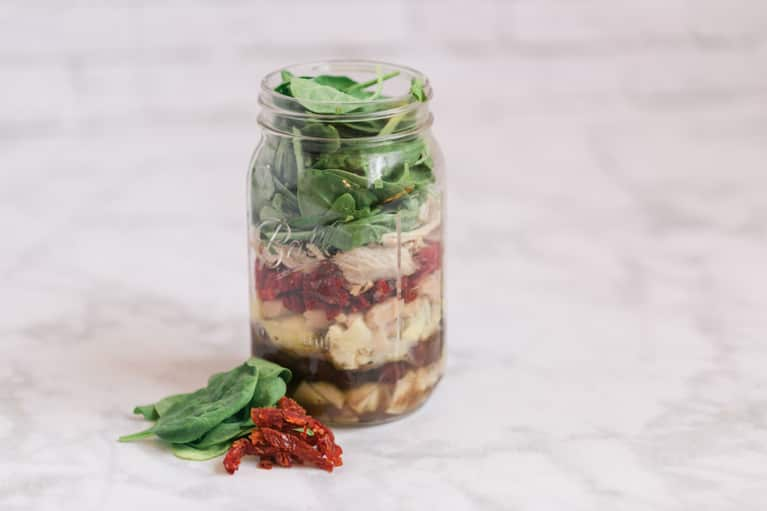 This salad recipe is the ideal solution to a glorified version of a brown-paper-bag office lunch. Not only is it more "green" (or better for the environment), but it's also better for you. All the ingredients fit perfectly into a mason jar; it has an abundance of veggies, significant amounts of protein from the roasted chicken and the cannellini beans, and good-for-you fiber from the artichokes and sun-dried tomatoes. Make. Eat. Wash. Repeat.
Mediterranean Salad in a Jar
Dijon Balsamic Vinaigrette
4 tablespoons balsamic vinegar
1 tablespoon Dijon mustard
¼ cup plus 2 tablespoons extra-virgin olive oil
sea salt and pepper to taste
Vinaigrette preparation:
1. Add vinegar, mustard, and extra-virgin olive oil to food processor and combine until emulsified.
2. Add sea salt and pepper to taste.
3. Serve with your favorite salad and enjoy!
2 tablespoons Dijon balsamic vinaigrette
¼ cup cucumbers, chopped
¼ cup pitted Kalamata olives
¼ cup artichoke hearts, chopped
¼ cup cannellini beans
2 tablespoons sun-dried tomatoes, chopped
4 ounces organic rotisserie chicken breast, shredded
1½ cups organic spinach
1 tablespoon basil, shredded
Salad preparation:
1. Add 2 tablespoons Dijon balsamic vinaigrette to bottom of 1-quart Mason jar.
2. Add cucumbers, olives, and artichoke hearts on top of dressing.
3. Add the cannellini beans on top of the vegetables.
4. Add sun-dried tomatoes on top of the cannellini beans.
5. Top the sun-dried tomatoes with chicken.
6. Add spinach and basil on top of chicken.
7. Refrigerate.
8. Once ready to eat, shake jar, pour salad into a bowl, and enjoy!