The Only Gluten-Free Bread Recipe You'll Ever Need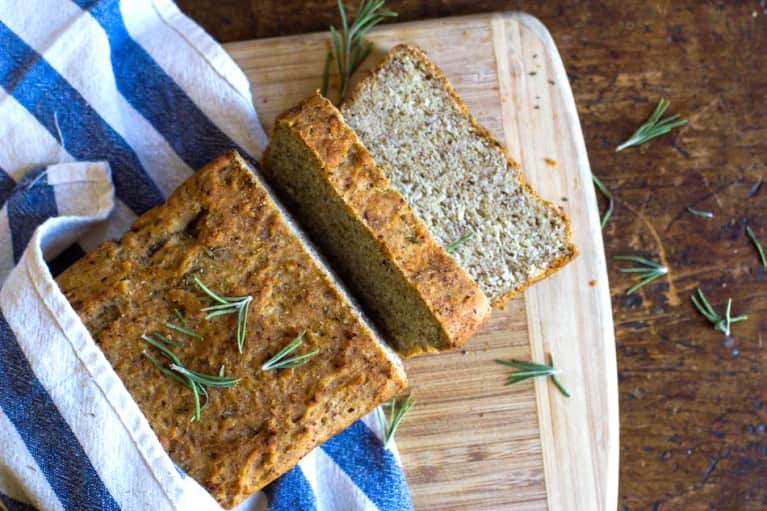 If you have been frustrated with the choices out there for vegan, gluten-free breads, look no further!
This recipe makes a loaf that stays together when you slice it thin or thick and is risen just enough to have an airy quality. The olive oil, garlic, and rosemary lend a wonderful savory flavor, and it's super easy to make.
This loaf makes wonderful crostini when cut thin and toasted, or it can be used to make sandwiches. It's best fresh out of the oven but gets soft again after being reheated in the oven for 10 minutes.
Don't be intimidated by the list of gluten-free flours if you're new to gluten-free baking! They are readily available at almost any regular grocery store.
Gluten-Free Rosemary Bread
2 cups brown rice flour
1 cup potato starch
1 cup almond meal
4 cloves garlic, minced
2 tablespoons rosemary, minced
1 tablespoon + 1 teaspoon xanthan gum
1 tablespoon sea salt
Preparation
Mix well in a bowl and set aside.
Wet Mix
2 cups warm water
1 tablespoon active dry yeast
1 tablespoon coconut sugar
3 tablespoons flax
½ cup olive oil
2 tablespoons agave
1 teaspoon apple cider vinegar
Preparation
1. Mix water, yeast, coconut sugar, and flax and allow to sit in a warm place to bloom the yeast for 10 minutes.
2. Mix with the dry mix above and then add olive oil, agave, and apple cider vinegar.
3. Pour into a greased bread pan. Allow to proof for 30 minutes, covered in plastic wrap (it will double in size) and then bake at 375°F for 25 to 30 minutes.
Want to turn your passion for wellbeing into a fulfilling career? Become a Certified Health Coach! Learn more here.