I'm A Nutritionist Who Lives In A Tiny Home With No Kitchen. Here's How I Eat Clean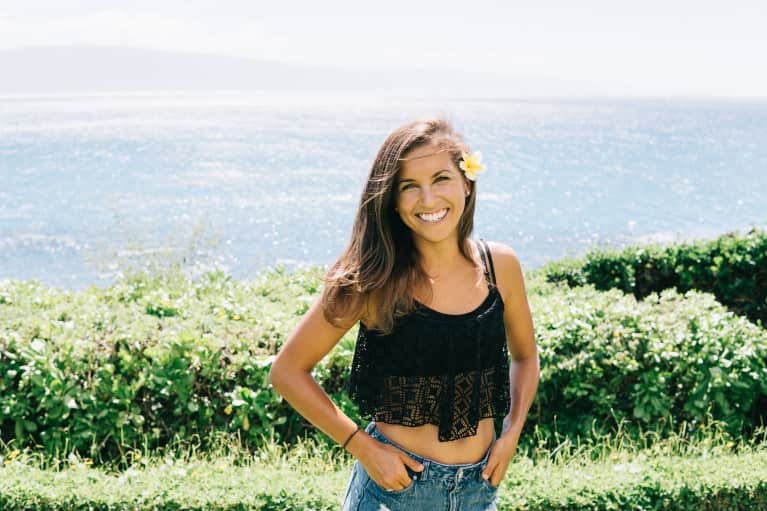 Our editors have independently chosen the products listed on this page. If you purchase something mentioned in this article, we may
earn a small commission
.
Living in a small hut in Maui is just as rustic as it sounds: 124 square feet of living space, an outdoor bathroom and shower, and no kitchen.
As a nutritional therapy practitioner, I've learned to become extremely creative with how I craft nutrient-dense food that can be whipped up in this bare space.
Here's a look at how I stay healthy in my tiny home, without the use of an oven, stove, or variety of basic appliances. I hope it gives you some ideas about how to eat well when you don't have access to a full kitchen.
By this time of day, the Hawaiian sun is already shining with full force. I tend to wake up thirsty, so I start my day with about 16 ounces of purified water with a pinch of real salt for optimized hydration. I also take a probiotic on an empty stomach, which helps normalize my gut bacteria before I eat.
Within 30 minutes of waking, I start to get hungry, and my sweet tooth usually makes an appearance. My first meal almost always consists of a large smoothie bowl with a variety of toppings. Smoothie bowls are a great way to pack in micro- and macro-nutrients first thing in the morning.
They also help me get energized for the busy day ahead — and require only a blender!
Mixed Berry Smoothie Bowl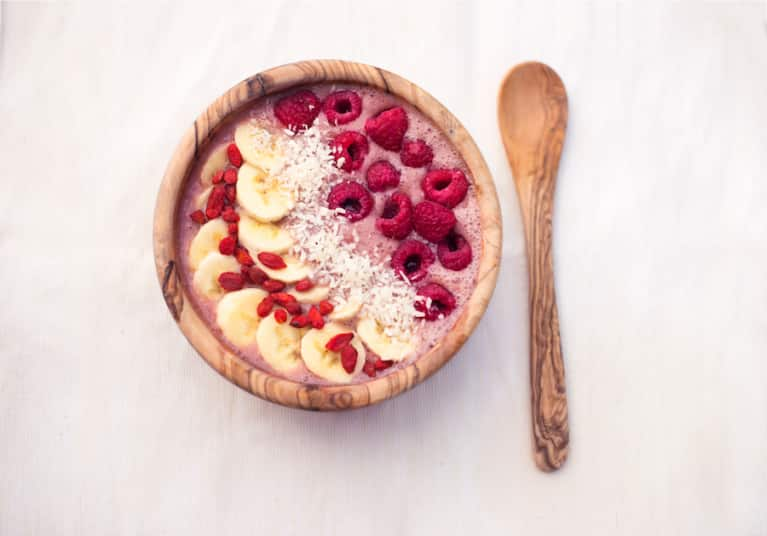 Local fruit
Coconut flakes
Chia
Flax seeds
Preparation
1. Add a cup of filtered water into a high-powered blender, followed by the frozen berries, protein, spirulina, and mineral drops. Blend until a thick, smooth consistency. Pour into a large bowl.
2. Top it off with fresh fruit and sprinkle with chia seeds, flax, and coconut flakes.
By the time lunch rolls around, I'm ready to EAT. The breakfast smoothie bowl satisfied my sweet tooth, so I'm more than ready for something savory that's packed with veggies.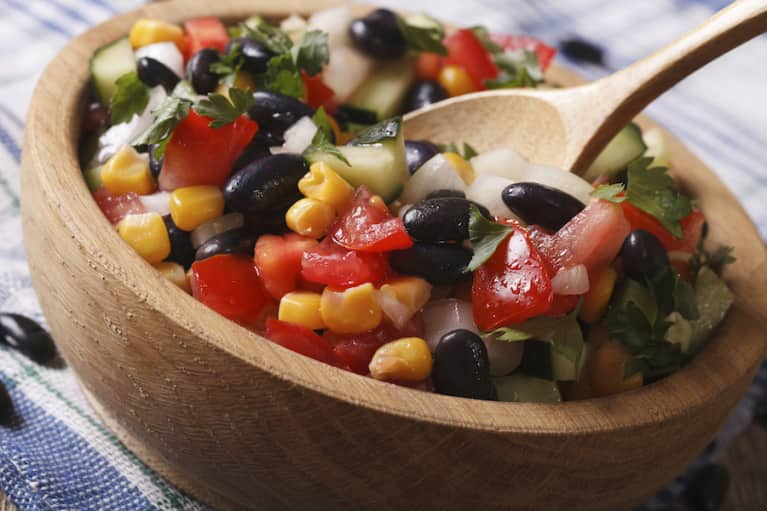 ½ cup brown rice
½ cup black beans
Lettuce, spinach, and kale mixture (enough to use a large mixing bowl — I love my greens)
Tomato
Guacamole and salsa (fresh from the local farmers market)
2 tablespoons nutritional yeast
Preparation
1. In addition to my Vitamix, my rice cooker is one of the few appliances I use on a daily basis. To assemble this no-cook burrito bowl, I simply combine leftover brown rice and black beans from the night before with as many other greens as I can fit into a mixing bowl.
2. Add fresh tomato, guacamole, and salsa, and top with nutritional yeast for a cheesy flavor and hefty dose of B vitamins.
Once a week, I will use a beach grill to cook up a few pieces of whatever fish looked fresh at the market. This week it was wild salmon, so I had some on hand for this Asian-inspired dinner.
Salmon Avocado Nori Rolls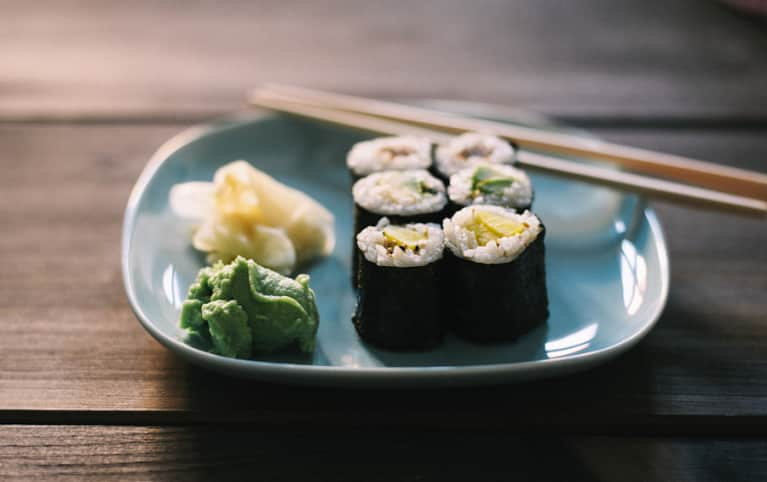 6 ounces wild salmon
¼ of a local avocado
Sliced cucumbers, carrots, and micro-greens
2 sheets nori paper
Sriracha, coconut aminos, and wasabi for dipping
Frozen organic veggie blend
Red Thai curry sauce
Preparation
1. Assemble the leftover salmon, avocado, cucumber, and carrots onto a sheet of nori seaweed.
2. Roll it up and slice like sushi. Easy! Usually, I'll have two of these rolls with a side of (pre-frozen) organic veggies that I prep in a microwave and top with a dairy-free coconut curry sauce to add flavor.
Without fail, I end my days with a sweet treat! And banana ice cream is a go-to.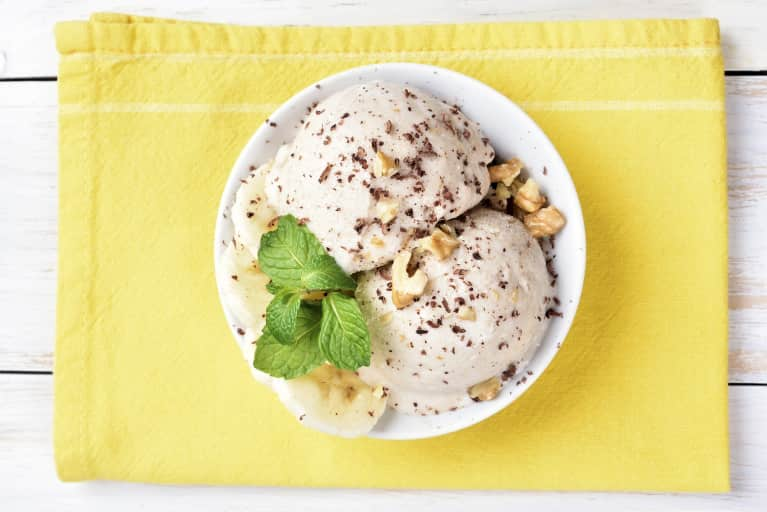 1 frozen banana
1 to 2 tablespoons nut butter
½ cup almond milk
A few drops of vanilla stevia
Preparation
1. Add almond milk or liquid of choice to a blender, followed by frozen banana, nut butter, collagen, stevia, and ice.
2. Blend slowly and add ice to thicken. You should end up with a soft-serve-like consistency.
Although healthy eating can seem daunting at first, I try to show my clients that preparing nourishing meals can be delicious, easy, and quick!