Coconut-Filled Chocolates With One Totally Unexpected Ingredient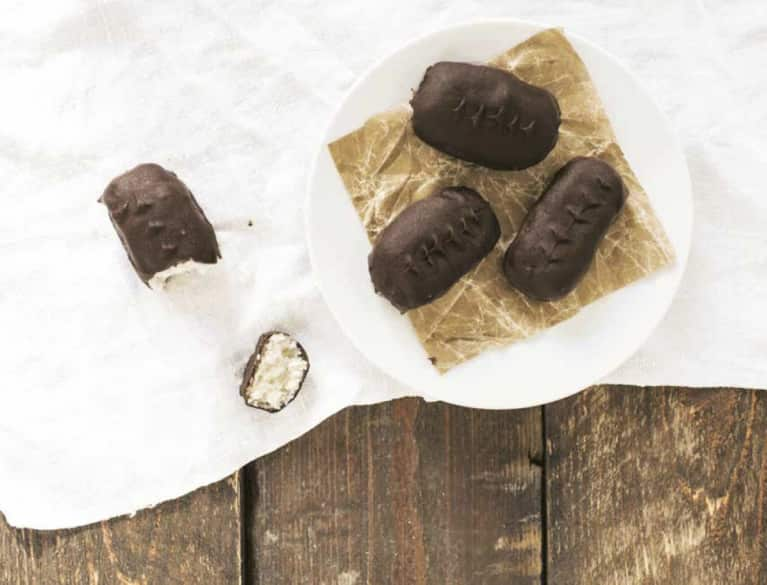 A surprise ingredient in these amazingly rich coconut chocolates is potato! You'd never guess when tasting them, but that's the secret to the smooth consistency of the filling.
Coconut-Filled Chocolates
Makes about 8 pieces
Ingredients
1 potato
3 tablespoons honey or coconut syrup
1 teaspoon vanilla extract
1 cup coconut flakes, or as needed
2 tablespoons coconut oil, melted
4 ounces unsweetened dark or raw chocolate
Preparation
1. Peel and cut the potato into chunks. Place in a saucepan with water to cover; bring to a boil over medium-high heat, and boil until tender. Drain and mash smooth with a fork.
2. Measure out 3 tablespoons of the mash into a bowl. Add the honey and vanilla extract. Mix well. (The mash will now lose its solid consistency and turn to liquid!) Stir in the coconut flakes and coconut oil.
3. The dough should now be thick enough to form into a ball. Add more coconut flakes if necessary. Divide into 8 pieces and form into small bars on a baking sheet. Pop the sheet in the freezer for 30 minutes to set.
4. For the icing: Prepare the icing by melting the chocolate in a double boiler.
5. Take the bars out of the freezer and dip them into the chocolate icing or drizzle the icing onto them. Keep in the fridge until serving.