The Perfect Plant-Based Meal Plan For When You Just Don't Have Time
Our editors have independently chosen the products listed on this page. If you purchase something mentioned in this article, we may
earn a small commission
.
Anna Jones is a London-based vegetarian chef with some serious chops. After working for Jamie Oliver for several years, she branched out to writing her own cookbooks — and we're so happy she did.
Her second book, A Modern Way to Cook, breaks weeknight vegetarian cooking down into manageable time windows (15, 30, and 45 minutes), making it easy and delicious to eat well.
We're sharing three of Anna's recipes that each takes 15 minutes or less to make — and are whole food-based and (mostly) vegan.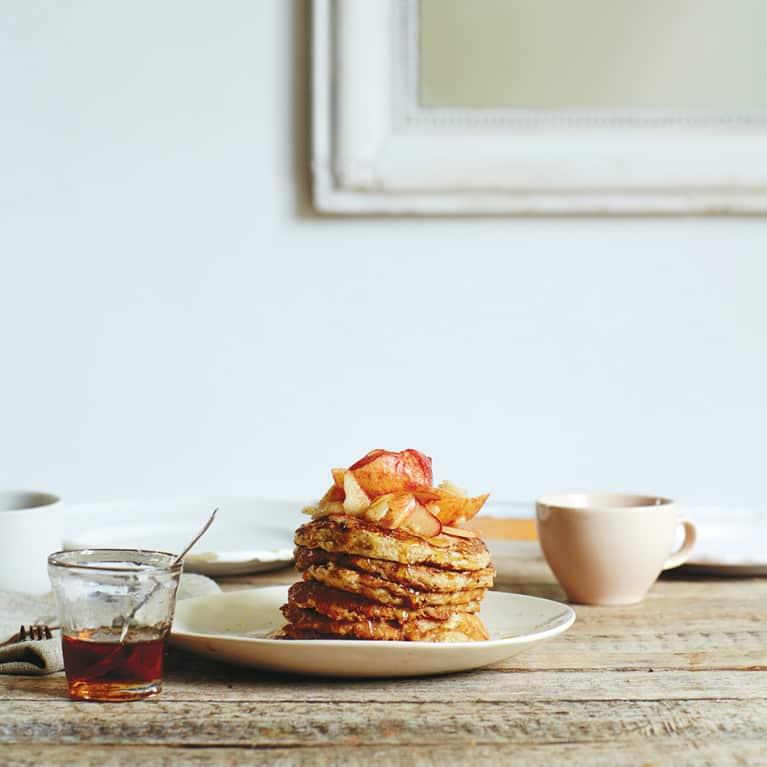 These are a fast-forward version of my favorite-ever pancakes. This time the whole process is done in a blender, but if you don't have one, you can make these with oat flour instead of oats and ground almonds instead of whole nuts, and mash the banana well.
I use a teacup for measuring to save time in the mornings. The pancakes may vary a little from cup to cup but it's really the ratio that makes this recipe work, so don't worry.
Since they are sweetened with natural nutrient-rich bananas and maple syrup and use whole grains instead of flour, you can happily eat these pancakes with gusto.
Get all your ingredients and equipment together.
Makes 6 pancakes
Ingredients
¾ cup (80 grams) oats
1 apple
a good handful of nuts (about 1¾ ounces or 50 grams) — pecans or almonds
⅔ cup (50 mL) milk of your choice (I use unsweetened almond)
1 medium banana
coconut oil or butter
2 apples
juice of ½ lemon
a pinch of cinnamon
a tiny grating of nutmeg
maple syrup or honey yogurt of your choice (I use coconut) (optional)
Preparation
1. Put the oats into a blender and blend until you have a scruffy flour. Grate the apple. Put the nuts, milk, apple, and banana into the blender and blend until combined.
2. Heat a nonstick pan over medium heat and add a little coconut oil or butter. Allow it to melt, then add ladlefuls of the pancake batter to make small pancake rounds. Cook for 2 to 3 minutes or until bubbles rise to the surface. Use a spatula to carefully flip the pancakes over and cook on the other side.
3. The pancakes in the first batch are always more delicate, so don't worry if they look a bit scruffy. Keep them warm while you cook the rest.
4. Once all your pancakes are done, use a Y-peeler to peel your apples into long pieces then put into a bowl and toss with the lemon juice, cinnamon, and nutmeg.
5. Serve the pancakes stacked and topped with the apple strips, maple syrup, and, if you like, a little yogurt.
This soup (pictured above) is the epitome of quick cooking. Finely sliced vegetables, delicate noodles, and flavor-packed aromatics all come together to make a soup that's ready in the time it takes to boil the kettle. Most of the cooking is done by adding the boiling water from the kettle, so no pans, just a couple of bowls and a bit of chopping.
You can mix and match the veggies you use here for variety, but just make sure they are ones that will be edible with very little cooking — greens, finely sliced carrots, grated winter squash, and sliced mushrooms all work well.
This is a great healthy meal to take to work if that's your thing; just keep it in the fridge and pour over the hot water at your desk.
Serves 1
Ingredients
1¾ ounces (50 grams) thin rice vermicelli (I use brown rice ones)
small piece of ginger
1 tablespoon creamed coconut
good spoonful of white miso paste
splash of sesame oil
1 tablespoon soy sauce or tamari
1 star anise
1 scallion
1 red chili
small handful of greens
½ a zucchini
small handful of sugar snap peas
a few sprigs of basil or cilantro
1 tablespoon toasted sesame seeds
Preparation
1. Fill and boil a kettle of water and get all your ingredients out. You'll need two heatproof mixing bowls with a plate that fits on top.
2. Once the kettle has boiled, put the noodles into one of the mixing bowls and cover with boiling water. Leave to sit, covered with a plate.
3. Peel the ginger and grate into the other bowl, then add the creamed coconut, white miso, sesame oil, soy, and star anise. Very finely slice the scallion and the chili and add most of them to the bowl. Shred the greens, cut the zucchini into thin slices, and slice the sugar snaps. Add them all to the bowl.
4. Once the noodles have had 3 minutes, drain them and add them to the bowl of green veggies. If you're making the soup for lunch later, layer everything into a screw-top jar and finish the recipe when you're ready to eat. Reboil the kettle. Pour over hot water from the kettle until the noodles and veggies are just covered, and mix well.
5. Garnish with the remaining chopped scallion and chili, a little basil or cilantro, and the toasted sesame seeds.
Kale, Tomato + Lemon Magic One-Pot Spaghetti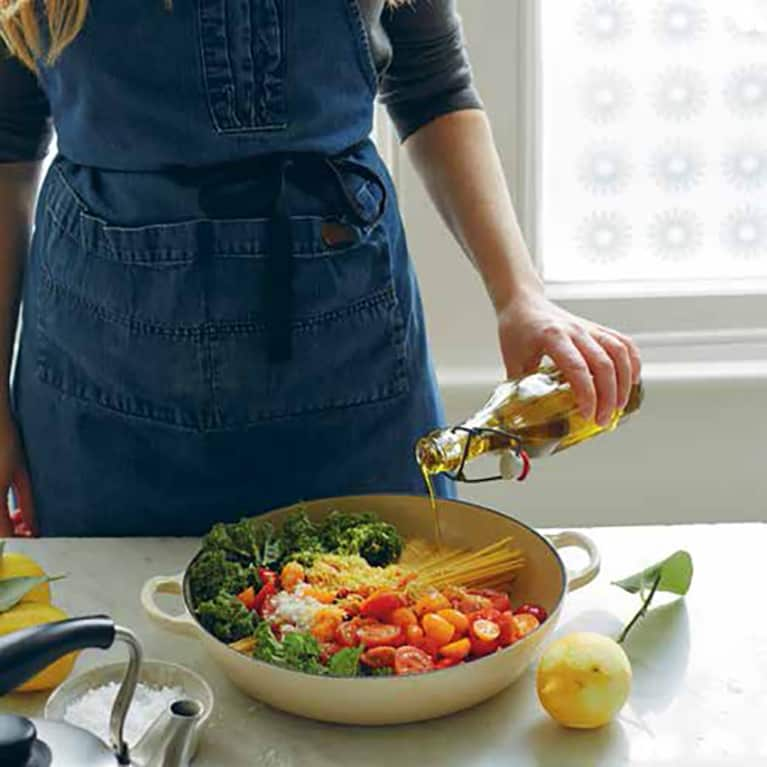 This pasta is a complete revelation. The sauce is magically made from the pasta water and tomatoes as the pasta cooks — all in one pan. No fuss, one pan, and a killer bowl of pasta.
Pasta and gluten sometimes get bad press. I think there is a time and place for a good bowl of pasta. Saying that, I opt for interesting pastas as often as I do the traditional kind. Try corn, chickpea, or buckwheat spaghetti — they are gluten-free and all have incredible individual flavors and make a welcome change if pasta is a staple in your house.
The key to this recipe is to measure your water carefully and to use the right pan: You need a large, shallow saute pan or casserole large enough to fit the pasta lying down. A large, deep frying pan or wok would work well too.
Serves 4 generously
Ingredients
14 ounces (400 grams) spaghetti or linguine
14 ounces (400 grams) cherry tomatoes
zest of 2 large unwaxed lemons
7 tablespoons (100 mL) olive oil
2 heaping teaspoons flaky sea salt (if you are using fine-grain table salt, add a bit less)
1 14-ounce (400-gram) bunch of kale or spinach
Parmesan cheese (I use a vegetarian one) (optional)
Preparation
1. Fill and boil a kettle of water and get all your ingredients and equipment together. You need a large, shallow pan with a lid.
2. Put the pasta into the pan. Quickly chop the tomatoes in half and throw them into the pan.
3. Grate in the zest of both lemons and add the oil and salt. Add about 1 quart (1 liter) of boiling water, put a lid on the pan, and bring back to a boil. Remove the lid and simmer on high heat for 6 minutes, using a pair of tongs to turn the pasta every 30 seconds or so as it cooks.
4. Meanwhile, remove any tough stalks from the kale or spinach and coarsely tear the leaves. Once the pasta has had 6 minutes, add the kale and continue to cook for a further 2 minutes.
5. Once almost all the water has evaporated, take the pan off the heat and tangle the pasta into four bowls. If you like, top with a little Parmesan.