The One Drink You Should Have Every Day If You Want To Fight Inflammation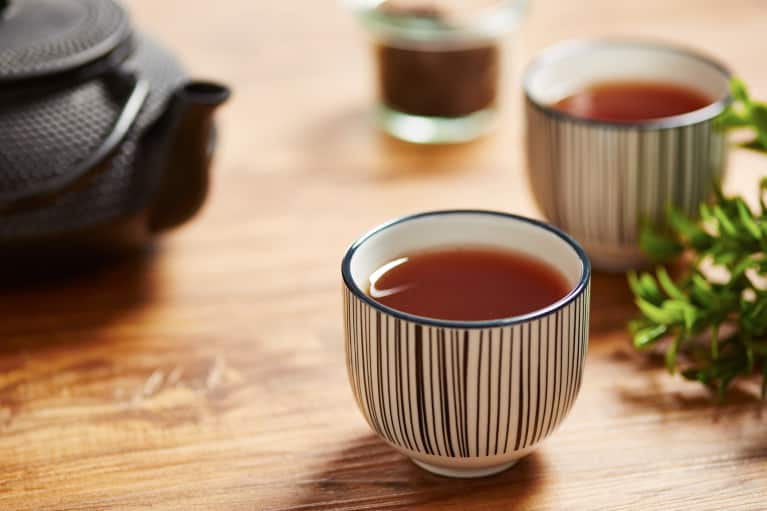 With the current buzz around green tea, white tea, and everything #teatox, it's no secret that teas are a healthy way to hydrate. But even less-hyped types of tea offer a wealth of nutritional benefits, and they're well worth the sip.
One overlooked option? Rooibos.
Also called red tea or honeybush tea, rooibos hails from South Africa. It has a delicious naturally sweet taste (without any sugar), a gorgeous glowing-red hue that makes it totally Instagram-worthy, and tons of nutritional benefits that make it well worth the sip. Not convinced? Here are the most impressive health benefits linked to red tea — plus how to prepare it to get the most benefits:
1. It's naturally caffeine-free.
If you usually struggle with caffeine overload, rooibos is your new best friend. Because rooibos is naturally free of caffeine, it won't lead to jitters, high blood pressure, or sleeplessness. And it also doesn't have to go through a chemical-dependent decaffeination process like decaf green or black teas.
How to boost the benefits: Use rooibos to make caffeine-free tea blends. Combine red rooibos with warming spices — like ginger, black pepper, and cardamom — for caffeine-free rooibos chai, or steep green rooibos with sliced strawberries or mango for an alternative to fruit-flavored green tea.
2. It's full of disease-fighting antioxidants.
A comforting mug of rooibos helps combat harmful oxidation — a process linked to cellular aging and disease — thanks to its generous amount of free radicals. One recent study found that rooibos has an ultrahigh level of antioxidants — almost double the amount for green. That offers some serious cellular protection, and the study also suggested that this antioxidant activity might help prevent diabetes and cancer.
How to boost the benefits: Go for a long steep for the most antioxidants (the study authors brewed their rooibos for an hour). Try steeping your tea overnight in the fridge for cold-brewed iced rooibos.
3. It's a powerful anti-inflammatory.
The health community is waking up to the risk of chronic inflammation, which is associated with many health issues. Rooibos can help. Green rooibos is high in two phytonutrients — aspalathin and nothofagin — that fight inflammation, a recent study found.
How to boost the benefits: Flavor your tea with anti-inflammatory sweeteners, like manuka honey.
4. It offers bone-building benefits.
Keeping your bones strong and healthy helps make sure you can stay active as you age. And part of maintaining healthy bones is promoting positive bone turnover — making sure your body deposits new bone tissue fast enough to maintain or boost your bone density. That's where rooibos can help. It's rich in two phytonutrients — orientin and luteolin — that activate genes for new bone development. Rooibos also supplies magnesium, one of the minerals that make up healthy bone tissue.
How to boost the benefits: Add a splash of organic milk or enriched nondairy milk for more bone-building calcium.
5. It may fight weight gain.
Rooibos is virtually calorie-free, so it's a great way to add variety to your diet if you're hoping to reach a healthy weight or maintain your weight. But it might also directly prevent fat gain, a recent study suggests. The phytonutrients in rooibos "communicate" with your fat cells, sending molecular signals that can make you less likely to store fat. And drinking rooibos also suppresses hunger hormones, so you can fight off hunger pangs between meals.
How to boost the benefits: Stir a spoonful of chia seeds into a glass of iced rooibos for healthy "bubble tea." Chia's high-fiber content also keeps you feeling full for longer.
Related reads:
Want to turn your passion for wellbeing into a fulfilling career? Become a Certified Health Coach! Learn more here.