The 6-Ingredient Vegan Peach Cobbler You'll Want To Make Tonight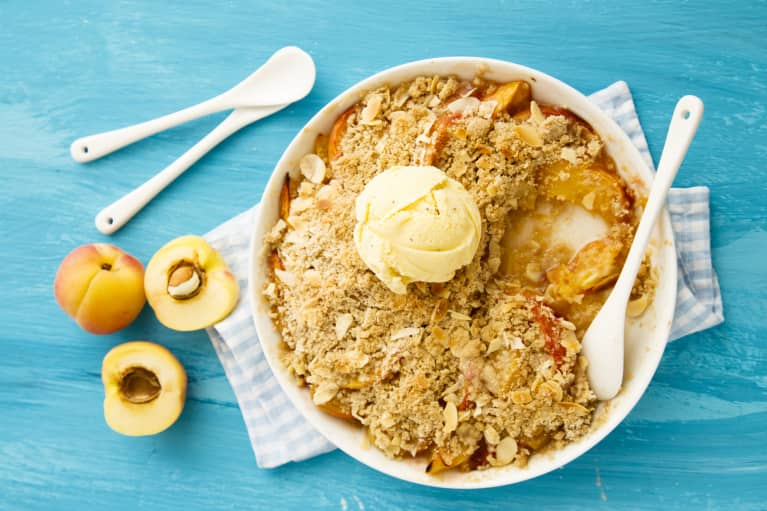 I LOVE this time of the year! The sun is shining, the birds are chirping, and stone fruits are finally in season. This is the perfect time of year to enjoy peaches, nectarines, plum, apricots, and cherries.
My favorite part of this season is making an already amazing fruit even better by jazzing it up with other whole and healthy ingredients. That's what inspired me to make a peach cobbler so good it will make your mouth water!
To find the perfect peach:
1. Look for a medium-size fruit. Gigantic peaches and nectarines will be a little grainy or mealy, and the really small ones tend to be tart and generally picked before fully ripening.
2. Look for a soft, sweet-smelling fruit. Buy them when they are still somewhat firm (not rock hard) but almost a little soft to the touch. This will ensure that they will be ready in one to two days if left out on your counter. Now, you may look a little silly, but smell your fruit! It should have a light, sweet fragrance.
3. Ask some in produce or at the farmers market if you can try a sample. Not only will it guarantee you a great batch, but the people working may teach you even more tricks for ensuring you get a great fruit every time!
Serves 6
Ingredients for the fruit base
6 large peaches, peeled
½ lemon, juiced
Ingredients for the crumble
1 cup pecans
6 medjool dates
pinch of salt
1½ teaspoons cinnamon
Preparation
For the fruit base: Peel ripe peaches and cut into slices. Sprinkle with lemon juice. Gently mix by hand and place into 8-inch-square pan.
For the crumble: Place pecans, dates, salt, and cinnamon into food processor and blend for 1 minute. Sprinkle over fruit filling.