A Cooling Cucumber Salad You'll Want To Make Again & Again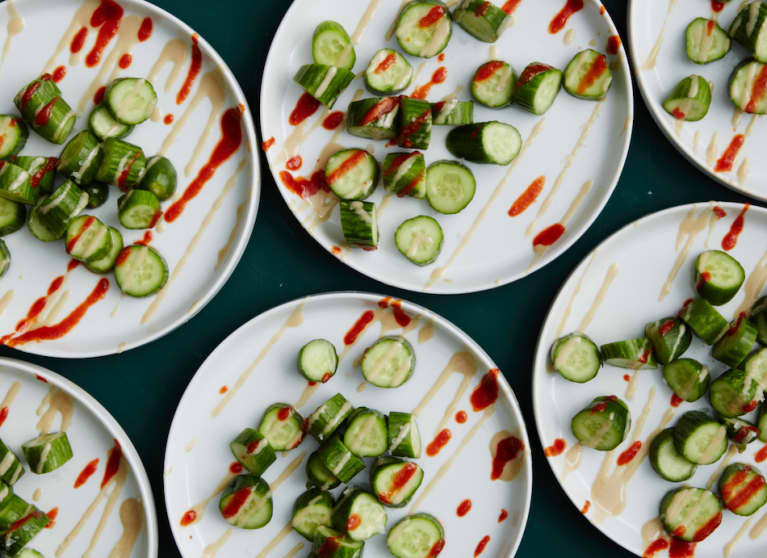 This has to be the simplest, coolest-looking summer barbecue appetizer ever. Make more than you think you'll need, "because this dish disappears in seconds," says Julia Sherman.
Sherman is an artist and cook, and through her popular Salad for President project, she does just that: cooks with other artists. Cooks salads with other artists, that is, so often there's no actual heat involved. (Sherman is also the creative director for Chop't. The woman knows salads!)
There certainly isn't cooking involved with this dish, which will be one of the 80 recipes featured in her upcoming cookbook. Think of it like spicy cucumber chips.
Salad for President the book won't be out until spring 2017, but Sherman (with the blessing of her editors at Abrams, of course) gave mindbodygreen a special sneak peek. And we're sharing it with you.
Happy crunching.
Cucumber Salad With Sriracha + Tahini Drizzle
If you're short on time, feel free to skip the salting, rinsing, and draining of the cucumber and just season the dish generously with Maldon salt before serving.
Serves: 4 to 6 people
Ingredients
8 to 10 Persian cucumbers, cut into ¾-inch (20-mm) chunks
1 teaspoon kosher salt
¼ cup (60 mL) tahini
5 tablespoons (60 mL) lukewarm water, plus more as needed
Sriracha sauce
Maldon salt to taste
Preparation
1. Put the cucumbers in a bowl and sprinkle with the kosher salt, tossing to coat. Let stand for 30 minutes, then rinse and drain well. Spread the cucumbers on a serving platter.
2. Put the tahini in a small bowl. Whisk in lukewarm water 1 tablespoon at a time until it reaches a pourable consistency. The tahini will thicken a bit at first, but just keep adding the water until it is completely smooth and can thinly coat the back of your fork.
3. Drizzle the thinned tahini over the cucumbers. Squeeze sriracha directly out of the bottle over the salad sparingly. Season with Maldon salt to taste and serve.