The Tahini + Beet Dip That'll Make You Forget All About Hummus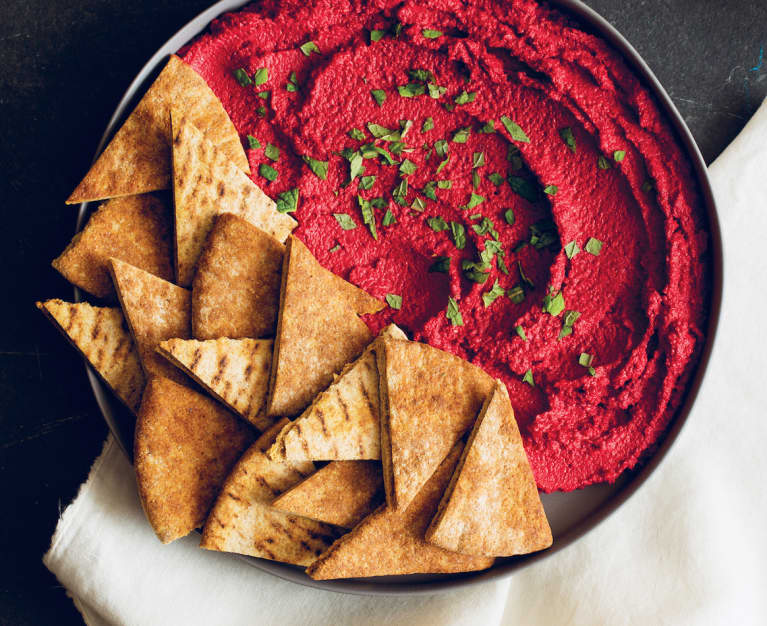 Our editors have independently chosen the products listed on this page. If you purchase something mentioned in this article, we may
earn a small commission
.
In this version of a favorite pureed beet dish, tahini, or Middle Eastern sesame paste, shares the stage with the cooked beets. The sweet, earthy taste of the beets helps balance the slight bitterness of the tahini.
Top this shocking pink puree with lots of fresh dill and mint or sprinkle with dukka, an addictive Egyptian blend of finely ground toasted almonds or hazelnuts, sesame seeds, cumin, and coriander.
Spread the puree on toast or crackers, or serve as a dip with pita chips, warmed soft pita, or vegetable crudités.
If possible, make the puree a day to two ahead so the flavors will have time to develop.
1 pound beets, scrubbed, green tops trimmed
1⁄3 cup tahini
1 tablespoon fresh lemon juice, or more to taste
1 garlic clove, grated or minced
1 teaspoon coarse salt, or more to taste
Finely chopped fresh mint or dill, for garnish (optional)
2 tablespoons dukka, for garnish (optional)
Preparation
1. If the beets are large, peel them first with a vegetable peeler and then cut into large chunks. If they are small or medium, leave them whole or halve them. Place the beets in a steaming basket set over boiling water and steam, covered, until tender, 20 to 35 minutes depending on their size.
Lift the steamer from the saucepan and let the beets cool. When cool enough to handle, rub off the skins, if unpeeled, and trim the stem and blossom ends. Cut the beets into 1-inch chunks.
2. Combine the beets, tahini, lemon juice, garlic, and salt in a food processor and process until the puree is creamy and smooth, scraping down the sides every 30 seconds. It may take about 2 minutes or more for the mixture to become smooth. Taste and add more lemon juice or salt, if needed.
3. Scrape the puree into a bowl or storage container, cover, and refrigerate until ready to serve. Sprinkle with the mint or dill, if using, or dukka, before serving.