3 Nutritionist-Approved Meatless Meals With 7 Ingredients Or Less
To promote eating more plants (and a little less meat), we've asked the dietitians from Tovita Nutrition to devise three simple and delicious healthy recipes.
Meatless should never mean void of protein, so they used plants, beans, or grains as alternatives to the conventional meat, seafood, or poultry. Each of these recipes requires less than 20 minutes of prep time and contains seven ingredients or less!
Black Bean + Parmesan Pasta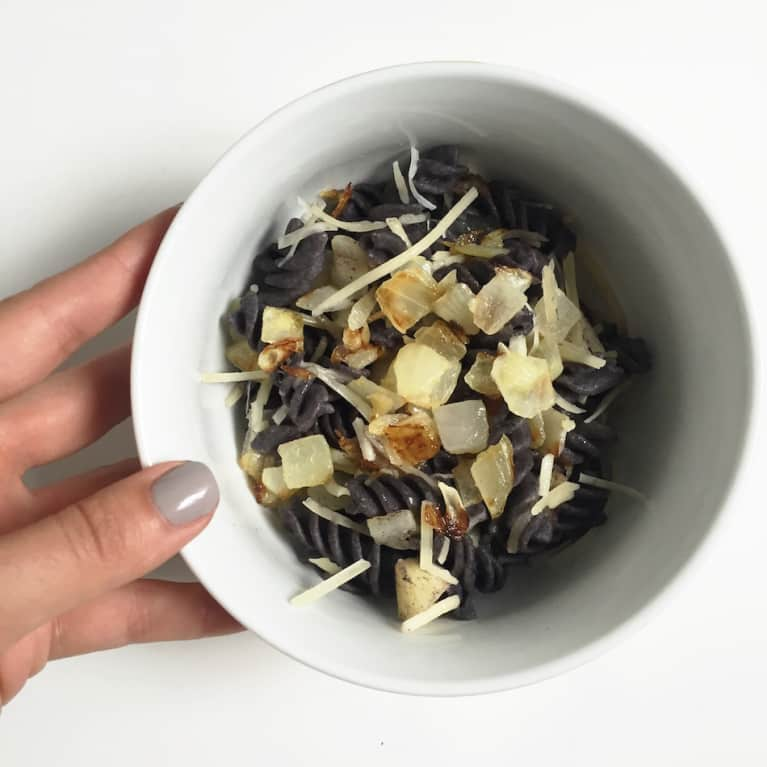 Why we love it: Black bean pasta is more than just a substitute for traditional pasta. Though some may see it as a pasta alternative, it's truly a delicious option and certainly deserves some recognition for both its unique taste and health benefits!
One ¾-cup serving has about 14 grams of protein and 15 grams of fiber. Remember, fiber has tons of health benefits—it keeps us full, keeps our bowels regular, and can reduce cholesterol.
This particular recipe combines four simple ingredients and takes almost no time to prepare. The Parmesan cheese, believe it or not, is a good source of protein and calcium.
You can add your favorite tomato sauce, but we think the recipe is flavorful on its own.
Serves 2
Ingredients
2 cups black bean pasta
⅓ cup yellow onions, diced
2 cups spinach, raw
½ cup Parmesan cheese, shredded
Preparation
1. Bring about 3 cups of water to a rolling boil. Add dry pasta and stir gently. Return heat to medium boil and cook 8 to 10 minutes, or until al dente.
2. In another pan, sauté onions and spinach with olive oil, until they turn golden brown.
3. When pasta is cooked, drain water and place in a bowl. Add Parmesan (fresh off the stove is best, to allow cheese to melt), and add onions and spinach.
4. No sauce needed! However, feel free to add your favorite tomato sauce or any other veggies!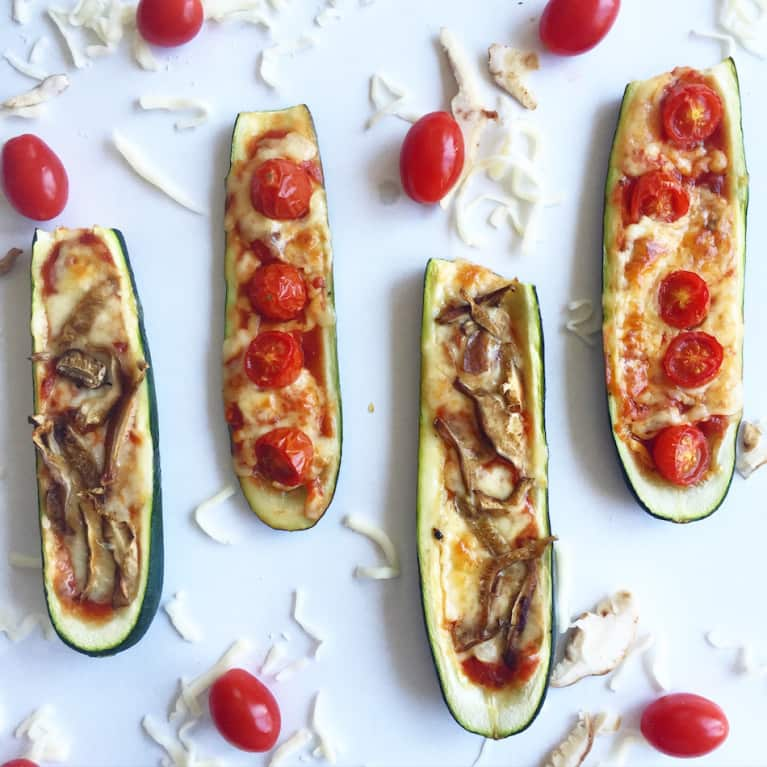 Why we love it: Everybody loves a good slice of pizza—and for good reason! What's more delicious than warm and crispy oven-baked bread topped with melted cheese and tomato sauce?
Fortunately, we have a perfectly healthy solution to your pizza cravings that's packed with veggies.
Zucchini is a great source of fiber and vitamin C while mozzarella cheese provides an extra boost of protein and calcium. Serve your zucchini pizza boats as an appetizer at your next dinner party, or enjoy one as a snack on its own!
Serves 3
Ingredients
5 large zucchini
1 cup tomato sauce
1 cup mozzarella, shredded
¼ cup cherry tomatoes, halved
Preparation
1. Preheat oven to 350° F. Cut each zucchini in half, lengthwise.
2. Use a spoon to gently scoop out the inner seeds to create a space for fillings.
3. Fill the space with about 1 to 2 tablespoons tomato sauce, about 3 halved tomatoes, and sprinkle 1 tablespoon mozzarella on each. Note: Feel free to add your choice of extra vegetable toppings.
4. On a lined and greased baking sheet, place the prepped zucchini halves and bake for 20 minutes, until zucchini is tender.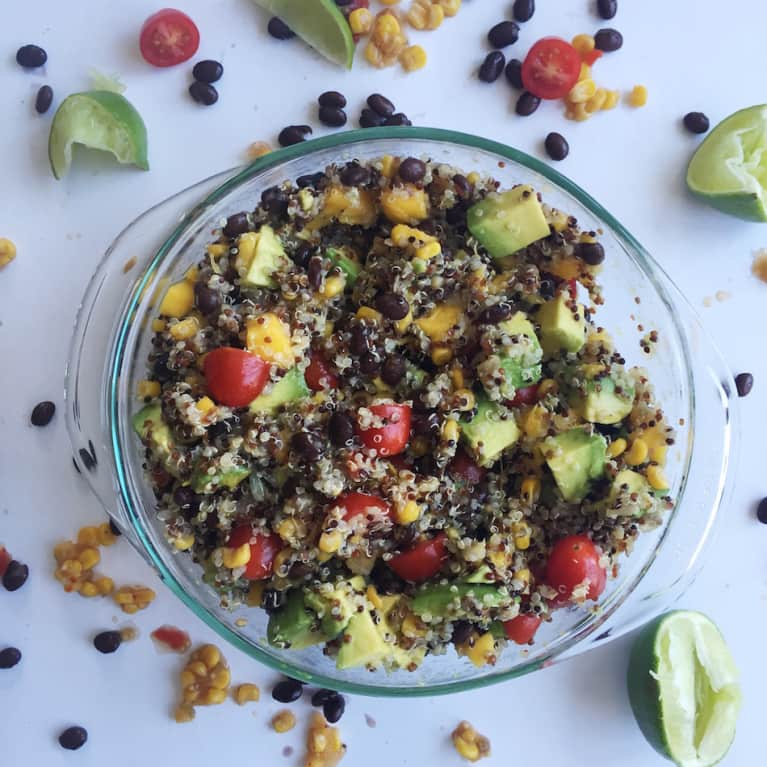 Why we love it: Summertime is all about outdoor BBQs and picnics, which is why this salad is perfect for your next potluck.
Made with quinoa, beans, fruits, and vegetables, this recipe is reminiscent of a flavorful Mexican dish, sans the corn flour taco shells or creamy sauces.
All of these ingredients are good sources of fiber, plus the beans and quinoa are good sources of protein. Best of all, it's a guaranteed crowd pleaser, as the fruit, veggie, and lime combination provides a unique sweet-and-sour deliciousness.
Serves 6
Ingredients
1 cup tricolor quinoa
1 cup black beans
1 cup corn (cooked or roasted)
½ large avocado, cubed
½ cup mango, diced
½ cup cherry tomatoes, halved
4 limes, sliced
Preparation
1. Prepare 1 cup dried quinoa over stove (1 cup dried quinoa + 2 cups water. Bring to boil. Once boiling, turn heat down to simmer. Place lid on top of pot and cook until water is evaporated).
2. Once cooked, move quinoa into large bowl and set aside to cool.
3. Add black beans, corn, avocado, mango, and tomatoes to quinoa. Mix evenly.
4. Squeeze limes over salad and stir evenly (you can use more or less, as desired).
5. Place in refrigerator and allow salad to cool for at least 4 hours.