A Simple Ginger Stir Fry Perfect For Warm Summer Nights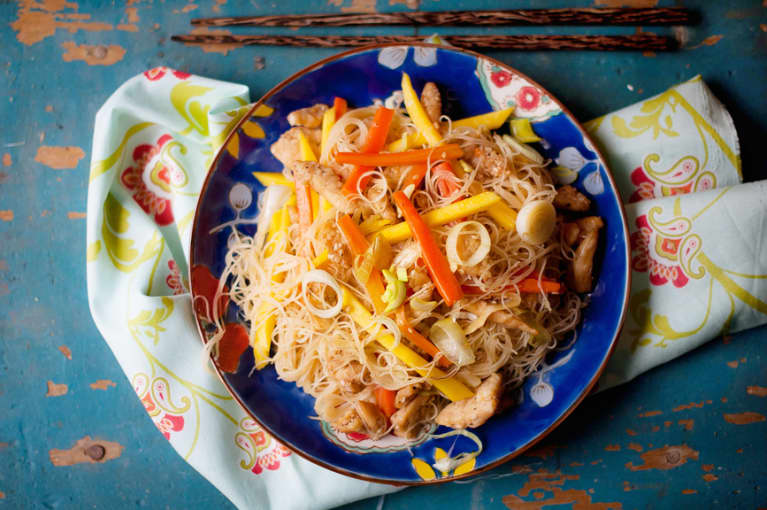 When I'm feeling like something hearty yet light enough to enjoy all summer, I reach for this favorite!
Not only is it packed with textures and flavors that will spark each and every one of your taste buds, but it's full of amazing health-enhancing phytonutrients, as well. You can opt to serve it with your favorite grain or keep it Paleo and have as-is.
Orange cauliflower contains a fair amount of folate, calcium, potassium, and selenium and is high in both fiber and vitamin C. It also contains a higher amount of vitamin A than traditional cauliflower. But if you can't find orange, regular works fine too.
Most of the benefits of carrots can be attributed to their beta-carotene and fiber content. This root vegetable is also a good source of antioxidant agents. Furthermore, carrots are rich in vitamin A, vitamin C, vitamin K, vitamin B8, pantothenic acid, folate, potassium, iron, copper, and manganese.
The cholesterol-lowering ability of collard greens may be the greatest of all commonly eaten cruciferous vegetables. In a recent study, steamed collard greens outshine steamed kale, mustard greens, broccoli, Brussels sprouts, and cabbage in terms of its ability to bind bile acids in the digestive tract, which supports our detox and anti-inflammatory systems.
Now, imagine what the whole dish can do for you! Happy eating!
2 tablespoons olive oil
2 cloves garlic, minced
1-inch fresh ginger, grated
1 organic skinless boneless chicken breast, chopped into chunks
2 to 3 tablespoons tamari sauce
1 tablespoon raw honey
1 bunch of collard greens, cut crosswise into thin slices
3 carrots, chopped
½ head of cauliflower, chopped
½ cup filtered water
½ cup raw cashews, soaked overnight
Preparation
1. After you've chopped your ingredients, place the olive oil, garlic, and ginger in a large skillet for 1 minute until the garlic and ginger have infused into the oil.
2. Place the chunks of chicken in and add the tamari and honey. Stir together and cook, stirring occasionally, until the chicken is cooked through (this will vary depending on the size of the chunks).
3. Pluck out the chicken with tongs and place in a dish to the side. Add the vegetables and stir them into the sauce, adding a touch of water from the ½ cup as you go. Use as much or as little water as needed to cook the veggies without burning the sauce.
4. When the veggies are coated and cooked to your liking, return the meat, stirring to mix it up, and serve with cashews on top.