The Easy Way To Keep Your Guac (And Avocados!) From Turning Brown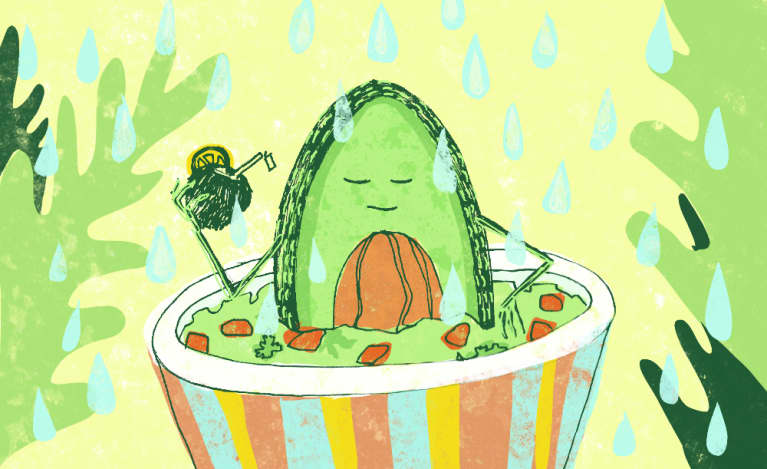 Over the years, I've heard all kinds of tips for how to keep an avocado from turning brown—from leaving the pit in to pressing plastic wrap onto the surface, and from using lemon juice to nonstick vegetable oil spray.
These methods have served me decently well for cut avocado and guacamole, but a couple days in, there was always a weird film of brownish-green slime I'd have to scrape off its surface. (Not exactly begging for a chip to dive in.)
Sure, we could all polish off a huge bowl of guac in one sitting. It could possibly be the only addictive thing on the planet that is also good for you. But there are times when you want to save some for later or make a big batch ahead of time for a party.
And that's when this handy trick I just learned from a friend comes in handy. No brown, no slime, no work. Seriously.
Make your guacamole (see recommendations below). Put it in an airtight container, and pack it in there tightly, pressing out any air bubbles.
Sprinkle ½ inch of lukewarm water over the surface of the guac.
Put on the lid and refrigerate for up to three days.
When you're ready to eat it, pour out the water and stir the guacamole to incorporate any extra moisture.
Et voilà! It's green, it's good, and it's ready for gobbling.
This works for cut avocados, too! Just place the halves face down in a ½-inch pool of water inside an airtight container, close that lid, stick it in the fridge, and it should stay green and firm for up to three days.
Here are some guacamole recipes to try out now that you know how to save it properly:
Ultimate Guacamole (For Cinco De Mayo & Every Other Day)