The Easy Soba Noodle Bowl You're Definitely Making Tonight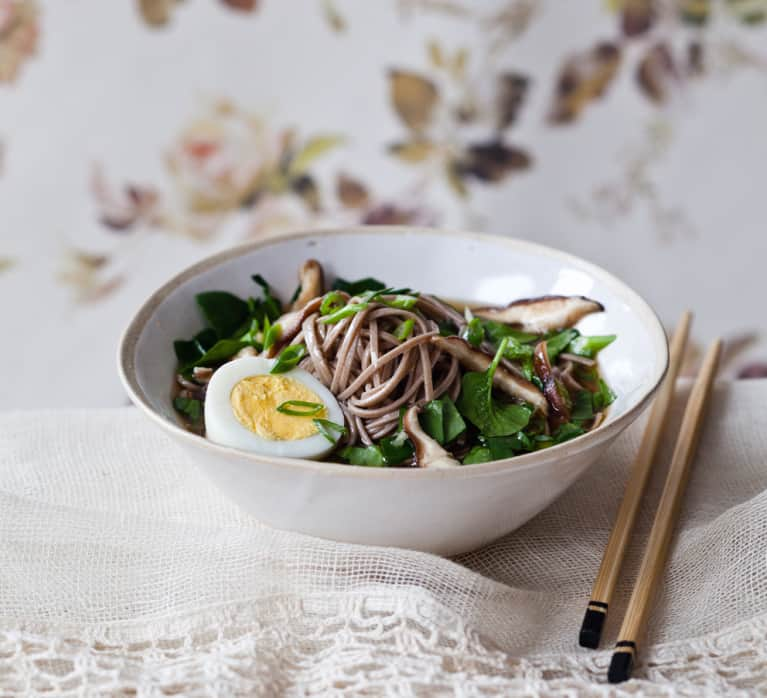 After growing up in San Diego with a Japanese mom, Candice Kumai is the natural authority on Japanese-meets-California cuisine. She shares her tips for incorporating Japanese flavors and ingredients into everyday healthy meals. Check out more of her Eastern-inspired recipes here.
My mother has been serving up delish and earthy soba noodles to my sister, dad, and me since I can remember!
We ate them with everything from a simple miso broth to tofu, fish, and veggies. Soba is still one of my favorites because certain varieties are gluten-free, high in protein, and also packed with calcium and iron. You can't get that from any old pasta.
Try out this tasty, clean noodle soup, and get your nutrients on!
Candice's Clean Soba Noodle Soup
8 ounces soba noodles
1 teaspoon sea salt
4 cups low-sodium chicken broth (or veggie stock)
2 tablespoons reduced-sodium tamari soy sauce
3 garlic cloves, finely minced
2 teaspoons grated fresh ginger root
7 dried shiitake mushrooms, covered in boiling water 5 minutes, drained and chopped
4 scallions, trimmed and thinly sliced on a diagonal
1 cup chopped baby spinach leaves
2 hardboiled eggs, peeled and halved (optional)
Preparation
1. Bring a large pot of water to a boil. Add the soba noodles and the salt, and cook until the noodles are cooked through, 2 to 3 minutes.
2. Strain through a medium mesh sieve and rinse the noodles under cold running water for 1 minute.
3. While noodles are cooking, make the broth. Bring the broth, tamari, garlic, and ginger to a boil in a large saucepan over high heat. Reduce the heat to medium and simmer for 3 minutes, then add the mushrooms and simmer until they're tender, about 5 minutes. Add ¾ of the scallions and simmer until soft, about 1 minute.
4. Divide the noodles among 4 bowls and pour the soup over the noodles. Add the spinach, sprinkle with the remaining scallions, and serve each bowl with a hardboiled egg half. Kampai!