Master The Make-Ahead Lunch With This Easy Jar Salad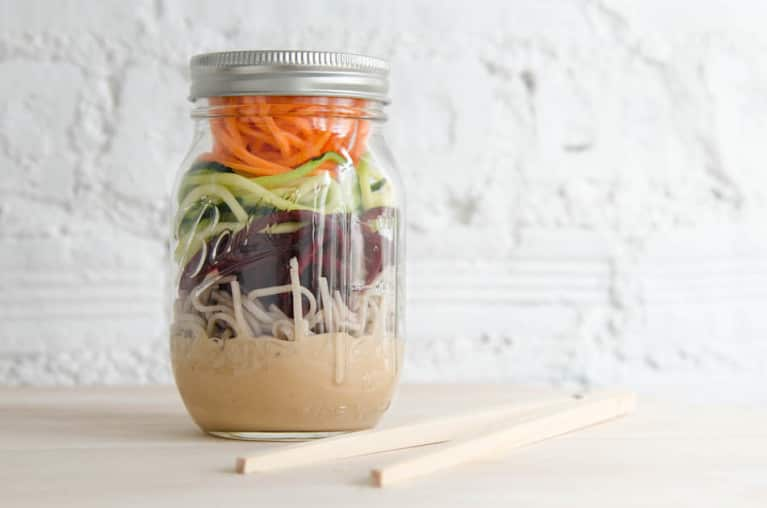 Jar salads are a great way to eat well during the workweek and super easy to make. This one combines a classic peanut sauce with a blend of soba noodles and vegetable noodles.
This salad has everything we're looking for in a make-ahead lunch: It's simple but packed with lots of healthy, high-fiber foods and a tasty sauce that makes it a lunch you can look forward to.
Veggie + Soba Noodle Salad With Peanut Sauce in a Jar
Serves 4
Ingredients for the noodles
soba noodles for 4, cooked
1 large beetroot
1 yam or sweet potato
1 large zucchini
Ingredients for the sauce
¼ cup peanut butter
3 tablespoons lime juice
2 tablespoons tamari
2 teaspoons honey
1-inch cube of fresh ginger
1 teaspoon toasted sesame oil (if you don't have this, it tastes just fine without it)
A pinch of cayenne pepper (optional)
¼ cup + 2 to 4 tablespoons water
cilantro, roughly chopped
roasted peanuts, roughly chopped
chopped jalapeños
wedge of lime
Preparation
1. Cook soba noodles according to package instructions.
2. While the soba noodles are cooking, prepare the veggies by either using a spiralizer, or if you don't have one, you can simply use your vegetable peeler to create thick "fettuccine-style" strips.
3. Throw the dressing ingredients into a blender until smooth, adding more water until it becomes runny enough.
4. Add the desired amount of dressing to the bottom of the jar, followed by the soba noodles and then the veggies, pressing down to get as much as you can into the jar.
4. Top with chopped cilantro and peanuts and seal tightly.
5. When ready, pour into a bowl, mix together, and enjoy! Will last in the fridge for up to 5 days.