15-Minute Healing Meals: Garlic Greens + Curried Quinoa
mbg Contributor
By Leah Vanderveldt
mbg Contributor
Leah Vanderveldt is an author living in Brooklyn, New York. She received her bachelor's in communications and media from Fordham University, and is certified in culinary nutrition from the Natural Gourmet Institute. She is the author of two cookbooks: The New Nourishing and The New Porridge.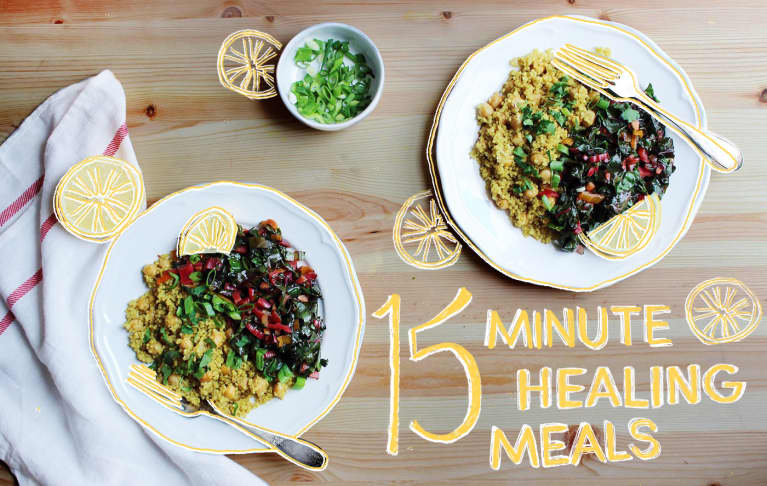 My perfect weeknight meal is packed with vegetables and whole foods, fills me up, and tastes delicious—all while being easy enough to put together quickly.
15-Minute Healing Meals are about feeding yourself well with minimal effort. These recipes are designed to inspire you to cook something wholesome without interfering with everything else you've got going on.
Note: While some foods may take a little longer to cook (like quinoa, or roasted tomatoes), we try to make sure that all hands-on time is kept to 15 minutes to make your mealtimes as relaxing, restorative, and nourishing as possible.
Today's healing ingredients include garlic, Swiss chard, and curry powder.
Garlic has incredible antimicrobial properties that can help boost immunity and fight viruses. It's also great for gut health.
Swiss chard is a gold-star leafy green with lots of vitamins K, A, and C and magnesium. Don't forget to include the stems! Chard stems are easier to cook and eat than tough kale stems and add plenty of extra fiber. I toss them into a hot pan about two minutes before I add the leaves, to give them a chance to soften.
Curry powder contains everyone's favorite anti-inflammatory, turmeric, as well as other beneficial spices like cumin and cinnamon, which also have anti-inflammatory properties.
All of these ingredients come together to make a comforting combination of fragrant spices, filling plant-based ingredients, and lots of flavor—and it's simple enough to whip up any night of the week.
Garlic Greens + Curried Quinoa
Serves 4
Ingredients for quinoa

1 teaspoon coconut oil
2 teaspoons curry powder (I used hot madras curry powder)
1 cup dry quinoa
2 cups water
1 cup cooked chickpeas or 1 (15-oz.) can, drained and rinsed
1 tablespoon olive oil
4 to 5 garlic cloves, finely chopped
1 bunch of Swiss chard (I used rainbow chard, but any color stem will work), stems removed and finely chopped and leaves finely chopped
1 to 2 scallions, finely chopped
Fresh cilantro leaves
Lemon
Pinch of chili flakes
Avocado
Fried egg
Preparation
1. In a medium-size pot, heat coconut oil over medium-high heat. Add curry powder and cook for 30 seconds, until fragrant. Add quinoa and water and bring to a boil. Once boiling, reduce heat, cover, and cook at a simmer for about 10 minutes. Mix in chickpeas and cook for another 5 minutes. Remove from heat and let stand, covered, for 5 more minutes, then fluff with fork.
2. While the quinoa is simmering, cook your Swiss chard. In a large pan, heat olive oil over medium heat. Add garlic and cook for about 1 minute. Add chard stems and cook, stirring, for about 2 minutes. Add chard leaves and cook, stirring, for another 2 minutes, until stems are tender and leaves are just wilted.
3. Serve greens atop curried quinoa with any garnishes you'd like (suggestions above).