Why This Dish Is The Key To Optimal Weight & Heart Health
Our editors have independently chosen the products listed on this page. If you purchase something mentioned in this article, we may
earn a small commission
.
It's so easy to make your own soup—and once you do, you will wonder why you ever ate the salty, canned concoctions. When I'm at home, I make soup every weekend. Having a large pot of soup in the fridge ensures that I'll have access to a nutritious meal even when I'm too tired to cook.
To make easy, nutritious soup even simpler, I've made a handy infographic—The Fuhrman Formula for Making the Perfect Soup—which lists the six main components: Base, Greens, Allium (garlic/onions), Vegetables, Seasoning, and Beans. There are mix-and-match suggestions for ingredients that let you customize the soup to your heart's content. And speaking of hearts, each of these six components adds to the health benefits of the soup.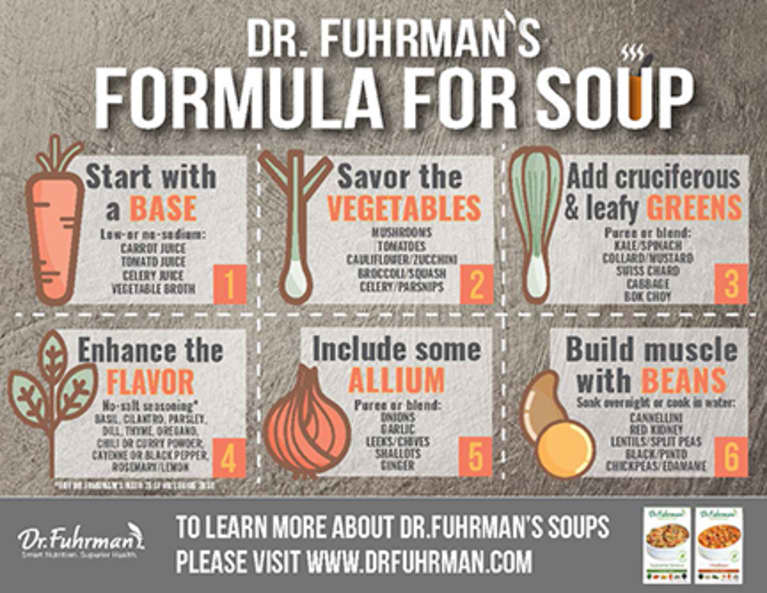 Here are the top three reasons I think soup is one of the healthiest meal choices you can make:
1. It packs a nutritious punch.
Making soup is one of the most nutrient-dense ways to prepare vegetables. Why? Because soup retains some nutrients that are lost during other cooking methods. A considerable amount of water-soluble nutrients like B vitamins and minerals leach into the cooking water when vegetables are boiled, and then are lost once the water is discarded. But since soups are gently cooked in a liquid base, you don't lose out on the nutrients that escape into the liquid.
In addition, the heat makes some nutrients—like carotenoids—more absorbable than from raw vegetables. Recent studies confirm that the body absorbs more carotenoids—such as beta-carotene, lutein, and lycopene—from cooked vegetables than from raw ones. Science suggests that cooking helps break down some structural components of the vegetables, leaving the carotenoids more accessible once the soup reaches the digestive system.
Plus, using carrot or tomato juice as the soup base cuts out the excess salt you would get from a store-bought vegetable broth and increases the nutrient density of the soup by adding even more carotenoids.
2. It can help you lose weight.
As a weight loss strategy, soup is king. Soups have a high water content plus fiber from vegetables and beans, making them filling and satisfying despite their low calorie density. When you start a meal with soup, it reduces your appetite by filling your stomach. A yearlong weight loss trial found that a group of subjects consuming soup twice a day lost more weight than another group consuming the same number of calories from two snacks a day.
A study measuring calorie consumption gave one group of subjects a low-calorie vegetable soup at the beginning of lunch and another group was given lunch without soup first. The total calorie intake was 20 percent lower in the group that consumed vegetable soup as part of their meal.
3. It's the perfect meal for entertaining and planning ahead.
To feed your guests and family alike a healthful, home-cooked meal, nothing is easier than a vegetable and bean soup. It is the ultimate make-ahead, one-pot meal. You can make big batches—all soups keep great in the refrigerator for days, you can freeze them, and they even taste better the second or third day after the flavors have had time to meld.
Serve a hearty soup along with a big salad at your next dinner party and for once you can sit back and enjoy conversing with your guests instead of being tied to the kitchen with last-minute preparations.
For a more comprehensive look at how to make great soups, download our convenient infographic, The Fuhrman Formula for Making the Perfect Soup. Bon appétit!