Minimalist Baker's Butternut Squash, Kale + Quinoa Bake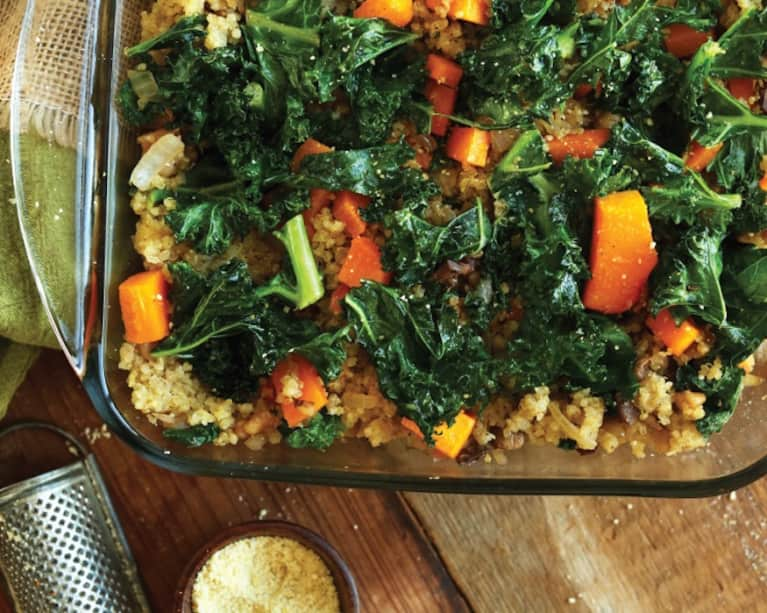 Our editors have independently chosen the products listed on this page. If you purchase something mentioned in this article, we may
earn a small commission
.
This simple, 10-ingredient quinoa bake is an homage to everything I love about hearty produce and comfort food. Quinoa cooked in vegetable broth is rich with flavor, the roasted butternut squash and mushrooms add heartiness and warmth, and the kale adds nutrition and bursts of color. Enjoy this as an entrée or side dish.
Butternut Squash, Kale + Quinoa Bake
3 cups (420 g) butternut squash, chopped into small, bite-size cubes
2 tablespoons (30 ml) grapeseed oil or avocado oil, divided
3⁄4 cup (138 g) white quinoa
1 ⁄2 cups (360 ml) vegetable broth
1⁄2 medium yellow onion (55 g), sliced in thin rings
2 cloves garlic (1 tablespoon or 6 g), minced
8 ounces (227 g) cremini, button, or baby bella mushrooms, quartered
1⁄2 cup (60 g) walnuts, roughly chopped (optional)
3 cups loosely packed (200 g) kale, chopped
1⁄3 cup (26 g) vegan Parmesan cheese, divided (make your own)
Sea salt and black pepper, to taste
Preparation
1. Lightly grease an 8-by-8-inch (or comparable size) baking dish and preheat oven to 400°F.
2. Line a baking sheet with foil or parchment paper. Add cubed butternut squash and 1 tablespoon (15 ml) oil. Season with a healthy pinch each salt and pepper.
3. Toss to coat and bake for 12 to 14 minutes, or until just fork tender. Remove from heat and set aside.
4. In the meantime, thoroughly rinse quinoa in a fine-mesh strainer. Add to small saucepan with vegetable broth and bring to a boil over high heat, then reduce heat to low and cover. Cook until liquid is fully absorbed and quinoa is fork tender—about 15 minutes. Set aside, covered.
5. Heat a large skillet over medium heat. Once hot, add remaining 1 tablespoon (15 ml) oil, onion, and garlic. Season with a pinch each of salt and pepper.
6. Cook until onion is soft and translucent—about 4 to 5 minutes—stirring frequently. Add mushrooms and walnuts (optional) and season once more with salt and pepper. Continue cooking for 5 minutes, or until mushrooms are lightly browned.
7. Make room in the pan and add the kale. Season once more with salt and pepper and stir to coat. Cook until kale is just tender—about 3 minutes. Remove from heat and set aside.
8. Once quinoa is finished cooking, season with a healthy pinch each of salt and pepper and half of the vegan Parmesan cheese. Stir, sample, and adjust seasoning to taste. Set aside to rest off heat.
9. Reduce oven temperature to 375°F and add cooked quinoa to prepared baking dish. Top with vegetable-walnut mixture and roasted butternut squash. Lightly stir/toss to combine.
10. Top with remaining 2 to 3 tablespoons (10 to 15 g) vegan Parmesan cheese and bake uncovered for 5 to 7 minutes to warm through. Serve immediately.
Leftovers will keep covered for up to 3 days, though this dish is best when fresh.