Chewy Chocolate Brownie You Can Definitely Eat For Breakfast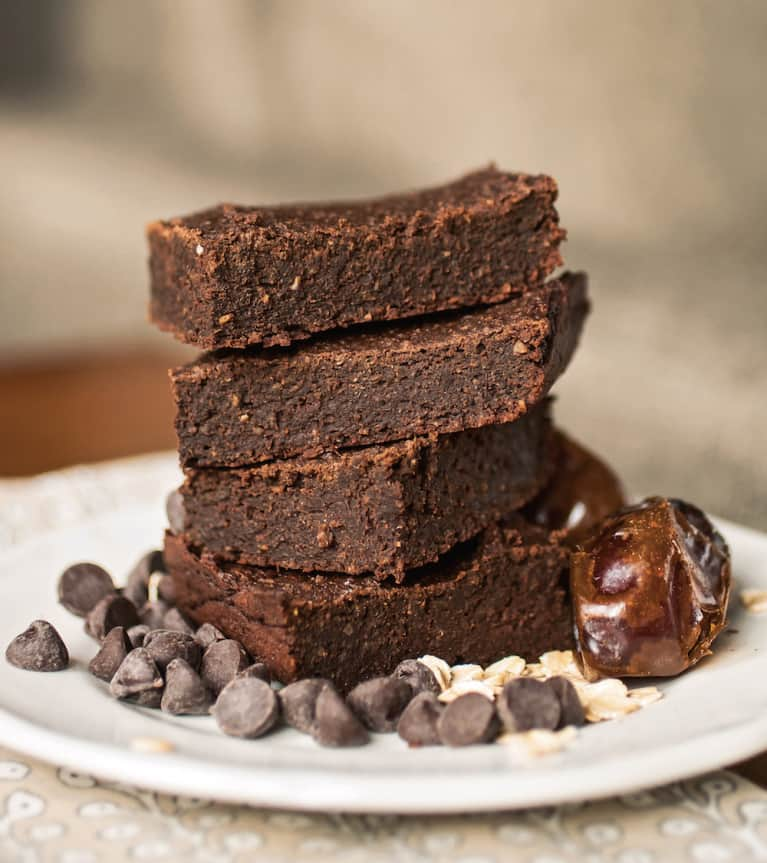 Our editors have independently chosen the products listed on this page. If you purchase something mentioned in this article, we may
earn a small commission
.
Sometimes I really crave a brownie but want to avoid all the sugar, oil, and flour. I still yearn for a rich, dense brownie full of deep chocolate flavor, but I need it to be healthy.
You know what I mean? Some might say it's a contradiction, but not for me. I've developed a brownie solely for the days I'm looking to be good about being bad.
Blended walnuts and flax lend richness and help bind these brownies while dates and beets (yes, beets!) sweeten them to perfection.
Pulverized oats make an awesome substitute for regular ol' flour. Cocoa powder and instant coffee help to enhance the profound chocolate flavor along with a small helping of semisweet chocolate chips—the only non-whole-food ingredient!
These brownies do have a faint beet flavor, so if you have an aversion to earthy beets, applesauce might do the trick.
These will never replace the classic sugar- and butter-laden brownies in my life, but they're a great addition to a well-rounded dessert repertoire ... especially when you're aiming to put yourself on the healthier side of sweet treats.
3 tablespoons (20 g) ground flaxseed
¼ cup + 2 tablespoons (90 ml) water
2 (380 g) golden beets, chopped (see note)
2 tablespoons (30 ml) water
1 cup (100 g) old-fashioned oats, dry
¼ cup (27 g) chopped walnuts
6 (100 g) medjool dates, pitted (see note)
¾ cup (140 g) semisweet vegan chocolate chips
¼ cup (22 g) unsweetened cocoa powder
½ tablespoon (9 g) instant coffee (optional, see note)
1 teaspoon vanilla extract
¼ teaspoon table salt
Preparation
1. In a small bowl, whisk together the flax and ¼ cup + 2 tablespoons (90 ml) water. Allow to rest for about 15 minutes or until ready to use.
2.Trim off the stem and tail of the beets; peel, then dice. Discard the peels. Add the diced beets to a microwave-safe bowl along with the 2 tablespoons (30 ml) of water. Microwave on high for about 10 to 12 minutes, until fork-tender. I like to put a paper towel under the bowl as sometimes the water can boil over. Alternatively, if you don't use a microwave, the beets can be steamed in a rice cooker or over the stove until tender.
3. While the beets steam, add the oats to a food processor and process until they become the texture of flour, about 1 minute. Next, add in the walnuts and dates; pulverize into a paste, about 2 minutes.
4. Preheat the oven to 350°F (176°C). When the beets are done steaming, drain off the water and add the beets to the food processor along with the remaining ingredients. Process for a good 3 to 5 minutes, until the entire mixture is very smooth. It should render into a thick paste.
5. Coat an 8-by-8-inch (20-by-20-cm) square baking dish with nonstick cooking spray and spoon the batter into the dish. Using a spatula, even out the top of the batter. Bake for 25 minutes, until set. Cool completely on a wire cooling rack before slicing into 9 squares.
Notes: I recommend using golden beets in this recipe because they don't stain quite as badly as the red variety and they're also milder in taste. However, red beets will work too.
If your dates are a little old and aren't very soft anymore, cover them with boiling water and soak the dates for about 10 minutes. Drain well prior to blending. Medjool dates can be found at your local grocery store and Costco.
The addition of instant coffee is optional, but it really helps bring out a deeper chocolate richness in baked goods. I like to keep a small jar on hand just for baking!