Foolproof Gluten-Free Seeded Crackers You Can Make Yourself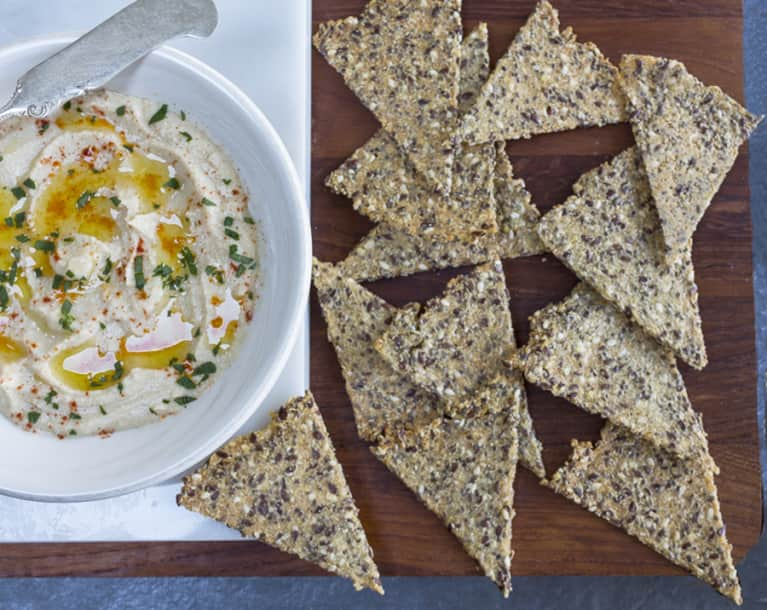 Who can resist a cracker that's vegan, gluten-free, dairy-free, sugar-free, and wheat-free?
These homemade crackers are better than store-bought varieties with unwanted preservatives; plus, you can make them easily from your everyday pantry staples—and they're actually fun to bake.
One recipe makes 48 crackers, and they stay fresh and crispy for weeks after you bake them, but believe me, they won't last that long!
Serve with your favorite hummus or dip … or crunch them alone on the go.
Real Whole-Grain Crackers
Makes 48 crackers
Ingredients
1 cup brown rice, cooked
1 cup quinoa, cooked
1½ tablespoons filtered water
2 teaspoons organic tamari sauce
¼ cup sesame seeds
¼ cup flax seeds
¼ cup chia seeds
Preparation
1. Whirl the brown rice, quinoa, water, and tamari* in a food processor until thick and somewhat mushy, about 2 minutes. (Hint: It will blend easier if the rice and quinoa are warm.) Add the sesame seeds, flax seeds and chia seeds, pulse to combine.
2. Use a rubber spatula to scrape around the inside edges of the bowl. Make sure everything is blended properly.
3. Remove the dough to a sheet of wax paper on your counter. Shape into a ball with your hands, then slice into 6 even portions.
4. Preheat the oven to 350°F. Lightly oil a nonstick cookie sheet. Lay down 3 balls of dough, spacing well. (Use a piece of parchment paper underneath if you don't have a nonstick pan.) One at a time, roll thinly (as thinly as possible). Roll the others out the same way.
5. With a sharp knife or pizza cutter, cut each round into 8 triangles. Sprinkle with sea salt, if desired (I like a little), and bake for about 12 minutes until very crispy with golden edges. Repeat with remaining 3 balls of dough.
These crackers are great "keepers." Place them in an airtight container and they'll stay fresh for a few weeks.
Want to add your favorite flavors to the crackers? Some suggestions:
1 tablespoon of either poppy seeds or amaranth
½ teaspoon of either garlic powder, dried rosemary, dried thyme, cracked black pepper, or smoked paprika