15-Minute Dinner: Moroccan-Spiced Couscous With Mint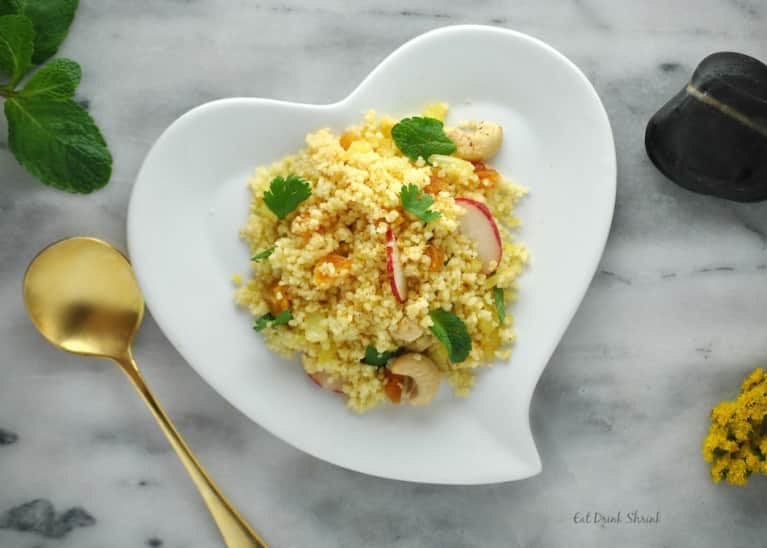 Our editors have independently chosen the products listed on this page. If you purchase something mentioned in this article, we may
earn a small commission
.
This 15-minute vegan dinner stars Moroccan couscous and just a handful of ingredients. It's a quick and easy dish that can be made in moments but offers tons of flavor and nutrients.
Moroccan Couscous With Blossom Water + Mint
2 cups couscous
Olive oil
½ a yellow onion, diced
½ cup dried apricots, chopped
½ cup radish, thinly sliced
2-3 teaspoon ras el hanout (seasoning)*
1 cup raw unsalted cashews
1 sprig fresh mint
1 sprig fresh cilantro
2 teaspoons orange blossom water*
Preparation
1. Take the prewashed couscous and lay it on top of a baking sheet. Take a little olive oil in your hands and break up all the clumps of couscous with your hands; let sit for about 5 minutes. Dice onion and set aside.
2. Fill a pot with 2 cups of water, add olive oil and sea salt, and bring to a boil. Once boiling, add in the couscous gradually while stirring, and place a lid on top partially covering it. Remove from heat and let steam for 5 minutes.
3. In a separate pan, heat olive oil and diced onion over a medium heat, and cook until clear and fragrant (5 minutes) add ras el hanout, and continue to stir.
4. Once cooked, place in a large bowl and combine with the sliced radish and dried apricot. Add in the cooked couscous, raw cashews, mint, and cilantro, and drizzle with the blossom water. Toss to combine, while adding more ras al hanout as desired.
*Notes: Ras el hanout is a Northern African spice blend containing cardamom, cumin, coriander, and cinnamon, among other things. Fragrant orange blossom water is typically used in Mediterranean cuisine. You can find them both at some grocery stores or gourmet food shops and online.