Vegan Ramen To Get You Through The Last Days Of Winter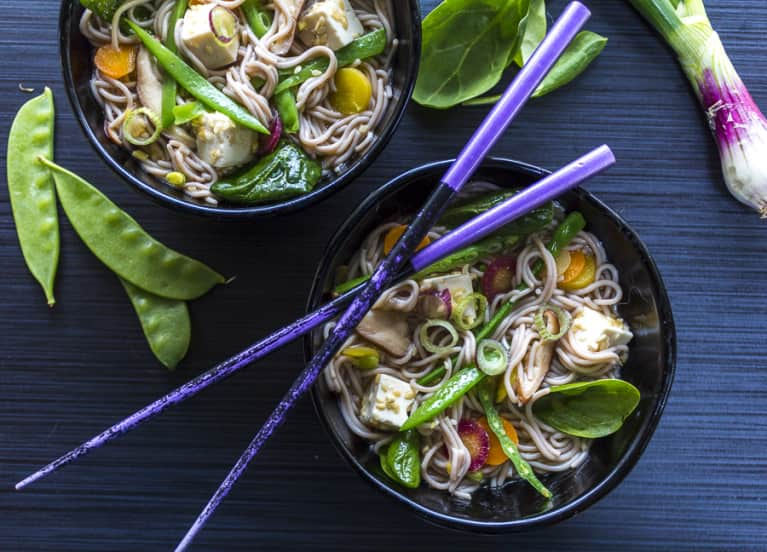 Here's how to turn the trendiest carb into a healthy, steaming bowl of deliciousness at home.
The traditional version of ramen is a far cry from the dorm room staple and has now reached a level of popularity that was once unimaginable, with restaurants serving creative bowls with new flavor twists.
I'm loving the selection of dried ramen noodles available in health food shops. Unlike the bargain fried blocks of ramen with the undesirable packets of toxic seasonings, there are many organic, gluten-free types.
I like the buckwheat ramen I used in this recipe. Made simply from buckwheat flour and water, they have the most fiber of all noodles (5 grams per serving) and zero sodium.
Extra vegetables elevate this dish to a main meal, and cubes of tofu and sesame seeds add protein. Everything is fresh, barely cooked, and delicate, but the flavor is robust thanks to the dashi broth, ginger, shallots, scallions, garlic, umami-rich shiitake mushrooms, and pungent chili paste.
In Japanese, umami translates roughly to "good taste" and is the savory essence that makes your mouth water, and the flavor is long-lasting.
Choose the vegetables you love or have on hand to create your personal taste preference.
4 cups vegetable broth
1 piece (4-by-4-inch) kombu*
2 blocks organic buckwheat ramen noodles, about 5 ounces
¾ cup organic silken tofu
1 teaspoon sesame seeds, toasted golden in a dry skillet
1 teaspoon sesame oil
2 tablespoons shallots, peeled and chopped
1 tablespoon scallions, thinly sliced
2 medium garlic cloves, peeled and minced
2 teaspoons fresh ginger, peeled and minced
4 medium fresh shiitake mushrooms, cleaned and sliced
½ teaspoon chili paste, sold in health food and Asian shops
½ cup colorful carrots, thinly sliced
½ cup snow peas, strung and sliced
½ cup fresh spinach leaves, cleaned and dried
Thinly sliced scallions (I love purple scallions!)
A sprinkle of shichimi togarashi seasoning
A few drops of low-salt organic soy sauce for extra umami
Some extra chili sauce for a spicier flair
Preparation
1. Place the vegetable broth in a large bowl. With a damp cloth, wipe the white powder coating from the kombu. Break the kombu into 4 large pieces and drop into the broth. Let stand for 30 minutes to soak.
2. Meanwhile, boil noodles in water, stirring with chopsticks to unravel them. When they're al dente (3 to 4 minutes) strain, and refresh under cool water. Set aside.
3. Cut tofu into ½-inch cubes. Toss with the toasted sesame seeds.
4. Heat a 2-quart pot over a moderate heat and sauté shallots, scallions, garlic, ginger, shiitake mushrooms, and chili sauce in sesame oil until the flavorings have just started to turn golden, about 3 minutes.
5. Add the broth; bring to a boil, removing the pieces of kombu as soon as the broth boils.
6. Reduce the heat to a simmer; add the carrots, snow peas, and spinach. Cook for 2 minutes until crisp-tender. Add the ramen noodles and sesame tofu. Let them soak up the flavors for at least 10 minutes.
Serve the ramen in individual bowls with chopsticks and spoons for enjoying every last drop of the broth. Top with add-ins, if desired.
*Don't have kombu? Add a teaspoon or two of miso to the vegetable broth; combine with a whisk.