4-Ingredient Carob + Goji Berry Bark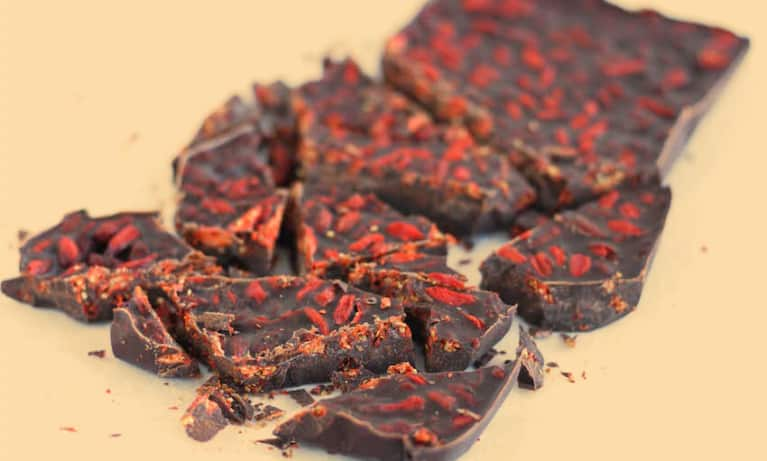 I LOVE chocolate bark but it can be packed with lots of unhealthy ingredients and tons of sugar, so I decided to create my own version.
Carob Goji Berry Bark melts in your mouth while the sweet and chewy goji berry pieces sprinkled throughout bring a superfood boost.
The base of the carob bark is actually super healthy and the recipe is very versatile. You can play around with the recipe by adding different types of nuts, seeds, and/or dried fruit.
Makes 1 ginormous bar
Ingredients
1 cup goji berries, chopped
1 cup carob powder, sifted
⅛ teaspoon green powdered stevia
½ cup coconut oil, melted
Preparation
1. Line a loaf pan with parchment paper, and evenly spread ¾ of the goji berries along the bottom of the pan. In a medium bowl, mix the carob and stevia powder.
2. Add the coconut oil, and stir until smooth; this mixture should be very drippy.
3. Pour the chocolate into the pan; sprinkle with the remaining goji berries. Place in the freezer to set for 2 hours.
Serve cold, straight out of the freezer. Don't leave at room temperature for too long, or else it may start to melt!