11 Things I Keep In My Freezer To Make Eating Vegan Easy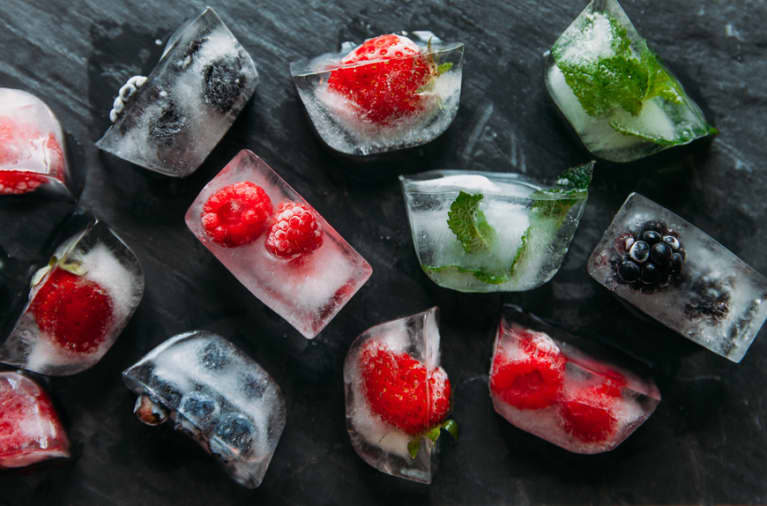 Our editors have independently chosen the products listed on this page. If you purchase something mentioned in this article, we may
earn a small commission
.
If there's one secret I've learned in my years as a vegan, it's that advance planning is everything. If you're like me and never seem to have enough time in the day, having a freezer stocked with the essentials is the key to eating well every day.
Stocking a vegan freezer is actually quite simple, and you'll be amazed at how much easier it makes your life.
These are all my key flavor boosters that make meatless meals delicious and satisfying — having the ingredients in the freezer and ready to go makes getting dinner on the table that much faster.
My favorite vegan "egg" replacer. Ground chia flour can be frozen and then quickly mixed with water to create a thick gel that can replace the binding power of eggs in many baking recipes.
I like to grind the seeds in bulk, using a coffee bean grinder. I freeze the flour in a jar and whenever I'm baking and need an egg, I scoop out a tablespoon and mix it with 3 tablespoons of water.
The gel sets almost as soon as I'm done mixing and is ready to be added to the recipe.
Such little bits of sweet magic. Caramelized onions are simple to make, inexpensive, and add rich flavor to everything they touch, but they take a long time to cook, so advance preparation is key.
I actually caramelize onions in the slow cooker. I fill up the crockpot about three-quarters full with sliced onions, and cook them on medium for at least 10 hours. After they cool, I pack them into the freezer in small containers, ready to be tossed onto a pizza, sandwich, or any other dish that could use a flavor boost.
Lemon, orange, and grapefruit juice can add a lot to a recipe. In winter and early spring, when the fruits are at their cheapest, buy them in bulk and squeeze the juice into ice cube trays. When frozen, pop them out and keep in a freezer bag. Now you can add a small amount of fresh-squeezed flavor to any recipe in seconds.
Another item that I like to freeze in ice cube trays. You know how recipes always call for 1 or 2 tablespoons of tomato paste? Well, scoop the rest by the tablespoon right into your ice cube tray. Freeze, then pack into freezer bags for the future.
Tomato paste is incredibly versatile — it adds richness and umami flavor to lots of vegan recipes.
5. Chopped onions and peppers
So many meatless recipes begin with a base flavor of chopped onion, but doing the chopping can be a tear­-streaked mess. Get it out of the way with one big chopping session, then store the pieces (a half-inch chop is the right size for most recipes) lying flat in freezer bags — no blanching needed.
By freezing them in a thin layer, you can easily break off a chunk as needed. The same technique works with bell peppers.
Whether you're a workout fiend or just looking for a quick bite of energy between meals, raw vegan energy balls are easy to make and incredibly delicious.
Make a big batch of your favorite energy ball recipe and freeze, then grab and go on your way out the door — they defrost in minutes. If your recipe is particularly sticky, you may want to freeze them on a baking sheet then transfer them to a freezer bag to make sure they don't get stuck together.
My lifesaver a few nights a month. Pizza is one of my favorite go-­tos for dinner — if I have a batch of dough in the freezer, all I need to do is defrost it in the refrigerator during the day and it's ready to go come dinnertime.
I usually start with a red or white sauce — also from my freezer — then add sauteed cauliflower, mushrooms, and bell pepper, plus some caramelized onions from my frozen stash. Bake it in a hot oven, and dinner is served.
We are often told that store­-bought muffins don't make the healthiest breakfast, but a good homemade bran muffin can be a great breakfast on the go, and they freeze really well.
Pick your favorite healthy muffin recipe — I like one with chia seeds and dried goji berries — and then stash them in the freezer so you don't eat them all in one sitting.
These days, it's easier than ever to find high-­quality dried beans in a grocery store. Beans take some time to cook, so spend a weekend afternoon cooking up a pound of them, and then freeze them in freezer­-safe glass containers with lids.
I like to freeze them in 1-cup portions so I can pull out exactly the amount I need for a soup or quick meal.
10. Soups, stews, and chilies
Soups and stews are a busy vegan cook's best friend. What's better than pulling a complete meal out of your freezer? I like to make soups in extra­-large batches and then freeze them in 1­-cup containers so I can defrost and reheat just the amount I need for that meal, whether it is lunch for myself or dinner for the family.
Whether for breakfast, lunch, or dinner, burritos freeze up beautifully. Stuff them with your favorite ingredients — any combination of beans, rice, salsa, and sauteed veggies will work. Just­­ roll up and place in freezer bags.
When you want a quick meal or snack, just take one out and zap it in the microwave for about 2 minutes.
For recipes and more info about make-ahead vegan means, check out my new cookbook, The Make-Ahead Vegan Cookbook.