This bowl has been my favorite lunch for the past week. It's super-easy when I take time to roast some vegetables on a Sunday, especially when I pick up some precut vegetables from Trader Joe's.
I don't mind chopping my own veggies when I have the time, but sometimes I just want to get those cauliflower florets in the oven and get on with my day.
This simple combo of roasted Brussels sprouts, butternut squash, cauliflower, and precooked lentils is topped with a spicy peanut-ginger sauce to bring it all together.
I like to serve it over some sautéed greens or rice, sprinkled with cilantro.
Roasted Fall Vegetable Bowl With Spicy Peanut Sauce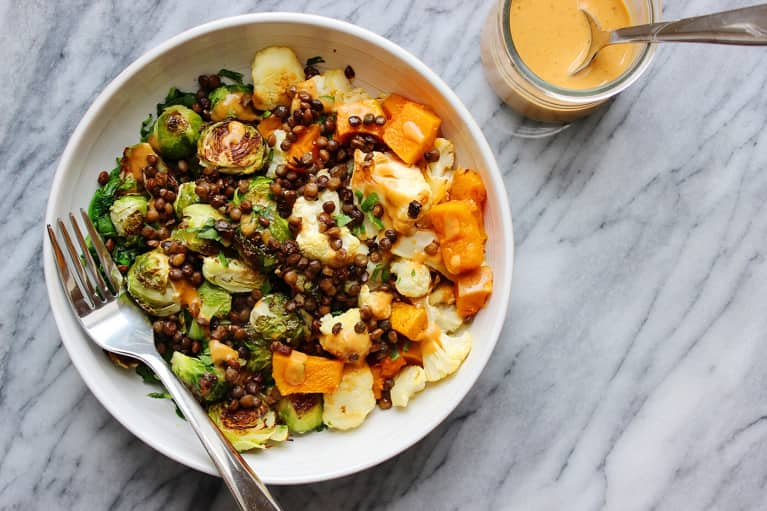 Makes about 4 bowls
Ingredients
1 medium head of cauliflower, cut into small florets (or bag of florets)
1 medium butternut squash, peeled and chopped into 1-inch cubes (or container of pre-chopped butternut squash)
1 pound of Brussels sprouts, trimmed, base cut off, and cut in half
olive oil, or oil of your choice
salt and pepper
2 cups cooked lentils, ½ cup per bowl
2 tablespoons fresh cilantro, chopped
Ingredients for Peanut Sauce
2 tablespoons natural peanut butter
1 tablespoon tamari or soy sauce
1 teaspoon hot chili sauce (I used Cholula)
1 teaspoon rice wine vinegar
1 teaspoon fresh ginger, grated on a microplane or finely chopped
3-4 tablespoons warm water
Preparation
1. Heat oven to 425°F. Toss each vegetable with olive oil (start with 1 tablespoon, adding more if needed), salt, and pepper in a large mixing bowl, to evenly coat the vegetables in olive oil.
2. Spread the chopped vegetables on baking sheets, making a tray for each individual type of vegetable. Roast in the oven (two trays can go in at once): Brussels sprouts should take 20-25 minutes, cauliflower about 30 minutes, butternut squash 30-35 minutes.
3. To prepare your peanut sauce, combine ingredients in a jar with a lid and shake to combine.
4. This step is optional: Heat a splash of olive oil in a pan over high heat. Add cooked lentils, season with salt and pepper, and cook, stirring once or twice, for 2-3 minutes. This gives the lentils a little bit of crispy texture and extra flavor.
5. Assemble your bowls with roasted vegetables and lentils; top with peanut sauce and cilantro.
Photo courtesy of the author