Sweet Treat: Spiced Almond Squares (Vegan + Gluten-Free)
These spiced almond squares were inspired by a Lebanese dessert called sfouf, which is mainly made of semolina, wheat flour, sugar, vegetable oil, and turmeric.
In an attempt to re-create a healthy version of these (that's also vegan, gluten-free, and sugar-free), I had to substitute almost every ingredient — but I ended up with a mouthwatering recipe!
They taste very different from the original recipe, but they're so delicious, moist, and fudgy! Since I first made them they've become my favorite afternoon snack and sometimes I even have them for breakfast.
Spiced Almond Squares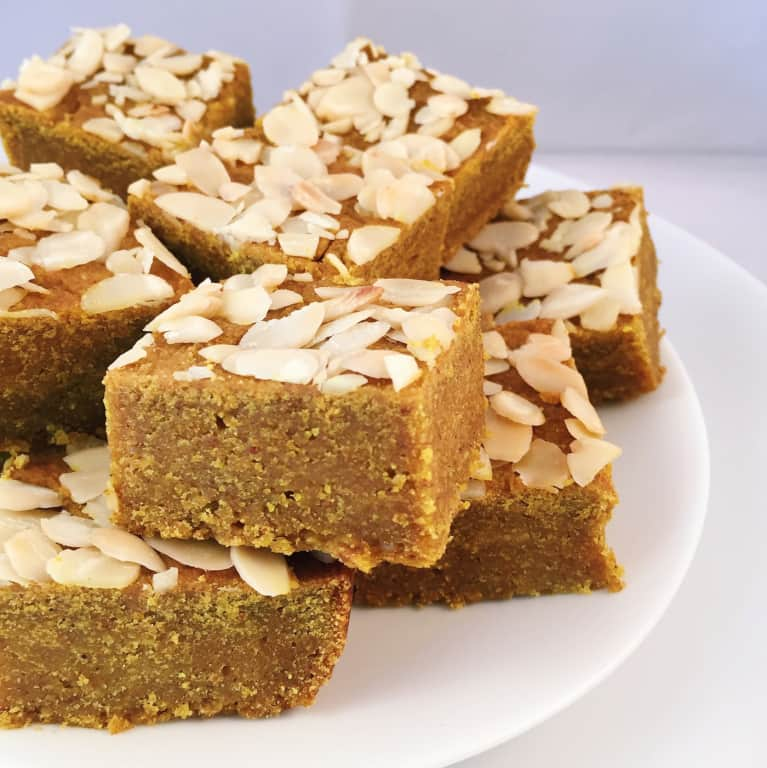 1 cup brown rice flour
1 1/2 cup ground almonds
1 tablespoon turmeric powder
1 tablespoon ground star anise
1 teaspoon cinnamon
1 cup almond milk
10 large Medjool dates*
3 tablespoons pure maple syrup
2 tablespoons coconut oil (and some more for greasing the pan)
¼ cup almond flakes (or blanched almonds)
Preparation
Preheat the oven to 350°F.
1. Add all of the dry ingredients in a large mixing bowl and mix well.
2. Place the wet ingredients in a high-speed blender or food processor and blend until smooth, then transfer to the mixing bowl with the dry ingredients and stir well.
3. Grease an 8-inch x 8-inch baking pan with coconut oil and pour in the mixture. Sprinkle the almond flakes on top and bake for 25 to 30 minutes. When you take them out, they might feel too moist in the middle, but they will firm up as they cool, so be patient.
Store in an air-tight container for up to a week in the fridge. Enjoy!
*If the dates aren't soft enough, soak them in water for 10 minutes and discard the water before using them.
Tag me in your creations on Instagram using #beyondthebowlbyriri
Photo courtesy of the author