One-Pot Carrot Ginger Soup For Fall (Vegan)
Fall is the season of soup. Pumpkin, lentil, potato, bean — you name it! While it may seem easy to grab a can of soup, making soup from scratch is so much more rewarding and healthy. You can control what goes in and adjust the ingredients to your liking.
This recipe for Vegan Carrot Ginger Soup is so easy and simple, you'll be savoring the leftovers all week long (if there are any).
One of the keys to making flavorful soup is allowing the vegetables to sauté in fat. This helps caramelize the vegetables and bring out a nutty and slightly sweet flavor.
This soup is great for the changing seasons, when the air chills and colds are rampant. The carrots are high in vitamin A, and the ginger helps reduce inflammation. So whether you're tending to a sore throat, throwing a dinner party, or making lunch for the week, this soup will certainty comfort and satisfy all.
30-Minute Vegan Carrot Ginger Soup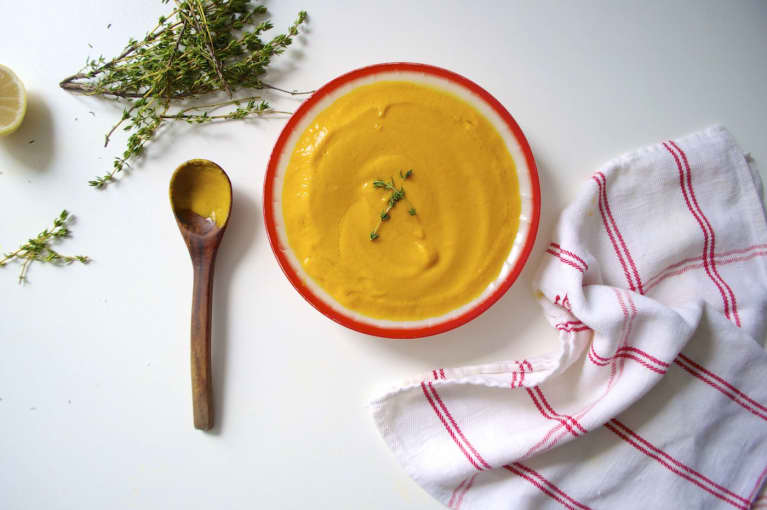 Olive oil for coating the pan
2 garlic cloves, minced
1 medium yellow onion, diced
2 tablespoons ginger, grated
½ teaspoon salt
2 pounds carrots, peeled and cut into ¼-inch slices
3 celery stalks, chopped into ¼-inch slices
1 tablespoon fresh thyme, roughly chopped
6 cups water or vegetable stock
½ lemon, juiced
½ teaspoon black pepper
1 bay leaf
Preparation
1. In a large pot, generously coat the bottom of the pan with olive oil and add the garlic. Bring to medium high heat and cook until garlic starts to perfume (don't let garlic burn!). Add the onion, ginger, and salt; sauté until the onions are translucent and begin to turn slightly golden, stirring frequently. You may add more olive oil or a splash of water if the vegetables need more liquid.
2. Add the carrots, celery, and thyme and cook until carrots are slightly tender but still firm, about 5 minutes. Stir often to prevent any browning of the vegetables and to allow all flavors to thoroughly combine.
3, Add the water (or vegetable stock), lemon juice, black pepper, and bay leaf, making sure the vegetables are covered in liquid. Turn the heat to high and bring to a boil. Cover and let simmer until carrots are tender but not falling apart, about 20 minutes.* Remove the bay leaf and let cool.
4. Using an immersion blender or a high-power blender, puree the soup until smooth. You can add more water or seasoning as needed. Garnish with some thyme and serve warm (or chilled!). Store in the fridge or freezer in a freezable, air-tight container. Enjoy!
*Note: Cooking time will depend on thickness the vegetables; the smaller the cut, the shorter the cooking time.
Photo courtesy of the author