3 Easy Plant-Based Snacks (Kids Will Love Them!)
Our editors have independently chosen the products listed on this page. If you purchase something mentioned in this article, we may
earn a small commission
.
Adding more plant-based foods to your diet is good for your health and good for our planet, but it can be challenging to get kids to eat their veggies. Get more vegetables, fruits, nuts and seeds into their snacks with a few simple recipes.
Kale Chips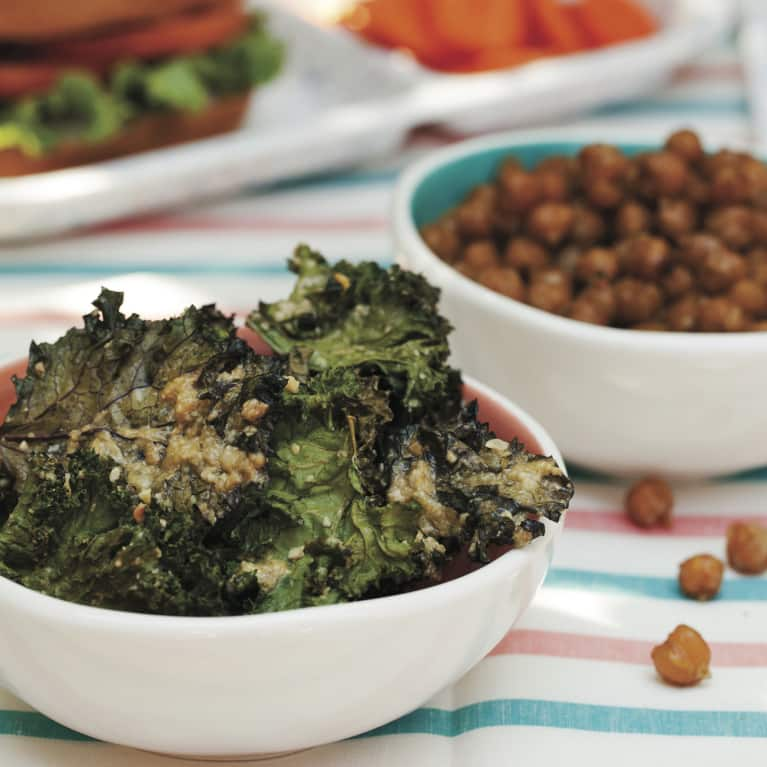 Kale chips are the dreamiest invention for parents who struggle with getting their kids to enjoy vegetables. The texture and rich taste of these chips comes from the ground seeds in the batter that the curly kale leaves are tossed in before being baked at a very low temperature.
Kale is extremely high in vitamin K, an essential nutrient for healthy, strong bones, and the pumpkin seeds, sunflower seeds, and pine nuts contribute lasting energy with excellent amino acids for tissue formation and regeneration.
Serves 4
Ingredients
2 bunches curly green or purple kale, washed, dried, stemmed, and torn into large bite-size pieces
1/8 cup pumpkin seeds
1/8 cup sunflower seeds
1⁄4 cup pine nuts
1⁄4 cup water
1 tablespoon freshly squeezed lemon juice
1 clove garlic (optional)
3 tablespoons extra-virgin olive or canola oil
2 tablespoons nutritional yeast
1 teaspoon sea salt
Preparation
1. Preheat the oven to its lowest setting, around 200 degrees F. Line 4 baking sheets with parchment paper. Divide the kale equally between 2 large bowls.
2. In a food processor, grind the pumpkin seeds, sunflower seeds, and pine nuts to a fine meal. Add the water, lemon juice, garlic, oil, yeast, and salt. Process all the ingredients until well incorporated.
3. Pour the batter equally over each bowl of kale. With clean hands, toss the batter and kale well.
4. Evenly distribute the kale among the baking sheets.
5. Bake until crisp but not browned, about 25 to 30 minutes. (If you don't have enough room in your oven to bake all 4 baking sheets at once, bake 2 first, and then bake the second. Cool on a rack or a large plate and enjoy! Store in an airtight container for up to 3 days.
Strawberry Surprise Popsicles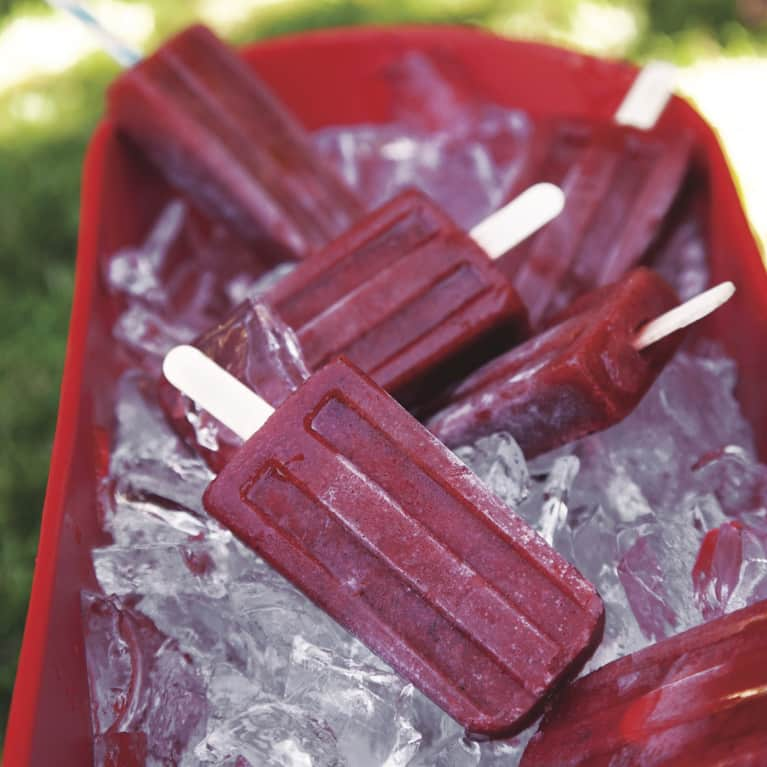 These Popsicles have a surprising ingredient — cucumber! Cucumber not only adds a refreshing note, but it's a good source of B vitamins. Strawberries contain vitamin C in great abundance. Try throwing some basil in with the mint for an even brighter flavor.
Makes 6
Ingredients
3 cups fresh strawberries
1 cup chopped peeled cucumber
1/8 cup maple syrup
3 tablespoons freshly squeezed lemon juice
1⁄2 cup fresh mint leaves
1⁄2 cup water
Preparation
1. In a high-powered blender or food processor, blend all the ingredients until completely smooth. Pour the mixture into 6 Popsicle molds and freeze for at least 3 hours.
Nut Butter Energy Bars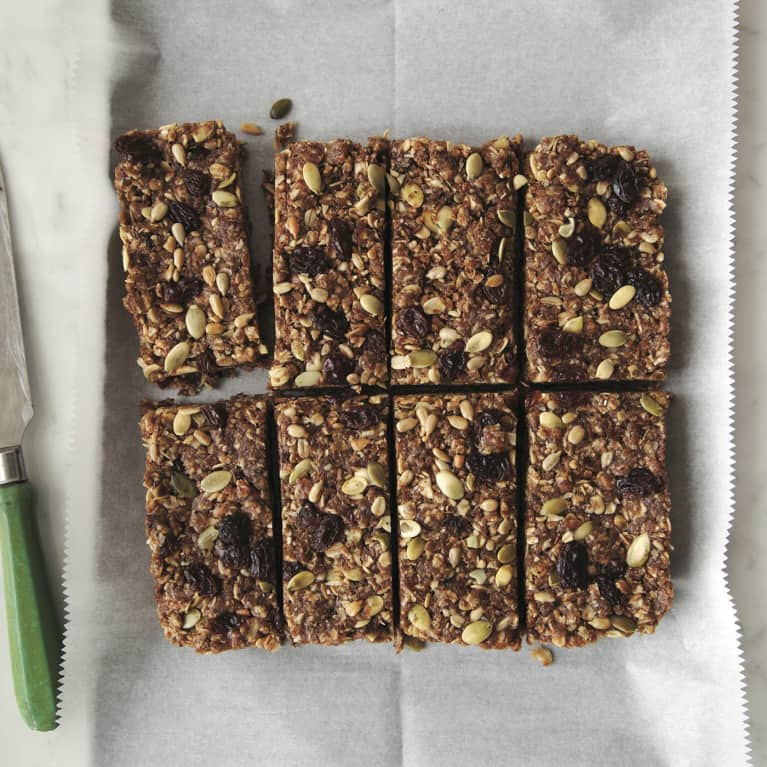 If you feel like giving these energy bars a bit more gusto, add some finely chopped 85% dark chocolate — two-thirds cup will do the trick. Mix it in with the rest of the ingredients.
You can also substitute goji berries for the raisins. Goji berries are unusual in that they contain all the essential amino acids and have more protein than any other fruit. They're very high in iron and also provide calcium, zinc, and selenium as well as vitamin C (which enhances iron absorption). They are a great snack food for boosting the immune system, as they contain compounds that are antifungal, antibacterial, and anti-inflammatory.
These bars also make a great breakfast when you're pressed for time. Pre-wrap the bars when you store them in the fridge so you can pop one into your bag when you're on your way out the door.
Makes 16
Ingredients
11⁄4 cups nut butter (peanut butter or almond butter works best)
3⁄4 cup maple syrup
21⁄2 cups gluten-free rolled oats
1⁄2 cup flax meal
1⁄4 cup sunflower seeds
1⁄4 cup pumpkin seeds
1⁄2 cup raisins (or goji berries)
1⁄2 teaspoon kosher salt
1⁄2 teaspoon ground cinnamon
1 teaspoon vanilla extract
Preparation
1. In the bowl of a stand mixer fitted with the paddle attachment, mix all the ingredients until well combined, just under 2 minutes. Scrape down the sides of the bowl with a spatula and briefly mix again.
2. Line a 9-by-9-inch baking pan with parchment paper. Transfer the mixture to the pan. Spread and press it smoothly with a spatula to fill the corners.
3. Chill to set, about 1 hour. With the aid of the parchment paper, lift out the contents of the pan. Cut into 16 bars. Store in an airtight container in the refrigerator for up to 1 week.
© 2015 by Jennifer Katzinger. All rights reserved. Excerpted from Gluten-Free & Vegan for the Whole Family by permission of Sasquatch Books.