Cook This For Dinner Tonight: Quick Quinoa Fried "Rice"
Our editors have independently chosen the products listed on this page. If you purchase something mentioned in this article, we may
earn a small commission
.
Fried rice: good. MSG, low-quality soy sauce and other icky stuff: bad.
That's why I've taken to making my own fried "rice" at home, except I use quinoa in lieu of rice and coconut aminos in lieu of soy. The protein in quinoa transforms this from a side to a main — if you want to keep it vegan, simply omit the eggs. I've recommended my favorite combination of veggies, but do your thing and make it your own.
Quinoa Fried "Rice"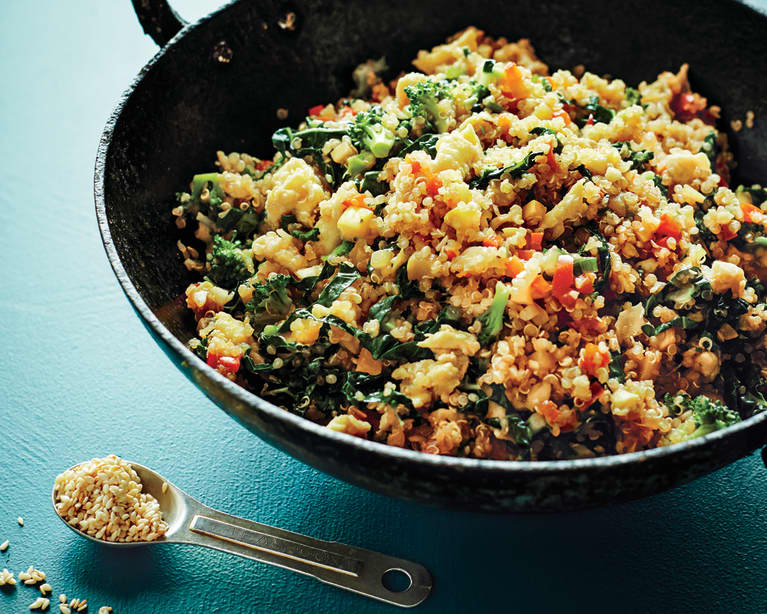 ¼ cup coconut oil (divided)
4 large eggs, lightly beaten (optional)
1 cup thinly sliced scallions, plus more for garnish
2 tablespoons finely minced peeled fresh ginger
6 garlic cloves, minced
2 cups broccoli florets
1 yellow summer squash, finely diced
1 red bell pepper, finely diced
4 cups cooked quinoa
⅓ cup coconut aminos
2 to 3 tablespoons gluten-free tamari (or more coconut aminos)
1 tablespoon toasted sesame oil
2 cups finely chopped kale
¼ cup chopped fresh cilantro, plus more for garnish
2 tablespoons sesame seeds
Lime or lemon wedges, for serving
Preparation
1. Heat a wok or large skillet over medium-high heat. If using eggs, add 1 tablespoon of the coconut oil to the skillet, then add the eggs and cook, stirring, until scrambled. Transfer to a bowl and set aside.
3. Add the remaining 3 tablespoons coconut oil and the scallions, ginger, and garlic and cook, stirring, until fragrant, 1 to 2 minutes. Add the broccoli, squash, and bell pepper and cook, stirring, until the vegetables just begin to soften, 2 to 3 minutes.
4. Add the quinoa, aminos, tamari, and sesame oil and cook, stirring occasionally, until the mixture is warmed through and the quinoa has absorbed most of the liquid, 3 to 4 minutes.
5. Stir in the kale and cilantro and cook until the kale is just wilted, about 1 minute. Return the scrambled eggs to the pan, if using, and warm through, about 1 minute. Garnish with the sesame seeds, scallions, and cilantro and serve with lime or lemon wedges on the side.
Recipes and photo from Two Moms in the Raw by Shari Koolik Leidich. Copyright © 2015 by Shari Koolik Leidich. Used by permission of Houghton Mifflin Harcourt Publishing Company. All rights reserved.