15-Minute Meal: Summer Rolls + Almond Butter Sauce
The warm temperatures of summer make us crave cooling, hydrating foods. These rainbow-colored rolls fit the bill!
They're stuffed with antioxidant-rich vegetables, creamy avocado, fresh herbs, sweet mango and a few pinches of chili flakes for a touch of heat. Oh, and don't forget the almond butter sauce – you might even want to make a double batch!
Rainbow Summer Rolls + Almond Butter Sauce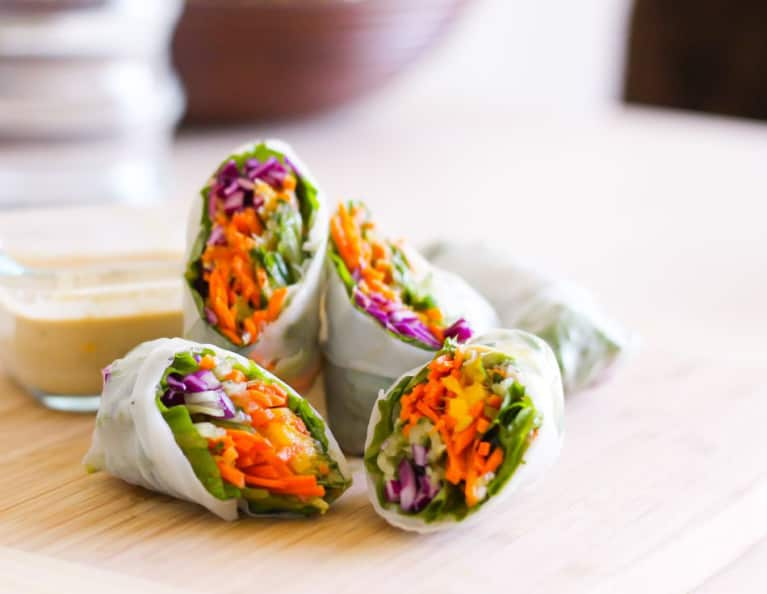 Makes 6-8 rolls
Ingredients for almond butter sauce
¼ cup natural almond butter
2 tablespoons rice vinegar
2 tablespoons tamari
2 tablespoons water
¼ teaspoon chili flakes (optional)
Ingredients for rice paper rolls
6-8 rice paper wraps, about 6 inches diameter
1 large carrot, peeled and julienne cut
1 English cucumber, ends trimmed off and julienne cut
1 cup thinly shredded purple cabbage
3 large green lettuce leaves (stems removed)
1 mango, peeled and pitted, then sliced into thin strips
½ avocado, pitted and thinly sliced
¼ cup each loosely packed fresh basil and mint
a few pinches of chili flakes, to taste
Preparation
1. For the sauce, process all ingredients in a blender until smooth. Thin with water if desired, then transfer to a small bowl and set aside.
2. For summer rolls, one at a time, soak the rice wraps in a large bowl of warm water. I find it easiest to hold onto the edges with both hands so they don't fold. When softened, remove the wrap, shake it gently to let excess water drip off, and lay it flat on a plate.
3. Picture the wrap like a clock face with 6 o'clock closest to you. Arrange a little of each of the fillings, starting with a piece of lettuce, between 6 o'clock and the center.
4. Fold in the right and left sides towards the center, then roll the bottom of the wrap up towards 12 o'clock. Transfer the roll to a separate plate, seam side down, and repeat the process with remaining wraps and fillings.
5. When ready to eat, serve the wraps with the almond butter sauce. Note: If making the rolls ahead of time, store them in a sealed container in the fridge, wrapped in damp paper towels for up to 1 day.
Photo courtesy of the author