Gluten-Free, Vegan, No-Bake Superfood Bars
When I first began the transition to going 100% vegan, the part I struggled with the most was finding foods to snack on. I'm a big snacker because I like eating six small meals a day versus your normal breakfast, lunch and dinner. After about a month I got sick of nuts, hummus with carrots, and almond butter with an apple. I was struggling to find some of my old go-to snacks that were vegan AND actually healthy for you.
Don't be fooled by the labels. Just because a granola bar is vegan does not mean it is necessarily healthy for you. The reason I went vegan was to heal my body from my near-death experience when no doctor was able to. So anytime I make a new recipe, I work to incorporate nutrition, not only vegan ingredients.
My gluten-free vegan no-bake superfood bars are so easy to make, super delicious, and healthy for your mind, body, and spirit!
Gluten-Free Vegan No-Bake Superfood Bars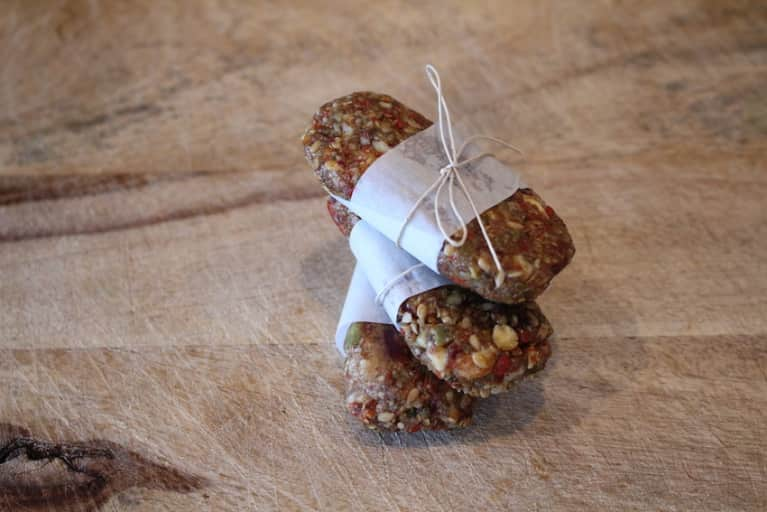 1 cup almonds
9 unpitted dates
2 tablespoons water
1/2 cup oats
1/4 cup hemp seeds
2 tablespoons golden flax seeds
1/2 cup pumpkin seeds
1/3 cup cranberries
1/2 cup goji berries
1/2 cup coconut flakes
1 teaspoon vanilla extract
1/4 cup maple syrup
1/2 tablespoon cinnamon
Preparation
1. Process almonds, dates, and water in a blender or food processor. Add to medium sized bowl.
2. Process oats, hemp seeds, pumpkin seeds, cranberries, goji berries, coconut flakes, and vanilla in a blender or food processor. Add to bowl.
3. Add golden flax seeds, maple syrup, and cinnamon to bowl. Mix together. (To get a good mixture I suggest using your hands to mix it up!)
4. Line a pyrex dish with parchment paper and mold mixture into small rectangles. Put dish in freezer for 15-20 minutes.
*To store, put granola bars in individual bags or wrap each with parchment paper and store in a container in the freezer.
Photo courtesy of the author