A Lighter Lunch: Raw Spring Rolls With Vegan Dipping Sauces
Looking for a light, raw but satisfying lunch to add to your repertoire? These nori and rice paper veggie rolls are the perfect solution.
Raw Nori + Rice Paper Wraps With Dipping Sauces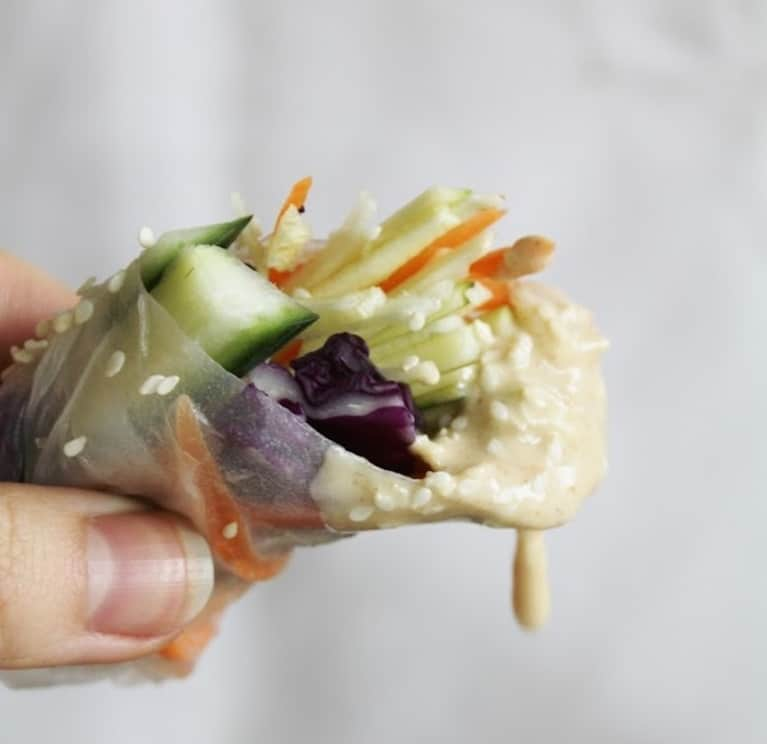 Ingredients
Any combination of the following:
1⁄2 head red cabbage
1 carrot
1 small zucchini
1/2 cucumber
2 kale leaves
1 avocado
basil
cilantro
3-4 nori sheets and/or rice paper sheets
Preparation
1. Cut all the veggies into thin strips (or use a mandolin). Chop the cucumber by hand, tear up the kale leaves and slice the avocado.
2. Nori: Lay your desired fillings on one side of your nori sheet, and on the opposite side spread a little sauce to seal together the ends when you roll it up. Roll everything up tight and set aside.
3. Rice paper: Dip your rice paper sheets in warm water so they soften and become pliable (do this one at a time), then arrange your fillings in the middle. Fold over two ends, then wrap it up like a burrito, making it as tight
as possible. It might take a few tries to get it perfect.
4. Serve with one or all of the sauces below.
Spicy Sauce
1 tablespoon tahini
chili powder, to taste (optional for kids)
1 tablespoon miso
2 dates
juice from 1⁄2 lemon
1 small garlic clove
water, as needed to make it creamy and smooth
2 garlic cloves, minced
1 tablespoon chunk of ginger, peeled and finely chopped
2 tablespoons each of tamari, maple syrup, and lime juice
chili powder, to taste (optional for kids)
1/3 cup peanut butter
1⁄3 cup water (more or less as needed)
Tahini Garlic Sauce (a Healthy Mama original)
2 tablespoons tahini
1 lime (juiced)
1 garlic clove (crushed)
3 tablespoons of water (add more if needed to desired consistency)
1 tablespoon maple syrup or sweet chili sauce (optional - if you want sweet - I prefer mine without)
Preparation
Make any (or all) of the sauces by blending all the ingredients together until smooth.
For more healthy, delicious recipes check out the new monthly magazine, The Healthy Mama. You can head to their website for a free 7-day trial to get a taste of what you are in for.
Photo courtesy of the author