It's Artichoke Season! Try Them With This Roasted Chicken + Potatoes
It's hard to get out of the rut of eating the same, boring thing over and over, even if it's good for you. Healthy eating can — and should — be exciting and full of variety and color, not to mention easy to prepare and totally satisfying. Yeah, quinoa and kale salads sure are healthy, but who wants to eat that every day of the week?
This is a great example of a meal that only takes a few minutes to prep and will give your taste buds a kick in the pants. The flavors really do speak for themselves when you buy seasonal, fresh ingredients. Plus, there's nothing better than the beginning of artichoke season!
Roasted Chicken With Artichokes, Potatoes + Lemon Caper Sauce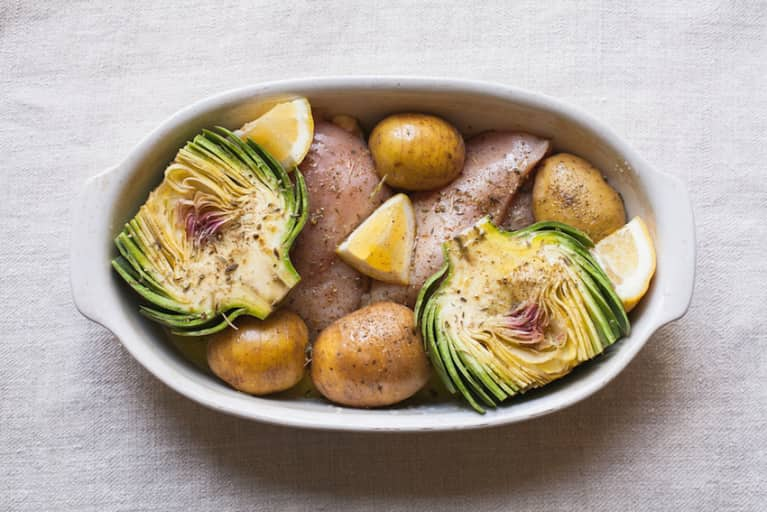 extra virgin olive oil
2 chicken breasts or thighs (about 12 oz.)
1 artichoke, trimmed and cut in half
4 new potatoes, cut with slits ¾ of the way through
1 lemon
sea salt, pepper + Italian seasoning
3-4 cups mixed greens
For the Lemon Caper Sauce
2 tablespoons of capers
1 tablespoon of grainy Dijon mustard
1 tablespoon of honey
1 tablespoon of brown rice vinegar
1 tablespoon fresh lemon juice
1 clove of garlic
1 shallot minced
¼ cup of olive oil
Preparation
1. Preheat the oven to 400ºF and bring the chicken to room temperature. Coat a baking dish with olive oil.
2. Securely pack in the chicken, artichoke halves and potatoes. Drizzle everything with 2 tablespoons of olive oil, salt, pepper and Italian seasoning. Squeeze half of a lemon over the artichokes and the other half over the chicken. Cover with foil and bake for 30 minutes.
3. For the lemon caper sauce: Combine all of the ingredients into a blender or small food processor and blend for about 20 seconds.
4. Remove the foil and continue baking for 10-15 minutes (or until the chicken is cooked through).
5. Serve over a bed of mixed greens and a side of Lemon Caper Sauce for dipping.
Photo courtesy of the author