Perfect Weekday Breakfast: Overnight Oat + Chia Pudding
Making a homemade breakfast does not need to be time consuming, and I can guarantee you it's better for your body than anything you can pick up in 5 minutes.
After working the corporate grind for 8 years of my life, I mastered the skill of the quick and easy breakfast. I'll admit that even now that I work from home, I make quick and easy breakfasts all the time.
Why? Simply put: a breakfast full of nourishing and energizing foods helps me get down to business and be more efficient throughout the day. It's one of the easiest things I can do for my health — both mind and body.
Give this recipe a try this week for a quick and easy breakfast that is sure to satisfy and keep you full until lunch.
Overnight Oat + Chia Pudding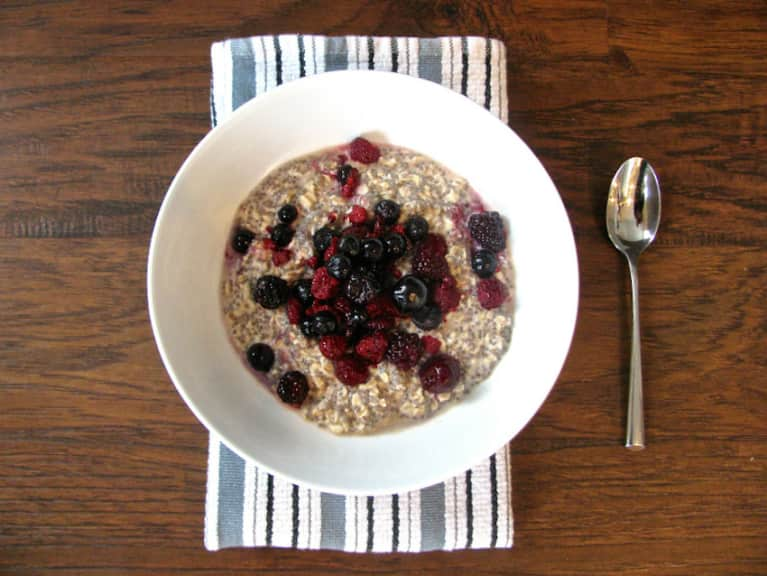 1/3 cup organic oats
1/3 cup milk of your choice (I love almond or coconut)
1/3 cup filtered water
2 tablespoons chia seeds
1 teaspoon organic pure maple syrup (Grade B is my favorite)
1/2 teaspoon ground cinnamon
topping ideas: 1 cup organic mixed berries, 1 tablespoon raw pecans, 1 tablespoon unsweetened coconut
Preparation
1. Place all ingredients into a container or mason jar, cover, and shake until combined. Place in refrigerator over night and remove in the morning for a quick and easy breakfast.
2. On cold mornings I take mine out of the refrigerator and set on the counter for 30 minutes to get to room temperature.
Photo courtesy of the author