Detox Burgers With Black Beans, Brown Rice + Flax
mbg Food Contributor
By Christina Liva
mbg Food Contributor
Christina Liva is a writer, recipe developer, and former mbg food editor. She founded Yay Lunch and is currently based in Virginia.
Detox Burgers With Black Beans, Brown Rice + Flax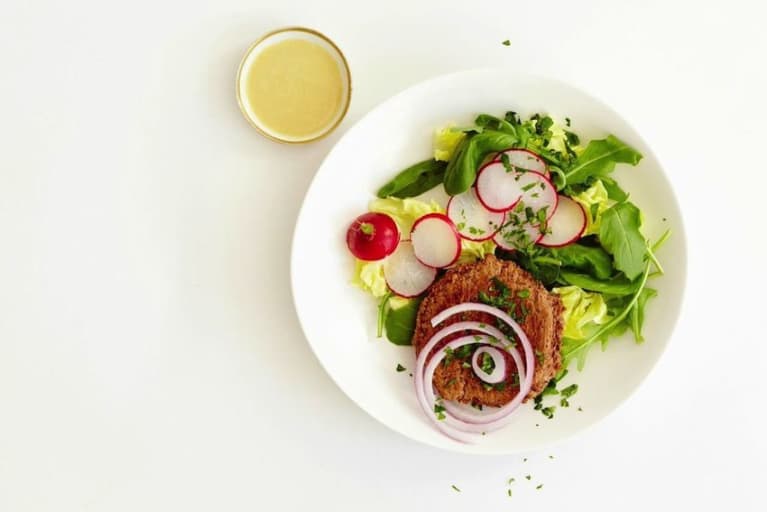 3/4 15-oz can black beans, rinsed and drained
1 cup cooked brown rice or quinoa
1 tablespoon flaxmeal
1 clove garlic, minced
1 teaspoon ground coriander
1 teaspoon ground cumin
2 scallions, chopped
handful of parsley, chopped
juice of half a lemon
2 tablespoons extra-virgin olive oil, plus more for drizzling
salt + pepper
4 pieces bibb lettuce
couple handfuls of baby arugula
1 avocado
½ red onion, sliced
grain or Dijon mustard
Preparation
1. Heat oven to 425ºF degrees.
2. Pulse ingredients in a food processor until combined. Season with salt and pepper. Using your hands, form the mixture into four patties, around 1-inch thick.
3. Place on a baking sheet lined with parchment (this makes for an easier clean up) and drizzle each patty with olive oil. Bake for about 20 minutes until they are golden brown.
Photos by Vanessa Rees
Recipes + Styling by Christina Liva