Allergic To Wheat, Corn, Dairy, Soy, Nuts & Eggs? Make This Meal Tonight
Jenna Short shares three recipes from her book Cooking Allergy Free, that would satisfy a family with an array of allergies, particularly those averse to wheat, corn, dairy, soy, nuts and eggs.
Bloody Mary Salad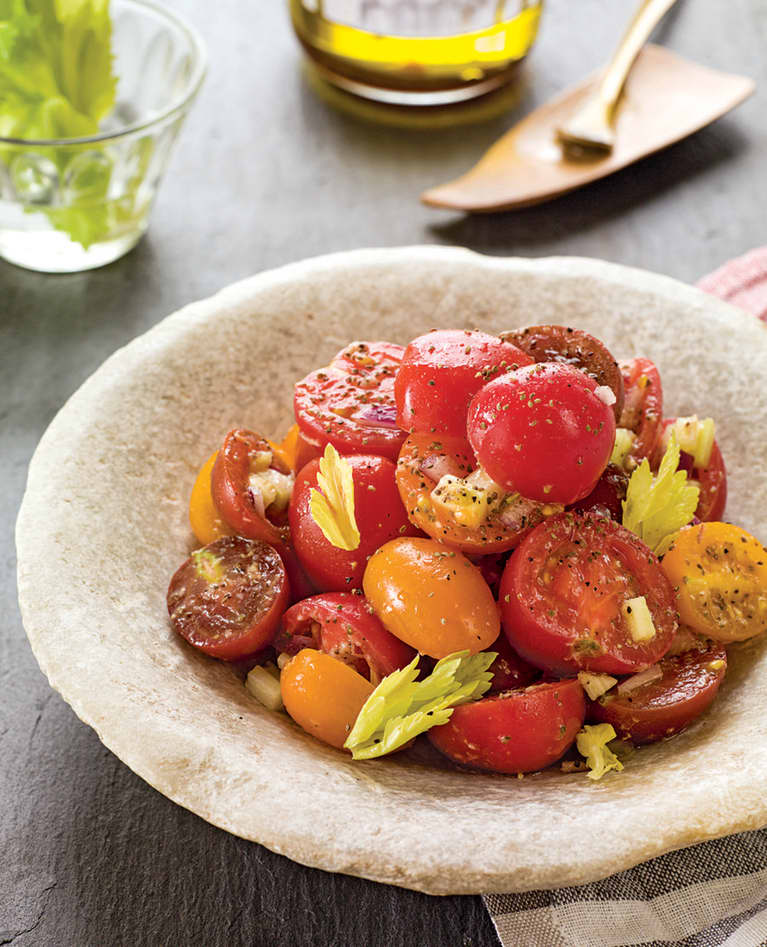 This salad has all the tangy flavors of a bloody Mary. When entertaining, I like to serve it on a long, narrow plate accompanied by a shot of vodka for a palate cleanser. Use different-colored cherry tomatoes for the best presentation.
Serves 4-6
Ingredients
3⁄4 cup finely chopped red onions
3 tablespoons sherry vinegar, divided
3 pints cherry tomatoes, halved
1 cup finely chopped celery hearts
2 tablespoons prepared horseradish (read ingredient statement)
1 tablespoon gluten-free Worcestershire sauce (read ingredient statement, as not all brands are gluten-free)
1⁄2 teaspoon celery seeds
1⁄4 cup olive oil
Kosher salt and freshly ground black pepper
Preparation
1. Put the onions in a large bowl and pour 1 tablespoon of the sherry vinegar on top; let the onions sit for about 10 minutes, then add the tomatoes and celery.
2. Whisk the remaining 2 tablespoons sherry vinegar, the horseradish, Worcester-shire sauce, and celery seeds in a medium bowl. Slowly drizzle in the olive oil and whisk until emulsified. Pour the dressing on top of the tomato salad and toss to coat. Season to taste with salt and pepper. Set aside to marinate (the longer it sits, the more intense the flavor will be). Serve cold or at room temperature.
Unstuffed Cabbage Meatballs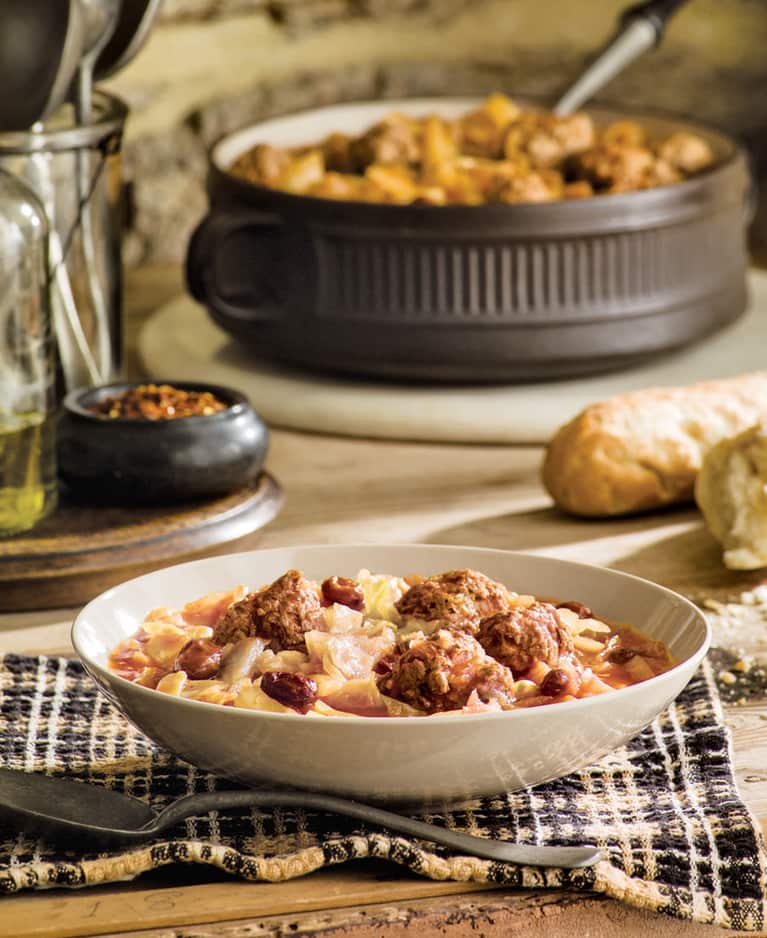 This recipe came as inspiration from my younger foodie self. I have been told that I hated jarred baby food, so my parents would take whatever they were eating and throw it into the food processor; apparently, I couldn't get enough of stuffed cabbage. Here I've turned the traditional recipe into something a bit more family-friendly.
Makes 24 meatballs; serves 8 with
Ingredients
3 meatballs per serving
1 large head cabbage, thinly sliced
one 28-ounce can tomato purée (read ingredient statements)
1⁄2 cup dark brown sugar
2 cups chicken stock (read ingredient statement)
1⁄2 cup raisins
Kosher salt and freshly ground black pepper
21⁄2 pounds ground beef (80% lean)
1⁄2 cup uncooked rice
Preparation
1. Rinse the cabbage under cold water, then put it in a large pot. Stir in the tomato purée, brown sugar, stock, and raisins and bring to a simmer over medium-high heat. Reduce the heat to low and simmer the sauce gently, uncovered, for about 10 minutes. Add salt and pepper to taste.
2. While the sauce is cooking, combine the ground beef and uncooked rice in a large bowl; season with salt and pepper. Shape walnut-sized (about 11/2 inches) meatballs and drop them into the simmering sauce.
3. Once all the meatballs are added, cover the sauce and simmer gently over low heat, stirring occasionally, for 1 to 2 hours, or until the cabbage is tender and the meatballs are cooked though.
Variation to make vegetarian or vegan
1. Use precooked lentils in place of the ground beef and use vegetable stock in place of the chicken stock. Be sure to check ingredient statements for unwanted allergens for the precooked lentils and the broth, both vegetable and chicken.
Roasted Lime Carrots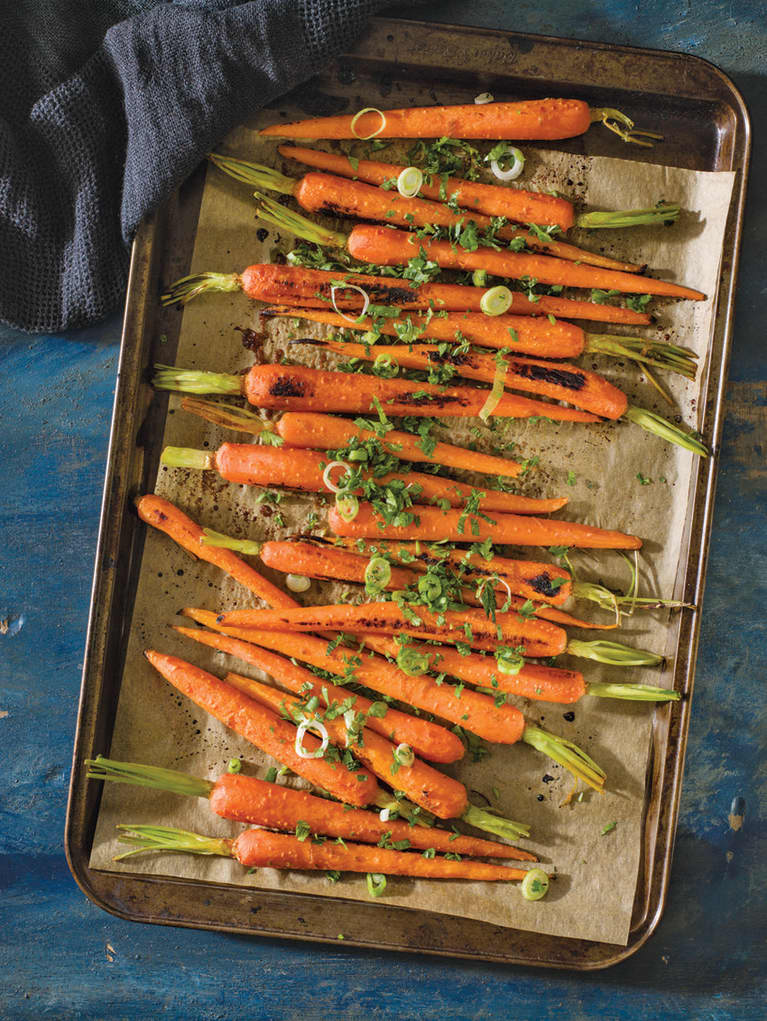 This recipe showcases the beauty—and sweetness—of heirloom baby carrots. They're cooked with the tops left on, so they make a fancy presentation when entertaining.
Serves 4 to 6
Ingredients
1 pound heirloom baby carrots, with tops
1 tablespoon olive oil
1 lime, zested and juiced
1 tablespoon honey
11⁄2 teaspoons kosher salt
1⁄2 teaspoon ground cumin
1⁄2 teaspoon paprika
2 scallions (white and light green parts), thinly sliced
1⁄2 cup finely chopped fresh mint
1⁄2 cup finely chopped fresh cilantro
Preparation
1. Position a rack in the center of the oven and heat the oven to 400°F. Line a rimmed baking sheet with foil or parchment.
2. Spread the carrots on the prepared baking sheet. Drizzle with the olive oil, lime juice, and honey, then sprinkle with the lime zest, salt, cumin, and paprika. Roast the carrots for 20 to 25 minutes, until tender and golden brown. If the carrots are tender but not yet golden brown, leave in the oven for another 5 minutes.
3. Let the carrots cool slightly, then transfer to a flat serving dish and sprinkle with the scallions, mint, and cilantro (you don't have to use all of the herbs). Drizzle with more lime juice if you like, then serve.
Variation to make it vegan
Replace the honey with 1 teaspoon agave nectar.
Excerpted from Cooking Allergy-Free by Jenna Short. Published by Taunton Press in 2014. Photos by © 2014 Helen Norman.