Curry Tofu Egg-Less Salad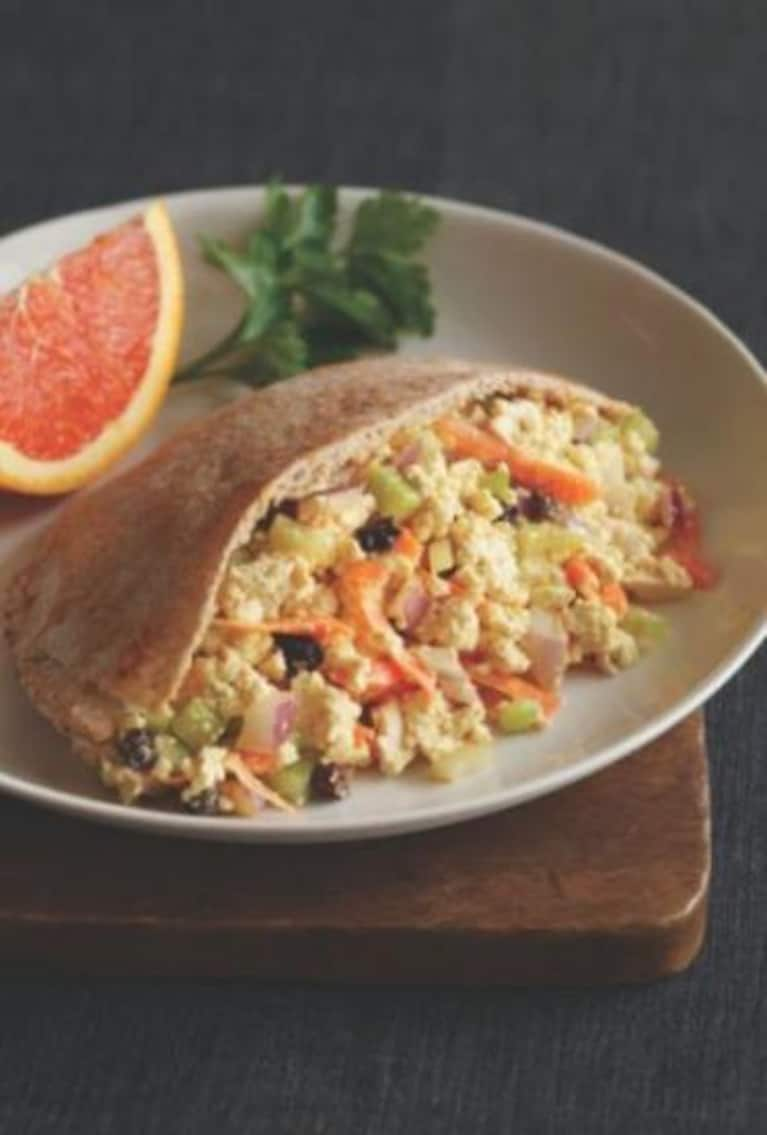 Prior to going vegan, I couldn't eat my morning eggs without a side of ketchup. The two might as well have been sold as a boxed set in the grocery store. Tofu replaces eggs in this recipe, and the anti-inflammatory properties of curry make it a healthy alternative to processed ketchup. Truly an unconventional meal for lunch or dinner, and a cinch to prepare.
When buying Tofu, I prefer Nasoya.
Makes 6 Servings
1 (14-ounce/400 g) package extra-firm tofu, drained, and crumbled
1/2 cup (80 g) diced red onion
1 carrot, grated
1 celery stalk, finely diced
1/4 cup (45 g) currants
2 tablespoons sliced almonds (optional)
1 tablespoon curry powder
1/2 cup (120 ml) vegan mayonnaise
1 lemon, zested and juiced
2 tablespoons Dijon mustard
1 tablespoon agave nectar
Salt and pepper, to taste
2 pita breads, cut into quarters and toasted
In a steamer basket over 1 inch (2.5 cm) of boiling water, steam the tofu 10 minutes. Remove from the heat and place on a towel-lined bowl to remove excess water. In a large bowl, mix together the tofu, onion, carrot, celery, currants, and almonds. In a small bowl, whisk together the curry, mayonnaise, lemon juice, lemon zest, mustard, agave nectar, salt, and pepper for the dressing. Add the dressing to the tofu and salad mixture, and toss well. Chill in the refrigerator 15 to 30 minutes. Serve on toasted pita.
Serving Size: 166 g; Calories 230; Fat 16 g; Saturated Fat 2 g; Cholesterol 0 mg; Carbohydrates 17 g; Fiber 3 g; Protein 6 g
To get more recipes, pick up Kim's new cookbook Skinny Bitch Ultimate Everyday Cookbook available now!
Originally published at HealthyBitchDaily